Über Hireflix
Hireflix ist eine Online-Plattform für One-Way-Videogespräche, die es Personalverantwortlichen und Bewerbern ermöglicht, Vorstellungsgespräche zu rationalisieren. Die Kandidaten haben die Flexibilität, Interviews jederzeit und überall durchzuführen, indem sie ihre Antworten auf die vorab aufgezeichneten Fragen aufzeichnen. Mit Hireflix können Unternehmen die Starrheit und Umständlichkeit von geplanten Vorstellungsgesprächen vermeiden. Hireflix ermöglicht es Personalvermittlungen, aufgezeichnete Unternehmens-/Job-Intros und Interviewfragen mithilfe eines integrierten Interview-Builders hinzuzufügen. Interviews und Erinnerungen können per SMS und E-Mail mit anpassbaren Vorlagen gesendet werden. Alle Interviews können nach Jobtyp verfolgt werden und Personalvermittlungen werden automatisch benachrichtigt, wenn ein Interview abgeschlossen wurde. Wenn ein Interview eingereicht wurde, können Personalvermittlungen die eingereichten Antworten überprüfen und bewerten, um die Top-Bewerber einzugrenzen. Hireflix lässt sich in Plattformen von Drittanbietern wie Slack, Zapier, Greenhouse und Workable integrieren. Hireflix bietet auch E-Mail-, Chat- und Telefonsupport für jedes Interviewszenario.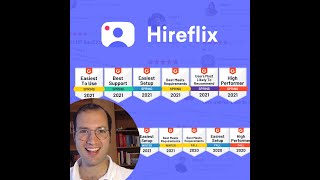 Hireflix bietet eine Gratisversion und eine kostenlose Testversion. Die kostenpflichtige Version von Hireflix ist ab $ 150.00/Monat verfügbar.
Startpreis:
$ 150.00/Monat
Kostenlose Testversion:
Ja
Alternativen für Hireflix
Branche: Computer-Software
Unternehmensgröße: 501–1'000 Mitarbeiter

Täglich

für

6-12 Monate

genutzt
Quelle der Bewertung
Preis-Leistungs-Verhältnis
5
---
Hireflix allowed us to scale our business, keeping the same quality of the real-time interview
Before Hireflix, we had to allocate professionals and disturb them with interviews using tools like Zoom. Hireflix allowed us to scale, and we don't need experience interviewers anymore, only experienced graders, which is different and easy to scale too since we give them the proper documentation to do the job. It was a game-changing service for our business that allowed us to scale fast.
Vorteile
Extremely fast to create interviews and super easy for the candidates simultaneously, the best of both worlds. I would feel bad if I didn't add to this answer their excellent support, one of the best I had, fast and efficient.
Nachteile
Everything they commit, they give us, and the platform works perfectly. I would like to have more features my business requires, such as audio interviews or dynamic interview creation.
Branche: Personalwesen
Unternehmensgröße: 2–10 Mitarbeiter

Täglich

für

1-5 Monate

genutzt
Quelle der Bewertung
Preis-Leistungs-Verhältnis
4
---
Very useful and easy to use! It Changed everything!
Hireflix gave us the possibility to really change our process in human resources research.
Vorteile
The best thing about this software is that it is easy to use, it has all the functions needed, it has a really good price compare to other companies, many things as customizable and, the customer care is AMAZING.
Before choosing this software we tried many and the things that really matter in our decisions were: the easy way of use and customizing things, plus the customer care, always ready to help at any time.
Nachteile
Maybe there are some features to be developed but, this software has already many positive things compared to others that are more expensive and, in a theoretical way, more developed.
Branche: Unternehmensberatung
Unternehmensgröße: 2–10 Mitarbeiter

Wöchentlich

für

1-5 Monate

genutzt
Quelle der Bewertung
Preis-Leistungs-Verhältnis
5
---
Strong Product - Great Support
Support has been exceptional, the team are really on the ball and willing to work with clients to develop features to enhance the product for both the candidate and employer's benefit.
Working with Hireflix to demo some new features was a great experience, and their future releases including supporting employers and hiring managers in the design of recruitment funnels and automation of screening was enlightening for us as an employer, and Hireflix as a provider.
Vorteile
The software itself has a simple interface and is very simple to use and deploy, and zapier integration is a must for us to build cohesive integrations to other parts of the hiring process. More than anything though, the infectious enthusiasm of the team to develop the product and involve clients in that journey means we're fully bought into the future direction of Hireflix and that today's product is only the beginning.
Nachteile
I generally love the concept of employers uploading video questions, if it's done right......but being forced to upload a video for every question is not ideal if you're either a: not particularly photogenic, or b: not particularly confident, as this just shows your company in a bad light.
Also the 'prep time' for candidates were rather lacking in options
Having reached out for support on this point, I received an immediate answer and workaround though the solution wasn't obvious/intuitive
Antwort von

Hireflix

John thank you so much for your detailed and thoughtful review. We are thinking of ways to improve on the points you mentioned! Will keep you updated! Thanks again.

Beantwortet am 13.10.2020
Branche: Bildungsmanagement
Unternehmensgröße: 11–50 Mitarbeiter

Täglich

für

6-12 Monate

genutzt
Quelle der Bewertung
Preis-Leistungs-Verhältnis
5
---
Great product, amazing support and outstanding communication!
Vorteile
There are few stand-out reasons:1. Support: the Hireflix team is always so responsive to any emails or issues we have. [sensitive content hidden]
in particular has always been on-hand to support with any and all questions and gives clear, helpful and honest answers.2. User-friendliness: I have experience using other similar platforms and Hireflix has been much more user-friendly and simple for the internal team and applicant.3. Time saving: as a small and growing business, Hireflix has allowed us to save lots of time!
Nachteile
Nothing comes to mind at the moment. It's been a really helpful tool so far!
Branche: Unternehmensberatung
Unternehmensgröße: 2–10 Mitarbeiter

Täglich

für

1-5 Monate

genutzt
Quelle der Bewertung
Preis-Leistungs-Verhältnis
5
---
Best for both companies and candidates
Our experience was awesome. We could save a lot of time (it took about 15 minutes viewing a candidature), all the company members could review every consultant whenever they had free time to to it.
Vorteile
At Enciende la Luz we put a lot of effort in offering great consulting experiences for our customers. When we are looking for new members for our team, we value a lot having the opportunity to meet every candidate.Allign our agendas to schedule a live meeting with each candidate is impossible. With Hireflix we are able to have a first look into every candidature before making a decission. For candidates it is good meeting some of us in the videos. Hireflix is good for us and good for them, the pertect fit.
Nachteile
Maybe the usage of our own skills schema. We had to use a different tool for that.
Gründe für den Wechsel zu Hireflix
Hireflix let both us and candidates schedule the best time for us.