Über Lightyear
Lightyear ist eine cloudbasierte Kreditorenbuchhaltungslösung, die Unternehmen bei der Automatisierung der Dateneingabe unterstützt. Dies geschieht durch die Extraktion von Details aus Rechnungen, Gutschriften, Kontoauszügen und Quittungen, die Rationalisierung des Genehmigungsprozesses durch anpassbare Workflows und die Pflege einer Aufzeichnung aller ausstehenden Beträge. Zu den Funktionen gehören Messaging, Audit-Trail, Kontoauszugsabgleich, Multi-Währung und automatische Duplikatmarkierung. Mit der Regelautomatisierungsfunktion der Anwendung können Buchhalter Einzelposten automatisch Hauptbuchcodes, Steuersätze, Kategorien oder Abteilungen zuweisen. Finanzfachleute können Produktpreise mit verifizierten Lieferantenpreisen vergleichen und Rechnungen an relevante Genehmiger weiterleiten. Über das Dashboard können Vorgesetzte die Anzahl der verarbeiteten, abgezeichneten, geprüften oder ausstehenden Rechnungen anzeigen. Lightyear lässt sich in verschiedene Drittanbieteranwendungen wie Abcom, MYOB, Xero, Sage 50, Fuelsoft und andere integrieren. Das Tool beinhaltet mobile Apps für iOS und Android. Das Produkt ist im Rahmen eines Monatsabonnements erhältlich und der Support erfolgt über Dokumentation, Live-Chat und Telefon.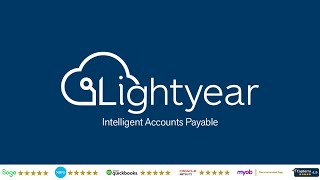 Lightyear bietet keine Gratisversion, aber eine kostenlose Testversion. Die kostenpflichtige Version von Lightyear ist ab $ 99.00/Monat verfügbar.
Startpreis:
$ 99.00/Monat
Kostenlose Testversion:
Ja
Alternativen für Lightyear
Branche: Non-Profit-Organisation Management
Unternehmensgröße: 501–1'000 Mitarbeiter

Täglich

für

Mehr als 1 Jahr

genutzt
Quelle der Bewertung
Preis-Leistungs-Verhältnis
0
---
Terrific Service and a Continually Improving Product
Overall, it's been fantastic. There is no such thing as a perfect system, but it is the people behind the software which really impress me. The fact that when things go awry, it is so easy to open the instant chat and speak to [SENSITIVE CONTENT HIDDEN] is a great touch. The service is paramount. I've had issues which were solved overnight which comes to show they really do listen.
Vorteile
Lightyear is visually pleasing-it's quite simple to use and understand. From the user perspective who inputs data on invoices and approves them, it's straightforward and the layout of the software does not show you more than what you need to see, however, underneath the simple processes there is complexity. Lightyear makes supplier creation, GL code settings linked to export files such as Excel, and GST codes etc are somehow made simple to set up. One thing I find particularly great is whenever I input an ABN number during the Supplier Creation process, it autofills the Supplier Name field. Additionally, this is a drop down menu, so i am able to choose ANY of the Business Names linked to this ABN.
Nachteile
Sometimes, there have been system bugs and I'm unable to export data for a brief amount of time, or when we top up credits to use the system, the old credits are not rolled over their expiry date. It would be great if there was a notification in place to let us know that our credits are expiring soon or we are running low. Also, there are some things which cannot be customised. For example, the Export to File which is a function that exports invoice data into a spreadsheet, cannot be modified from my end. Lightyear do add features from time to time, but I'm not sure if consumer recommendations are actually involved in the process.
Branche: Non-Profit-Organisation Management
Unternehmensgröße: 51–200 Mitarbeiter

Täglich

für

6-12 Monate

genutzt
Quelle der Bewertung
Preis-Leistungs-Verhältnis
4
---
Lightyear works as promised
Lightyear provided more accurate invoices from different kinds of suppliers and minimised the need for manual input, provides transparency as all the history is included with the bill and allow for Approvers to view the invoices for their area so provides confidentiality and saves them time.
Staff skills and time can be used more productively on more than inputting invoices.
Vorteile
Every step of the process has been excellent and the ongoing support has continued to be excellent.
The initial contact was responsive and guided through the set up to allow us start processing quickly.
The product is logical to follow and easy to view and provides options every step of the way.
The data extraction is very accurate and adaptable to different supplier invoices and the mapping team is very quick. This is more accurate than our previous software.
To email queries from within Lightyear saves so much time and hassle looking for emails and provides great transparency.
Separation of users to their department only
Choosing where we export to Xero has been essential to facilitate approval levels
Lightyear continues to improve their
Service to queries has been responsive and solutions are specific to our company using information and not a regurgitating the help function.
Nachteile
There is a lot of functionality and detail so can be a little overwhelming.
Support videos and notes focus on administrators but could find information on guiding from the other user roles perceptive after initial guide when first login
Antwort von

Lightyear

Many thanks for the review. Great to hear that you are finding the data-extraction to be more accurate and quicker than your previous supplier.

Beantwortet am 28.5.2020
Branche: Bau
Unternehmensgröße: 11–50 Mitarbeiter

Täglich

für

6-12 Monate

genutzt
Quelle der Bewertung
Preis-Leistungs-Verhältnis
4
---
Time Saver
Charlie has been great and customer service has been very quick in replying and solving questions. Approval processing is working well, overall happy.
Vorteile
The Manager function has worked well for us as we have offices in different locations which has made the approval of invoices more efficient.
Easy to see where the approval process is up to.
Exporting invoices to our accounting system is great.
Also like the audit trail feature.
Nachteile
We haven't used the PO system yet but looking forward to the enhancements that will suit the way we use them. Yes they have listened to us and adding options to suit our business.
Branche: Gastgewerbe
Unternehmensgröße: 1'001–5'000 Mitarbeiter

Täglich

für

Mehr als 2 Jahre

genutzt
Quelle der Bewertung
Preis-Leistungs-Verhältnis
5
---
Efficient, intelligent and easy-to-use
The team at Lightyear are hospitality-experienced and so empathise and comprehend my business and the daily problems I need to resolve. They are fantastic to deal with - grounded, patient (I test them on this), understanding and always willing to help and train. They are more than a supplier - they are a true business partner, with the best interests of my business as their main concern (even if it means cutting themselves short a few dollars here and there). A great company to have on your side, and an inspirational team to work with.
Vorteile
Once set up, it's a one-stop-shop for invoice receipt, accounts payable and receivable reconciliation, cost management, and business information. It is intuitive and simple to use, extremely cost-effective and takes out some of the most mundane and laborious tasks so I have more time to work on improving my business and keeping front-of-house. I could not recommend it more highly.
Nachteile
There's nothing I dislike about this product - I am overly happy to have it as part of my suite of tools.
Antwort von

Lightyear

Many thanks for the review. We're glad to hear that you are taking full advantage of Lightyear.

Beantwortet am 28.5.2020
Branche: Buchhaltung
Unternehmensgröße: 2–10 Mitarbeiter

Täglich

für

Mehr als 1 Jahr

genutzt
Quelle der Bewertung
Preis-Leistungs-Verhältnis
5
---
Accounts Payable Perfection
Extremely happy.
Vorteile
Lightyear allows us to easily manage the accounts payable process across our entire client base. It's unqiue mapping extraction process as well as logical flow of information, clean user interface, filing cabinet, approval process, inventory and duplicate recognition make it in my opinion the best accounts payable solution on the market. There support team is second to none.
Nachteile
Integrations with more POS programs or even job management programs would only increase Lightyears potential.
Antwort von

Lightyear

Many thanks for taking the time to leave us a review. It is great to hear that you are taking full advantage of LIghtyear. We are always working on new integrations and more are coming soon.

Beantwortet am 28.5.2020