Über Jobber
Jobber ist eine cloudbasierte Softwarelösung für das Außendienstmanagement, mit der kleine und mittlere Dienstleistungsunternehmen ihr Außendienstpersonal verwalten, Kundenbetreuung anbieten und Geschäftsabläufe entweder über eine mobile App oder ein Desktop-Dashboard erweitern können. Als Service-Business-Lösung unterstützt Jobber über 50 Dienstleistungsbranchen und bietet austauschbare Tools wie integriertes CRM, Echtzeitplanung und -entsendung, Ausgabenverfolgung, Rechnungserstellung und Abrechnung, Online-Buchung, Angebotserstellung, Kundenerinnerungen, automatische E-Mails, einen Self-Service-Client-Hub und vieles mehr. Mit der Zeiterfassungsfunktion ermöglicht das Planungsmodul von Jobber den Nutzern, jeden Auftrag in Echtzeit zu aktualisieren, sodass das Management Informationen über abgeschlossene Aufgaben und den Projektfortschritt erhalten und das Außendienstpersonal effektiv verfolgen kann. Für Aufgaben können Managementteams einzelne Aufträge oder wiederkehrende Verträge einrichten und mehreren technischen Fachkräften im Außendienst einen einzigen Auftrag zuweisen. Mit Jobber können Nutzer professionelle Rechnungen mit anpassbaren Vorlagen erstellen und sie automatisch per E-Mail versenden. Um E-Zahlungen zu ermöglichen und die E-Rechnungsstellung zu optimieren, arbeitet Jobber mit verschiedenen elektronischen Zahlungsanwendungen wie Stripe und PayPal zusammen. Das CRM-Modul von Jobber verfolgt die Kontaktinformationen früherer Kunden und ermöglicht Nutzern unter anderem, nutzerdefinierte Felder und Tags zu erstellen und Dateien oder Telefonnummern anzuhängen. All dies ist mit der Abrechnungs- und Arbeitshistorie verbunden. Darüber hinaus kann jeder Kunde über den Self-Service-Client-Hub von Jobber Angebote genehmigen, Arbeitsaufträge planen, Rechnungen bezahlen und mit den Serviceteams kommunizieren. Die Jobber-App ist auch für iOS- und Android-Geräte verfügbar.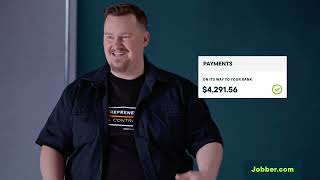 Jobber bietet keine Gratisversion, aber eine kostenlose Testversion. Die kostenpflichtige Version von Jobber ist ab $ 49.00/Monat verfügbar.
Startpreis:
$ 49.00/Monat
Kostenlose Testversion:
Ja
Branche: Essen & Trinken

Täglich

für

Mehr als 2 Jahre

genutzt
Quelle der Bewertung
Preis-Leistungs-Verhältnis
5
---
Excellent company and excellent product
Makes things work so much better for us! There are small issues but we work through them. Nothing is perfect and for the price point this is phenomenally the best on the market.
Vorteile
Absolutely great system and easily adaptable to service companies. They are constantly adding features and functions and I hate to give only 4 stars on that but there are a few things that we would like to have but it doesn't incorporate. They are ALWAYS open to listening and I have actually had some of my ideas incorporated into the program. If I could give 10 stars on the customer service and value for the money I absolutely would. It is a simple program to use once you play with it for a bit. They are always updating which is awesome always new functionality available!
Nachteile
I don't like the fact that Visits and Jobs are treated separately with no way to combine them. I wish that you could set this up and for us, just delete the visit altogether because for us a Job is a Visit. They are always 1 to 1 ratio for us. It makes some of the scheduling frustrating because you can schedule a job but not have a visit scheduled. I can completely see how other companies need the ability for multiple visits on 1 job though.
Would like to see compulsory custom fields so you don't forget to fill out important data on quotes or invoices.
This is a big one, if you don't use the Stripe Jobber Payments then you cannot post a refund to a clients account. You basically have to do a work around and then post a negative invoice. It is very frustrating for a basic accounting function. We often have customers place deposits or pay in advance and they don't use their full deposit for our service. We have to issue a refund and it is a real pain to do.
Branche: Immobilien
Unternehmensgröße: 2–10 Mitarbeiter

Täglich

für

Mehr als 2 Jahre

genutzt
Quelle der Bewertung
Preis-Leistungs-Verhältnis
5
---
Best Software company
Vorteile
What I most like about jobber is the ease of control and the client portal, my clients love being able to go in to their each unique portal and check on reoccurring jobs and upcoming visits.
Nachteile
What I most dis like about jobber is the incoiving because i sometimes have to do it twice but this is not that big of a deal as i am automating everything.
Antwort von

Jobber Software

Hey Cade!

We're so glad your clients have been enjoying using the Client Hub to keep up to date on their upcoming work, that's so cool! If you're open to it, our team would love to chat with you about your invoicing workflow to find out how we can help streamline that for you and make things as easy as possible. Feel free to reach out to us at 1-888-721-1115 (ext. 1), [email protected], or by live chat. It'd be great to hear from you!

Thanks for sharing your thoughts here too, we really appreciate it!

Beantwortet am 28.4.2023
Branche: Bau
Unternehmensgröße: 2–10 Mitarbeiter

Täglich

für

1-5 Monate

genutzt
Quelle der Bewertung
Preis-Leistungs-Verhältnis
2
---
HVAC Business Not Impressed With This Product Or Its Support
Very poor. Not impressed with the program or the support.
Vorteile
The program overall is very basic and easy to use for non-tech savy folks.
Nachteile
Invoicing and estimates are a mess. The online portal for customers to view and pay invoices and estimates is extremely confusing and will cause a lot of headaches. Purchase order tracking / history records are confusing and was not ideal to our business. We also had problems with caretakers who receive bills for multiple locations / customers that they take care off. When sending invoices or estimates to these property management companies, this system groups invoices together so on multiple occasions, a customer would send us a check for their invoice and others out of confusion. Brought these issues up to the support team of Jobber and asked to cancel and refund, they would not budge one bit. They don't seem to care if you have any issues after you sign up.
Antwort von

Jobber Software

Hi Cody, thank you for your review and feedback. It seems like you've been faced with a number of challenges and we sincerely apologize for the experience you have had. We want to make sure we fully understand your feedback, as we are always looking to improve. If you feel like giving us a call, please reach out to our Support team at 1 888 721 1115 opt 1 so we can learn more. Thanks again!

Beantwortet am 6.4.2023
Branche: Computer-Software
Unternehmensgröße: 5'001–10'000 Mitarbeiter

Täglich

für

Mehr als 2 Jahre

genutzt
Quelle der Bewertung
Preis-Leistungs-Verhältnis
4
---
Jobber is your turn-key solution to coordinate with your team.
A great application overall. It does the job and it is competing in the market.
Vorteile
Having a mobile application is great where you can run all your business at the comfort of your home.
Nachteile
Few times support was not as expected. A bit of delay in answering took place.
Antwort von

Jobber Software

Hey Mohammad, It's great that you are enjoying the flexibility and value of our mobile app!

We're sorry to hear that you have had some delays getting through to the Support team. If you are ever in need of support, and we are not available, we have some amazing resources such as our Help Center and our new Youtube Channel if you need a quick answer — Thanks for the review !

Beantwortet am 9.3.2023
Branche: Verbraucherdienste
Unternehmensgröße: 2–10 Mitarbeiter

Täglich

für

Mehr als 2 Jahre

genutzt
Quelle der Bewertung
Preis-Leistungs-Verhältnis
2
---
Such a lifesaver!!
The customer service is the real winner in this company. They will always go above and beyond to get things figured out for you no matter what it is.
Vorteile
1. Having our own number when we were on the grow plan was fantastic. 2. Two way texts and appt confirmations3. Route scheduling4. Being able to design your own work orders and invoices with adding your own fields.
Nachteile
The fact that we love having all the features of the grow plan but we are a two person company and cannot see paying that much for it. We should be able to add on features.
Antwort von

Jobber Software

Hey Raymond! We appreciate you taking the time to share your honest feedback with us very much, thank you! Given that you're a two person company it makes sense that Grow would be a bigger commitment and adding on features as needed instead would be more of an ideal solution for your needs right now. That's good to know!

Our Support team will be so happy to hear they've been able to help you out in the past and that you had a great experience with them. Thanks so much again!

Beantwortet am 3.5.2023