Über Hiver
Hiver ist laut Hersteller der erste Helpdesk, der für Google Workspace entwickelt wurde. Hiver hilft Teams, einen schnellen und einfühlsamen Kundenservice zu bieten, und zwar direkt über das Tool, mit dem sie bereits vertraut sind: Gmail. Das bedeutet, dass Kunden-E-Mails zugewiesen, verfolgt und an ihnen kollaboriert werden kann, damit fortschrittlichste Analysen und Automatisierung über die Gmail-Schnittstelle ausgeführt können, ohne Zeit für das Erlernen einer neuen Software oder das Wechseln von Registerkarten zu verlieren. Hiver verfügt über alle leistungsstarken Funktionen eines Helpdesks, wie E-Mail-Tags für gemeinsam genutzte Posteingänge, automatische Zuweisung zur Verteilung von E-Mails an Teams im Rundlauf-Verfahren, E-Mail-Vorlagen und Analysen zur Verfolgung aller wichtigen Kennzahlen aus dem Kundenservice. Mit Kollisionswarnungen können Nutzer Benachrichtigungen erhalten, wenn jemand auf eine E-Mail antwortet, um doppelte und widersprüchliche Antworten zu vermeiden. Hiver ermöglicht es Managern, Vereinbarung zum Servicelevel und Geschäftszeiten einzurichten und die Kundenzufriedenheit zu messen, indem sie eine kurze Umfrage am Ende von E-Mails senden. Die Lösung bietet einen sicheren Kundenservice von Gmail und aktiviert Gespräche zwischen Menschen, ohne E-Mails zu speichern. Hiver unterstützt jede Art von Unternehmen, von innovativen Start-ups bis hin zu traditionellen Unternehmen wie Canva, Lonely Planet, Flexport, Pluralsight, Oxford Business Group und Upwork.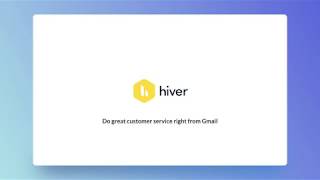 Hiver bietet keine Gratisversion, aber eine kostenlose Testversion. Die kostenpflichtige Version von Hiver ist ab $ 15.00/Monat verfügbar.
Startpreis:
$ 15.00/Monat
Kostenlose Testversion:
Ja
Branche: Unterhaltungselektronik
Unternehmensgröße: 51–200 Mitarbeiter

Täglich

für

Mehr als 1 Jahr

genutzt
Quelle der Bewertung
Preis-Leistungs-Verhältnis
4
---
Managing a team was never easier!
KPI measurement Prioritizing emails, Coworking with shared inboxes, Highlight important emails that need immediate attention.
Vorteile
This add will make teamwork 100% easier and more efficient. I can start by saying that the fact that it will sort every upcoming email to the person in charge is amazing, not only because it will help to have a more organized shared box, but it will also let us supervise the email flow from our colleagues and give them a hand whenever they need or are out for vacation. On the other hand, having the option to leave comments on the memo field, will also help us to remind important information or simply inform our colleagues about something. Last but not least, Hiver gives us the opportunity to work with shared mailboxes and prioritize whatever is important for the team and allows us to "Close" every task that no longer needs our attention.
Nachteile
It was hard for me to find a con for this tool as it offers all the essential features that I need to sort my emails
and supervise the email flow for our team. However, I found probably a glitch when emails that are on "pending" status are not automatically opened whenever they get a reply.
Branche: Freizeit, Reisen & Tourismus
Unternehmensgröße: 1'001–5'000 Mitarbeiter

Täglich

für

Mehr als 1 Jahr

genutzt
Quelle der Bewertung
Preis-Leistungs-Verhältnis
5
---
Hiver Is A Must For High Volume Inboxes
Vorteile
Hiver is great for my team as we have several high volume inboxes. Prior to Hiver our teams would all log into a separate inbox and choose pages to work from which became increasingly less efficient.
Hiver has changed this by adding all our inboxes in one place. The ability to assign emails and collision detection has also greatly reduced instances of double up on work as well. The collaboration tools are great with the ability to leave notes and @ mention other users as in the past we would be creating drafts in the emails to leave notes. It also provides the ability for automation which allows us to prioritize specific items
Nachteile
It would be nice to have the ability to sort emails from oldest to newest
Analytics can be a little hard to follow at times, though they do allow you to export the raw data and extrapolate from there
Branche: Freizeit, Reisen & Tourismus
Unternehmensgröße: 501–1'000 Mitarbeiter

Täglich

für

Mehr als 1 Jahr

genutzt
Quelle der Bewertung
Preis-Leistungs-Verhältnis
0
---
It works.
Average. It gets the job done. I've used other email management software (ie. Front) and felt it was more intuitive and the learning curve to mastery was shorter. Overall, it's an okay user experience and I wouldn't complain but I would recommend it either.
Vorteile
I like that the emails are segmented into different inboxes. This helps me stay organized between internal messages and external messages.
Nachteile
It's clunky at times and the search function in Gmail is more confusing than helpful.
Täglich

für

1-5 Monate

genutzt
Quelle der Bewertung
Preis-Leistungs-Verhältnis
1
---
Awful experience!!! After integrating this tool, my clients stopped receiving my emails.
None. Hiver completely derailed our operations at a period of peak media coverage.
Vorteile
Hiver features initially seemed great. I was eager to make use of their promised benefits. Unfortunately, Hiver completely halted our operations for over a week and lost us a great deal of business. Throughout it all, their team was unapologetic and dismissive of the role that Hiver had in derailing our email communications with clients. Rather than seeing this as an opportunity to resolve and repair clear technical defects, they blatanly blew off our repeated requests for support.
Nachteile
I tested out many collaborative email tools before deciding to go with Hiver. I was impressed by the intuitive design, canned response functionality and mobile app. Unfortunately, several days after installing the tool, we began to suspect that our clients were not receiving our emails consistently. I reached out to Hiver several times over the course of a few days and received no response. This lapse in email functionality coincided with some significant and favorable press coverage - our site traffic was nearly double what it normally was - and yet we went for 10 entire days without a single new client at a time when we would normally have 10-15 new clients typically. I tried for an entire week to engage help from the Hiver team. They insisted - and continue to insist- that their tool does not impact email sending functionality. I would beg to differ. As soon as I uninstalled Hiver, my communications with clients returned to normal. On a final note, to top this off, my team and I are 3 women. When we called Hiver's India-based support team, they were loudy making obvious, derogotary remarks about our being female and unable to understand their tool - calling us 'Dumb Blondes'. Highly inept and unprofessional team. Also worst nightmare for a growing startup!
Branche: Internet
Unternehmensgröße: 2–10 Mitarbeiter

Täglich

für

Mehr als 1 Jahr

genutzt
Quelle der Bewertung
Preis-Leistungs-Verhältnis
0
---
Hiver is very practical
without doubt one of the best application I will recommend
Vorteile
Thanks to Hiver, I have been able to expand my customer service. Email management has become much easier for my business.
Nachteile
Hiver works very well for me I haven't had any complications yet