Über LiveAgent
LiveAgent ist eine Online-Live-Chat-Plattform für E-Commerce-Unternehmen auf kleiner und mittlerer Ebene. Die Plattform bietet eine Live-Chat-Anwendung, Ticketverwaltung, Online-Self-Service-Portale sowie Änderungs- und Lizenzverwaltung, alles entweder als In-Suite- oder eigenständige Anwendung.
LiveAgent bietet eine Auswahl an breiteren Anwendungen für das CRM, wie z. B. Marketing- und Sales-Force-Automation in Kooperation mit einer Vielzahl von Drittanbieter-Softwareunternehmen. Die Lösung ist anpassbar und kann skaliert werden, wenn kleine Unternehmen ihre Kundenbasis und Online-Dienstleistungen ausbauen. Die Software bietet ein Ticket-Verwaltungssystem, bei dem das Ticket den kompletten Datenstrom der Chat-Nachrichten, E-Mails, Telefonanrufe oder Nachrichten aus anderen Kommunikationskanälen zwischen Kunden und Support-Mitarbeitenden des Unternehmens enthält.
LiveAgent wird sowohl als webbasierte (Cloud-)Software als auch als On-Premise-Installation angeboten. Der Preis für die Cloud-Option wird auf einer Pay-per-User-Basis berechnet basierend auf der Anzahl der Agenten, und die On-Premise-Optionen ist ein Vorab-Preismodell und richtet sich nach der Anzahl der Agenten.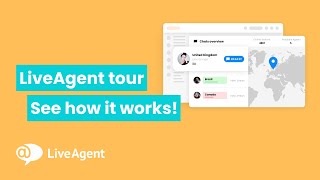 LiveAgent bietet eine Gratisversion und eine kostenlose Testversion. Die kostenpflichtige Version von LiveAgent ist ab EUR 13.00/Monat verfügbar.
Alternativen für LiveAgent
Branche: Einzelhandel
Unternehmensgröße: 11–50 Mitarbeiter

Täglich

für

Kostenlose Testversion

genutzt
Quelle der Bewertung
Preis-Leistungs-Verhältnis
0
---
LiveAgent
Vorteile
Sehr gute Chat Software. Keinerlei Probleem bisher.
Nachteile
Bisher alles bestens. Keine negativen Erfahrungen gemacht.
Antwort von

QualityUnit

Hi Cynthia! Thank you for your review!

- LiveAgent Team

Beantwortet am 27.12.2022
Branche: Internet
Unternehmensgröße: 1'001–5'000 Mitarbeiter

Täglich

für

Mehr als 2 Jahre

genutzt
Quelle der Bewertung
Preis-Leistungs-Verhältnis
5
---
Great customer service and simple ticketing software
If you are thinking about using LiveAgent, one piece of advise I can give you is to spend some time figuring out how to use the tools that it provides. For some of them, it isn't exactly obvious how to do it, but if you put in the effort to figure it out, you'll find that the service is more than worth it.
Vorteile
I really like the platform, since it is really simple to operate and I can thus practice my customer support agents on it. The platform has a wide variety of appealing features, some of which are detailed in the following list: The ability to share a mailbox, improved lead capture and engagement, heightened efficiency, outstanding value for the money, and a great deal of additional benefits are also included.
Nachteile
Only the most expensive tier, which often comes with numerous features and options that you might not want, offers a link to social media; however, if you wish to add any of these features à la carte, doing so will be expensive on its own.
Antwort von

QualityUnit

Hello Shayla! Thank you very much for giving us 5-stars :) We are always glad to see that LiveAgent is helping our customers save time, increase productivity and manage their customer communications better.

For any inquiry regarding functions or integrations that might further improve your experience, feel free to reach out to our 24/7 support.

- LiveAgent Team

Beantwortet am 20.6.2022
Branche: Non-Profit-Organisation Management
Unternehmensgröße: 51–200 Mitarbeiter

Täglich

für

Mehr als 2 Jahre

genutzt
Quelle der Bewertung
Preis-Leistungs-Verhältnis
5
---
Customer care solution at the peak. LiveAgent is the surest help desk software.
The overall experience that LiveAgent has given us has been very satisfying and worthy. It has delivered to us more than we could ask for when it comes to customer support. Its has proved to be a vital Help Desk tool for customer care and support services making it easy for us to connect to customers and solve their issues quickly.
Vorteile
I really like the customer support available in LiveAgent, The support team is always 24/7 hours available to assist you and answer any questions you have. It is a flexible and robust tool that allows you to integrate it with your communication products Facebook, Twitter, Mail, Instagram among many others making it convenient for your customers to reach out to you and for you to connect to them easily. The live chat function has excellent chat features which makes it very useful and always prove to be helpful as it makes it fast and easy for you to interact with your customers. It is easy to use for both you as the user and for your customers. It allows you to deliver personalized customer support services to your customers allowing you to reach out to all your customers at personal level depending on their specific needs. It gives you an option to include self-support function in your customer portal to by including knowledge-base articles for your customers.
Nachteile
I like all the features made available at LiveAgent. They all work incredibly and am all satisfied with each and every single of them . There is nothing that i like least about it.
Antwort von

QualityUnit

Hello Robert! Thank you for your positive feedback about your experience with LiveAgent! We're thrilled to hear that our help desk tool has exceeded your expectations and made it easier for you to connect with customers. We're committed to have a great customer service product and we are glad that we've been able to deliver on that promise for you.

- LiveAgent Team

Beantwortet am 9.3.2023
Branche: Marketing & Werbung
Unternehmensgröße: 11–50 Mitarbeiter

Wöchentlich

für

1-5 Monate

genutzt
Quelle der Bewertung
Preis-Leistungs-Verhältnis
0
---
Provide customer service easily
Vorteile
Effectively provide the service your customers need, without hassle
Nachteile
Turnaround time of messages sometimes longer than they should be
Antwort von

QualityUnit

Hi Grace! Thank you for taking time to write us your feedback.

- LiveAgent Team

Beantwortet am 14.2.2023
Branche: Marktforschung
Unternehmensgröße: 51–200 Mitarbeiter

Täglich

für

Mehr als 2 Jahre

genutzt
Quelle der Bewertung
Preis-Leistungs-Verhältnis
5
---
The most effective multi-channel online customer service solution
I use LiveAgent daily to log and resolve customer-reported issues since it allows me to keep track of the essentials while streamlining the process. Making a list of things you need to do and keeping track of whether or not they've been done makes the process far more manageable. It gives me access to a highly feature-rich support chat that allows me to effectively communicate with any client via video, audio, or text. It's great for businesses of all sizes since it's scalable and flexible, with plenty of useful extras that won't break the bank.
Vorteile
I appreciate how simple and adaptable it is to use. It's simple to incorporate into existing domains to provide a unified service to your clientele. Because it is hosted in the cloud, LiveAgent is equally effective as an internal and external help-desk solution. It offers multi-channel support through various channels, and its extensive capabilities, user-friendly design, and reasonable price make it a viable option.
Nachteile
Nothing I've found to hate about this platform has helped me do great things and bring many benefits to my employer.
Antwort von

QualityUnit

Hi Kian,
Thank you very much for your feedback. We are glad to hear that LiveAgent has been the right choice for you and that you have been satisfied with the benefits and features it brings to your everyday work life. Remember, you can always contact us in case of any questions - we are available 24/7!

Beantwortet am 18.1.2023