Über Clio
Clio ist eine cloudbasierte Verwaltungslösung für Anwaltskanzleien, die sich für kleine bis große Anwaltskanzleien eignet. Die Plattform ermöglicht es Anwaltskanzleien und anderen Unternehmen in der Rechtsbranche, wichtige Fristen nachzuverfolgen, Kundenfälle und -dokumente zu verwalten, Kundenrechnungen auszustellen und Zahlungen zu akzeptieren. Das Clio-Dashboard zeigt Ziele für abrechenbare Stunden an und verfolgt die Leistung auf Grundlage dieser Maßnahmen. Mit Clio Payments können Anwälte Zahlungen direkt in das Treuhandkonto eines Kunden oder in ein Betriebskonto erhalten. Mit der Abrechnungsfunktion können Nutzer individuelle Abrechnungspläne erstellen, Gebührenstrukturen verwalten, automatische oder manuelle Zeiteingaben durchführen, per E-Mail abrechnen und Kunden den Zugriff auf Informationen per E-Mail oder über das sichere Kundenportal ermöglichen. Die Dokumentenverwaltungsfunktionen umfassen Dokumentenautomatisierung, nutzerdefinierte Felderstellung, Erfassung elektronischer Signaturen und mehr. Über die mobile Clio-App für iPhone, iPad und Android können Mitarbeitende von Anwaltskanzleien Kundeninteraktionen, Dokumentenverwaltung, Aufzeichnung abrechenbarer Stunden, Fallmanagement und mehr von überall aus durchführen. Die mobile App bietet zudem Push-Benachrichtigungen und Messagingtools, mit denen Nutzer in Verbindung bleiben können. Die Preisgestaltung von Clio hängt davon ab, ob Anwaltskanzleien die Manage-App von Clio, die Grow-App von Clio oder die gesamte Clio-Suite erwerben. Die Clio-Plattform lässt sich mit über 200 Softwareanwendungen von Dritten integrieren, einschließlich anderer Softwarelösungen für die Verwaltung von Anwaltskanzleien, Marketingtools, Zahlungsplattformen und mehr.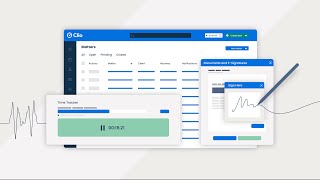 Clio bietet keine Gratisversion, aber eine kostenlose Testversion. Die kostenpflichtige Version von Clio ist ab $ 39.00/Monat verfügbar.
Startpreis:
$ 39.00/Monat
Kostenlose Testversion:
Ja
Branche: Rechtsberatung
Unternehmensgröße: 2–10 Mitarbeiter

Täglich

für

Mehr als 2 Jahre

genutzt
Quelle der Bewertung
Preis-Leistungs-Verhältnis
5
---
Fantastic Practice Management Solution
Vorteile
Clio's intuitive design is easy to use for anyone from the tech savy to the "how do I turn this thing on" person. They are constantly adding features and functionality to the software solution making the administrative side of practicing law much easier and less time consuming. Clio's support team is always quick to respond and is always friendly and helpful. The growing list of integrations is definite plus and gives us the ability to extend the already great functionality to the next level. And if you are into coding, you can always create a custom integration to suit your needs.
Nachteile
Really the only complaint I have about Clio is the reporting capabilities. While it has some great canned reports within the interface, there is no ability to customize reports to massage out information that would be useful to my practice. We make do, of course, but this has been my complaint for some time now. Last time I checked there was a pay integration that allowed for more robust reporting but adding yet another subscription isn't appealing when it would be relatively easy for Clio to add this capability to their platform.
Branche: Anwaltskanzlei
Unternehmensgröße: Selbstständig

Täglich

für

Mehr als 2 Jahre

genutzt
Quelle der Bewertung
Preis-Leistungs-Verhältnis
5
---
Clio is the best Case Management System I have used and I would highly recommend it!
Clio is Great, and my experience is amazing so far! I love customer support and their knowledge and great help every time I contact them.
Vorteile
What I like most is the way it makes my practice easier, saves time, and it constantly improves! The Clio team is incredible, always listens to its clients, and constantly develops its product.
Nachteile
I would love more options in the mobile app, like editing the matter, billing, etc. I hope that these features are coming soon. Also, as I am in Canada, I am looking forward to using the documents fill-out option, which is currently only available in the USA.
Branche: Anwaltskanzlei
Unternehmensgröße: 2–10 Mitarbeiter

Täglich

für

Mehr als 2 Jahre

genutzt
Quelle der Bewertung
Preis-Leistungs-Verhältnis
1
---
Clio Payments is a bad business decision
Overall Clio has been great except lately with this huge problem I'm having with collecting client payments timely and also that Clio is giving my firm contact info out to all its third party providers. I'm getting frequent sales solicitations about Clio product integrations, by email and phone calls. Not happy about more solicitations and don't see any way of stopping Clio from encouraging its partners from calling and emailing my firm (wasting resources).
Vorteile
Easy to switch from LawPay. Integrated easily with Clio (but so did LawPay). Supposedly lower fees.
Nachteile
Terrible turn around time for payments by credit card. 5-7 days! No explanation or customer service for the delays in processing time. Very difficult to switch back to LawPay - they make you schedule an appointment to talk to someone who takes your time to tell you how difficult it is to switch back to LawPay, plus they want you to cancel all your pending payments, which they didn't require when switching from LawPay to Clio. No regular reporting or monthly statements - you have to figure out the reports on your own and calculate the fees charged yourself and download the transaction history periodically. The fees are deducted first before payments are made, which skews the income tracking for accounting purposes. I.e., the client payments from bills don't match the bill amount. The customer service representatives have no power and don't seem to care one way or another, though the sales reps cared about switching you over to Clio payments! Is Clio changing from a great company with real people who are concerned with helping law practices succeed to a mammoth company just concerned with its own bottom line? It's starting to seem that way.
Antwort von

Clio

Hi Dess,

Thank you for taking the time to detail your experience. A Support Specialist has reached out to talk through your concerns in more depth and hopefully resolve them for you.

In the meantime, here is some additional information regarding your feedback.

1. We do not share our customers' contact information with third-party providers. We also strive to only communicate relevant, useful information to our customers. That said, we've clearly missed the mark here and would like to work with you to adjust your communication subscriptions.

2. Clio Payments and LawPay have the same processing times. For both products, you'll typically see credit card payments processed in 1-2 business days*. Here are some resources:
- *Clio Payments Credit Card Processing Times: https://support.clio.com/hc/en-us/articles/4409104905115-How-Long-Do-Credit-Card-Payments-Take-to-Process-with-Clio-Payments
- LawPay Credit Card Processing Times: https://supportcenter.lawpay.com/hc/en-us/articles/360034332251-Credit-card-processing-times

3. With Clio Payments, you have the option to get your transaction fees deducted in one lump sum each month, the same as with LawPay. Here are instructions but our Associate Solutions Specialist would also be happy to adjust that for you: https://help.clio.com/hc/en-us/articles/9285813698075-Clio-Payments-Fee-Schedules

Overall, we want you to know that we care deeply about the success of each of our customers. And we do not intend to make any of your requests more difficult than they need to be. We look forward to speaking with you and utilizing your feedback in our continued endeavour to provide the best-in-class service.

Beantwortet am 13.3.2023
Branche: Rechtsberatung
Unternehmensgröße: Selbstständig

Täglich

für

Mehr als 2 Jahre

genutzt
Quelle der Bewertung
Preis-Leistungs-Verhältnis
5
---
Best in class
I operate an entirely virtual law practice. Keeping all of my workflows and processes in the same ecosystem helps ensure consistency and efficient operations.
Vorteile
The single best part about Clio is the user interface. You can't overestimate the drain on your organization and your end-users by poor UX design. Clio is intuitive to use, and easy to customize. Their chat support is the best of any product I've used, in any category.
Nachteile
The in-app document management isn't great. It's good enough, but most users will want to integrate with an existing DMS.
Branche: Anwaltskanzlei
Unternehmensgröße: 11–50 Mitarbeiter

Täglich

für

1-5 Monate

genutzt
Quelle der Bewertung
Preis-Leistungs-Verhältnis
0
---
Total Transformation
With Time Matters software on its way out and our contract expiring, we knew it was time to make the jump to another platform. We entertained a few options but Clio came out on the top for us.
Vorteile
This platform is extremely user-friendly. We are still implementing the software with our staff but I believe there will be no problems - whether skilled with computers or not.
Nachteile
I was told by Clio staff that there are new releases coming for the software related to collection of client payments. These updates will be of the utmost importance to our firm. Being a smaller firm, we do not want to use Clio to allow our clients to pay due to the fees involved. However, I'm told that the ACH payment option will be coming as well as surcharging.
In Betracht gezogene Alternativen
LEAP
Warum Clio gewählt wurde
Time Matters is going away and we were not able to utilize it to its fullest capacity.