Über Pulseway
Pulseway ist eine integrierte IT-Asset- und Netzwerküberwachungslösung, die für IT-Administratoren zur Fernüberwachung und -steuerung ihrer geschäftlichen IT-Ressourcen entwickelt wurde. Die Lösung unterstützt eine Multi-Bereitstellungsarchitektur, sodass die Nutzer zwischen On-Premise und Hosting in der Cloud wählen können.
Mit Pulseway können Managed-Services-Anbieter von einer zentralen Konsole aus den Echtzeit-Status ihrer Systemressourcen einsehen, die gesamte Netzwerkleistung überwachen und kritische Updates installieren. Die Plattform hilft bei der Definition von Skripten zur automatischen Planung von Wartung, Back-up, Sicherheitsüberprüfung und anderen IT-Aktivitäten.
Pulseway ermöglicht es Nutzern, an ihr Netzwerk angeschlossene Geräte von einem einzigen Punkt aus zu steuern und ihre Leistung zu überwachen. Die Lösung bietet auch eine Rest API für die Integration in Anwendungen von Dritten.
Pulseway ist eine plattformübergreifende Anwendung und kann auf verschiedenen Betriebssystemen wie Windows, Linux, Mac sowie Android und iOS ausgeführt werden. Pulseway ist im Rahmen eines monatlichen Abonnements erhältlich, das Support per E-Mail und Telefon sowie Produkt-Tutorials umfasst.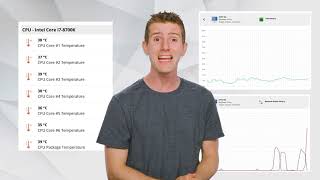 Pulseway bietet keine Gratisversion, aber eine kostenlose Testversion. Die kostenpflichtige Version von Pulseway ist ab $ 0.76/Monat verfügbar.
Kostenlose Testversion:
Ja
Alternativen für Pulseway
Branche: Personalbeschaffung & -besetzung
Unternehmensgröße: 1'001–5'000 Mitarbeiter

Täglich

für

Mehr als 1 Jahr

genutzt
Quelle der Bewertung
Preis-Leistungs-Verhältnis
5
---
Pulseway is the absolute best monitoring solution out there!
Vorteile
I began using Pulseway as PcMonitor a few years ago. I had been using another product that was hard to configure and prone to so many false alarms it was useless. Then I found Pulseway and the whole game changed. Pulseway is priced fairly – my previous solution was SO expensive and the support spotty. The Pulseway software is easy to configure and can be accessed securely from pc or smartphone. Critical functions like restarting services , rebooting machines and even access to a command line can be done remotely. I get the right warnings directly to my phone or desktop wherever I am. I was on the beach in Maui over Christmas and one of my servers had a problem with a service that needed to be restarted – with other monitoring products I would have had to go back to my room, start up my laptop, hope to get wifi and vpn connection and RDP directly to the problem machine. Pulseway allowed me to clear the alert, check the status of the server and restart the service (Apache Tomcat) from my chair on the beach and not miss a minute of my children's surfing lesson.

Our organization has embraced this software. I recommended this to a colleague who had a critical scheduling server running multiple tasks via task scheduler. Due to service account limitations the server would log out the account every weekend. My colleague installed Pulseway and was able to keep the server signed in while we pursued a permanent solution and now has multiple servers on his own account.
Nachteile
I have yet to find a serious downside to this product. It is truly amazing and just works well. Well worth the low cost.
Branche: Informationstechnologie & -dienste
Unternehmensgröße: 2–10 Mitarbeiter

Täglich

für

Mehr als 1 Jahr

genutzt
Quelle der Bewertung
Preis-Leistungs-Verhältnis
5
---
ICT Empire review on Pulseway
Overall im happy - looked at other RMM providers and so far im happy to stick with Pulseway.
Vorteile
Easy to Implement and easy to use - very nice and clean GUI.
Patch management is great - the other extra features look amazing and will be trying those soon.
Security - after reading the Security Policy white papers - i feel more at ease that my clients data is secure.
What i love most is the fact that the Pulseway team are all ears - always keen to hear what their clients want and need - Also the fact that they are continuously updating/upgrading and adding new features.
Nachteile
No real cons at the moment - they are always keen to assist if i have any issues, which i haven't really had yet.
I would like to have ESET integrated into Pulseway - but they are looking into that.
Gründe für den Wechsel zu Pulseway
Great value for Money Clean GUI and easy to implement - dont need hours and hours of training each time i have a new IT technician. Great support team - they are always keen to help wherever possible. I have not once ever heard "sorry, we cannot assist as that is our policy" as i usually get from other providers - They will ALWAYS make a plan to assist you - That alone is golden.
Branche: Versicherung
Unternehmensgröße: 51–200 Mitarbeiter

Täglich

für

Mehr als 1 Jahr

genutzt
Quelle der Bewertung
Preis-Leistungs-Verhältnis
5
---
Pulseway
I've used several different systems like this and Pulseway's UI and functionality is top notch. As always for software there is room for improvement, but they have been working towards stable and useful additions to the software and I'm hopeful for the future. My Solution Specialist representative is great to work with and is always helpful!
Vorteile
Very nice improvements since version 6.0. The organization of the logins and systems is much nicer and easier to use since v.5. Also having the integration for antivirus and 3rd party patches is a very nice to have.
Nachteile
-Sometimes the service times out and disconnects from the server and the service will need to be restarted.
-Can't save or locate the webroot product id in pulseway. You have to login to the dashboard of webroot to get this.
-needs an at a glance note on each system to identify primary user of system.
Branche: Informationstechnologie & -dienste
Unternehmensgröße: 2–10 Mitarbeiter

Täglich

für

Mehr als 2 Jahre

genutzt
Quelle der Bewertung
Preis-Leistungs-Verhältnis
3
---
Product is solid, support can be hit-and-miss
Used the product for years on the Pro version, until I was forced into a non-optional upgrade to the Teams plan. The forced transition process could not have been more poorly planned on the part of Pulseway, and burned me bad enough that I migrated all of my endpoints to a different product. If you start out on the Teams plan perhaps you'll have a better result, just pray that they don't decide to forcibly change you to something new or different a few years down the line.
Vorteile
Custom scripts, cross-platform compatibility, custom alerts
Nachteile
Core Pulseway software is excellent and reliable. Some of the peripheral things are less than stellar. The AV integration feels just a bit janky (Kaspersky in particular), and difficult to deploy custom whitelists and exclusions that work.
Branche: Informationstechnologie & -dienste
Unternehmensgröße: 11–50 Mitarbeiter

Täglich

für

Mehr als 2 Jahre

genutzt
Quelle der Bewertung
Preis-Leistungs-Verhältnis
5
---
Excelent Solution
Very easy to manage all our customers main systems.
Vorteile
The mobile APP is excellent and the easy of usage
Nachteile
Some missing features when we started to use but it has evolved a lot. Currently just the need of a delayed restart of a server would be perfect!