Über TimeCamp
TimeCamp ist eine cloudbasierte Zeiterfassungslösung, mit der Projektmanager zusammenarbeiten, abrechenbare Arbeitszeiten verfolgen und den Projektstatus überwachen können. Diese Lösung unterstützt Unternehmen bei der Berechnung abrechenbarer Aufgaben, beim Erstellen von Rechnungen, beim Zeitmanagement und bei der Verfolgung der Anwesenheit.
Das Zeiterfassungsmodul von TimeCamp bietet ein Dashboard der Arbeitszeiten und ermöglicht eine automatisierte Zeiterfassung für Mitarbeitenden. Darüber hinaus kann das Projektmanagement verschiedene Unteraufgaben in Projekten erstellen und jede Teilaufgabe innerhalb des Teams delegieren. Nutzer können Rechnungen nach Komplexität, zugewiesenen Mitarbeitenden und Arbeitszeiten erstellen.
Die Zeitmanagement-Funktion von TimeCamp ermöglicht die automatisierte Verfolgung der Computernutzung und generiert Produktivitätsanalysen für jeden Mitarbeitenden. Die Lösung teilt auch automatisierte wöchentliche E-Mails, in denen abgeschlossene Arbeiten, Zeitverschwendung, produktive Stunden und Listen von zeitaufwändigen Websites zusammengefasst sind.
TimeCamp lässt sich in zahlreiche Anwendungen integrieren und verfügt über Add-ons für zusätzliche Funktionalität. Die Lösung wird auf Abonnementbasis pro Nutzer und pro Monat berechnet.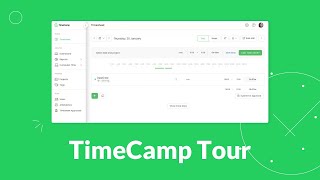 TimeCamp bietet eine Gratisversion und eine kostenlose Testversion. Die kostenpflichtige Version von TimeCamp ist ab $ 7.00/Monat verfügbar.
Kostenlose Testversion:
Ja
Alternativen für TimeCamp
Branche: Design
Unternehmensgröße: 11–50 Mitarbeiter

Täglich

für

6-12 Monate

genutzt
Quelle der Bewertung
Preis-Leistungs-Verhältnis
5
---
I hate tracking time but for the invoices I must
Other than the blips at times, I like Timecamp. It works and because I can go back and edit recorded times makes the world of difference.
Vorteile
I've been using Timecamp as an extension to Trello and it's made life so much easier. I can track time on a project at the click of a button and stop that timer in the very same way.
Nachteile
On Trello I sometimes click stop and think it stopped but then it did not. Like all softwares there's a part of it that doesn't always function because of a weird blip.
Branche: Internet
Unternehmensgröße: 51–200 Mitarbeiter

Täglich

für

Kostenlose Testversion

genutzt
Quelle der Bewertung
Preis-Leistungs-Verhältnis
0
---
Great tool for time tracking your projects
We have trying to manage better out time spent in projects and understanding which activities are causing delays or need improvement in order for the team to be more efficient. With TimeCamp we are capable to understand exactly which part of the project require more time so we can find a solution and also the saturation of the team so we can distribute workload in a fair basis.
Vorteile
I fist tried the trial version of this program which is long enough (30 days) and offers a very good overview of all the features of the tool and how much they can be useful (even when you have not consider them before!). Other similar tools are very restrictive with their features during this period.
TimeCamp allows you to track the time spent on a project by an employee. It allows you to have multiple seats with different permissions and create multiple projects that can be divided in tasks. It is also possible to allocate just some of the team members to a project . It is not only possible to track projects but idle time and attendance.
Reports are are very complete and have many options to filter and present the data you need. The Dashboard allows you to be updated very fast
The tool is very user friendly and can be set up just in a few minutes.
Nachteile
I have tried the Desktop time tracker, which is a nice idea but you are not able to do many things from the widget so you will often have to come back to the website. It would be nice to have the possibility to switch projects or creates new ones directly from there.
Warum TimeCamp gewählt wurde
I made the switch from a similar product because TimeCamp is much more customizable and user friendly
Branche: Design
Unternehmensgröße: 11–50 Mitarbeiter

Täglich

für

Mehr als 2 Jahre

genutzt
Quelle der Bewertung
Preis-Leistungs-Verhältnis
1
---
Company has disreputable billing practices
Well it was great until the billing issue noted above. Now I feel like they are disreputable.
Vorteile
Our staff like the ease of use of the product for time tracking.
Nachteile
Billing practices. Apparently they do not offer refunds. In the beginning we were paying monthly, but switched to annual billing. We realized when renewal came around that 1/2 our users were no longer using the software so we cancelled those users. However, when I contacted the company about a refund, they said they would hold the credit toward future subscriptions (but we are moving away from Timecamp so this is not helpful), but they do not offer refunds. So in other words, they are taking our money for something we aren't using. If we had stuck with monthly billing, this would not have been a problem. So word of warning - stick with monthly billing so you can cancel and avoid the issue we had.
Branche: Computer-Software
Unternehmensgröße: 51–200 Mitarbeiter

Täglich

für

Mehr als 1 Jahr

genutzt
Quelle der Bewertung
Preis-Leistungs-Verhältnis
0
---
Very useful software
It is a great tool to help me track my time and productivity. I love how easy it is to set up and use, and I love that it integrates with other tools I use like Slack and Trello. It is also helpful to be able to review my time logs and see how I am spending my time.
Vorteile
This software is incredibly user-friendly and I've tried many others, but this one is my favorite. Even with the free version, it includes all of the features you need. It's also great that you can switch between automatic and manual time tracking. I'd say it's a simple piece of software, but it does one thing excellently. It's a great way to keep your team and tasks organized.
Nachteile
One of the main things I dislike about TimeCamp is that it doesn't always accurately track the time spent on tasks.
Branche: Übersetzung und Lokalisierung
Unternehmensgröße: Selbstständig

Täglich

für

Mehr als 2 Jahre

genutzt
Quelle der Bewertung
Preis-Leistungs-Verhältnis
5
---
Great, discrete app, which I use to assess my profitability and time spent on specific tasks
I personally like my apps for not getting in the way, which TimeCamp does perfectly. I created tasks organized in projects (areas) in order to assess my profitability on specific projects for my clients (but not invoiced based on time) to deduce an hourly rate, and to check time spent on other specific tasks such as accountancy, mails, etc. For not being a paid user, I need to compile collected data by hand, but I see the subscription plan lets you personalize the output, and communicates with 3rd party tools/apps which is great for integration with your workflow.
Vorteile
I doesn't pop up windows, its icon simply sits in the taskbar, it's very easy to use yet quite complete, it's web-based interface is also nice to use.
Nachteile
Feature requests, even simple ones, are slow to implement. The GitHub canal doesn't seem quite lively.