Über FreshBooks
FreshBooks entlastet dich von der Rechnungsstellung und setzt sie auf Autopilot. Richte automatisierte Rechnungsstellung, Online-Zahlungsoptionen (ACH und Kreditkarte) und Zahlungserinnerungen für verspätete Zahlungen ein, um doppelt so schnell bezahlt zu werden. Steigere als Nächstes die Teamproduktivität mit präzisen Zeiterfassungs- und Projektkollaborations-Tools, sodass jede Minute, jede Datei und jedes Gespräch verfolgt und protokolliert werden.
FreshBooks ist eine webbasierte Buchhaltungslösung, die sich speziell an kleine Unternehmen richtet. FreshBooks bedient verschiedene Branchen wie Marketing, Anwaltskanzleien und Unternehmensberatung, Handel und Home Services und IT (Informationstechnologie).
Zu den wichtigsten Funktionen von FreshBooks gehören Rechnungsstellung, Spesenverfolgung, Zeiterfassung, Berichterstattung und Zahlungsverwaltung. Nutzer können ihre Rechnungen mit einem Branding versehen, Online-Zahlungen akzeptieren und automatische Zahlungserinnerungen festlegen. Ausgaben können nachverfolgt werden, indem Belege an Rechnungen angehängt, wiederkehrende Ausgaben erstellt und Snapshots von Belegen gemacht werden.
Der Finanzstatus kann über Gewinn- und Verlustrechnungen, Steuerzusammenfassungen und Spesenabrechnungen eingesehen werden. FreshBooks kategorisiert die Gebühren für Kreditkartentransaktionen und bietet eine Zusammenfassung aller Einzahlungen auf dem Dashboard. Das Zeiterfassungsmodul des Systems kann nicht abgerechnete Projektstunden in Rechnungen extrahieren, abrechenbare Zeit erfassen und eine Analyse der für Projekte aufgewendeten Zeit bereitstellen.
FreshBooks kann ferner in PayPal, Mailchimp, Zenpayroll und Basecamp integriert werden.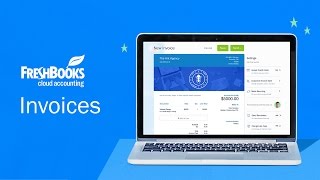 FreshBooks bietet eine Gratisversion und eine kostenlose Testversion. Die kostenpflichtige Version von FreshBooks ist ab 6,00 $/Monat verfügbar.
Kostenlose Testversion:
Ja
FreshBooks Alternativen & Ähnliche Produkte
Branche: Computer- & Netzwerksicherheit
Untern. Größe: 2-10 Mitarbeiter
Verwendet:

Täglich

für

Mehr als 2 Jahre

Quelle der Bewertung
Preis-Leistungs-Verhältnis
5
---
Simple, yet powerful cloud based invoicing with project management
We still love Freshbooks for our day to day use. We use the totals and tax reports for our accountant who use another product to do the "real" accounting.
We use this for billing and the clients love it.
Vorteile
When we were small, we would use Freshbooks exclusively for invoicing (recurring is a life saver) and project management for invoicing our time.
We love the payment reminders (30, 60, 90 days)
Nachteile
Ticketing system was poor, so we use another program that will sync with Freshbooks.
Branche: Medienproduktion
Untern. Größe: 2-10 Mitarbeiter
Verwendet:

Täglich

für

6-12 Monate

Quelle der Bewertung
Preis-Leistungs-Verhältnis
4
---
Best Project Management for Small Business
If you ask me for a rating, I would give 8 out of 10. With a huge amount of features like invoicing, Client Portal, Contact Management, Expense Tracking, Project Management make your business easy to manage. For people who are trying to start a new business, I would recommend the FreshBooks at first.
Vorteile
FreshBooks is very easy to use and has so many features that help you manage your business in a short time. They have excellent customer services. The most fascinating thing about FreshBooks is it has also mobile app and the UI design is so eye-catching. They create attractive invoices for clients. Another coolest feature of FreshBooks is "Proposal". This feature allows you to show the work and writing space and attach your customize pictures.
Nachteile
Although you can hardly find cons in FreshBooks. But sometimes something grabs notice. I think the least likable thing about FreshBooks is limiting users. Only one user can use FreshBooks. And the other one is the price. I think as a small business management tool, it is a little expensive than others.
Untern. Größe: 51-200 Mitarbeiter
Quelle der Bewertung
Preis-Leistungs-Verhältnis
0
---
Not for everyone, or even most...
I've been using Freshbooks for the last couple of years, and at first it was a breath of fresh air after getting away from Quickbooks (both online and desktop version prior to that). If you don't have a proficiency for accounting, systems like Freshbooks are great, so I enjoyed the simplicity of it. The problem is - it's just way too simple and there are some major gaps in functionality. Additionally, it's a stagnant system. Very little improvements or features were tweaked or added in the system during the entire time I used it which is pretty unusual for a web based service.
Freshbooks shouldn't even call themselves accounting, because their forte really is in time tracking and invoicing. I now use Freeagent and wish I'd switched sooner.
If you don't care about tracking profit margins on projects or really tracking expenses accurately at all, then Freshbooks might work for you.
Vorteile
Freshbooks gets plenty right. Tracking billable time against customers or customer projects is a breeze, and their invoicing and methods for collecting payments is really hard to beat. Plus, they integrate with so many other services, it makes it really easy to get addicted to.
The things I love most - and the main reasons I'm glad that I left Quickbooks for Freshbooks is:
Automated invoice reminders, which are totally flexible. This alone saved me a lot of time chasing down late payers.
Your customers get a really nice interface for viewing all their invoices online - although I will say I think I only have one or two clients who ever even used the client portal for doing that. Most of them just go to their email to retrieve the links for invoices or statements, but it is still a really nice feature.
Nachteile
No connections to your banking / credit card accounts. You can do this with expenses to some extent, but it's just awful to work with, when compared to Quickbooks, Xero, FreeAgent - pretty much anyone else. In order to use Freshbooks, you have to have some other software or service for managing the accounting aspects of your business. This ended up being a bad thing for me. I like having it all connected, and there are plenty of great alternatives for that, and some even charge less than Freshbooks.
My reasons for leaving Freshbooks? Freshbooks is downright awful at expenses...
You can't record non-billable expenses against a customer or project. If you want to record the expense without billing the customer for it, you cannot assign it to the customer or project. No easy way around that without messing up your accounting records.
And with expenses that you DO want to rebill the customer for, there's no easy, intuitive way to handle marking up those expenses for goods or services to make a profit on. In order to do that, you must first add the expenses to the customer invoice, and then modify each line item expense amount up to the amount you want the customer to pay.
You cannot record bills as you receive them your vendors. Say for example, you get an invoice from a programmer who did work for you on 4 different projects in a given time period. Most vendors will just send you an itemized invoice with all the billable time across the various projects. Well, you can't record it that way in Freshbooks. Each line item on your bill must be entered into freshbooks one line item at a time, and you cannot correlate them easily to know that they are all part of one bill/invoice. Freshbooks also can't help you with managing when your bills are due. That's accounting, which Freshbooks doesn't do.
Freshbooks solutions to their shortcomings with expenses is all handled with hacks and workarounds for how their system is currently built. They are not easy or intuitive and they also throw things off with your accounting reports.
Branche: Anwaltskanzlei
Untern. Größe: Selbstständig
Verwendet:

Täglich

für

Mehr als 2 Jahre

Quelle der Bewertung
Preis-Leistungs-Verhältnis
5
---
A Game Changer
I found it to be incredible it does what I need it to do, better than anyone else.
Vorteile
I use this to bill clients, send invoices, and to track time. This tool is incredible for how I use it. It does everything better than I could dream or need it to perform.
Nachteile
I pay for everything else, I might find a need to use it one day, but for me: the software is perfect.
Branche: Unterhaltungselektronik
Untern. Größe: 2-10 Mitarbeiter
Verwendet:

Wöchentlich

für

Mehr als 1 Jahr

Quelle der Bewertung
Preis-Leistungs-Verhältnis
4
---
Usable apparatus limitless assets
Extraordinary "interface", it makes my work a lot simpler and significantly more powerful. It is actually an extraordinary item. It has a ton of value. It makes the assistance for the client more open, obviously I need to attempt a bit, however to utilize it, yet nothing better than the application I used to build up my business to create with me. Compromise with the bank works distantly, charging and different assets. As far as I might be concerned, it is an absolutely present day apparatus obviously that can generally improve.
Vorteile
The variety of highlights that makes it available by any utility on the off chance that you need to put forth a great deal of attempt, history of past deals.
Nachteile
I'm a major enthusiast of Freshbooks and I prescribe it to everybody. The Modern interface and utility highlights can be a disadvantage for clients who might not have yet built up their test levels.