Über monday.com
Die herausragende Kollaborations- und Projektmanagementplattform monday.com hilft Teams bei der gemeinsamen effizienten Planung und Durchführung komplexer Projekte für eine termingerechte Lieferung von Ergebnissen. Das Team- und Aufgabenmanagement-Tool von monday.com bietet Nutzerfreundlichkeit und die Flexibilität, jedes Team einzubinden und mehrere Projekte im gesamten Team zu verwalten. Mit einer Vielzahl von Produktivitätsfunktionen wie Zeiterfassung, integriertem Kanban-Board, automatisierten Benachrichtigungen, Workflow-Automatisierung, Abhängigkeiten, mehreren Ansichten und Kalenderintegration können Teams für jeden Projektmeilenstein bessere und schnellere Ergebnisse erzielen. monday.com bietet eine kollaborative Umgebung, in der Projektmitglieder kommunizieren, eine Wissensdatenbank erstellen und Dateien, Bilder, Designs und andere Spezifikationen teilen können. Mit unbegrenzten Boards und einer integrierten Zeitleistenfunktion können Nutzer effektiv zusammenarbeiten und den Projektfortschritt und wiederkehrende Aufgaben über mehrere Boards hinweg verfolgen. monday.com kann in verschiedene Kollaborations- und Aufgabenmanagement-Anwendungen von Drittanbietern wie Google Drive, Dropbox, Pipedrive, Google Kalender, Jira, Mailchimp und andere integriert werden. Das System ermöglicht es Nutzern auch, spezifische Informationen mit externen Gästen wie Kunden oder Freiberuflern auszutauschen. monday.com bietet ein REST-JSON-API-Tool, mit dem Nutzer die CORS-Anforderungen (Cross-Origin Resource Sharing) verwalten können. Die monday.com-App ist für mobile Geräte auf iOS und Android verfügbar. Das Tarifangebot umfasst vier verschiedene Pläne: Basic-Plan, Standard-Plan, Pro-Plan und Enterprise. Support ist über eine Online-Wissensdatenbank, Videotutorials oder das Support-Team von monday.com verfügbar.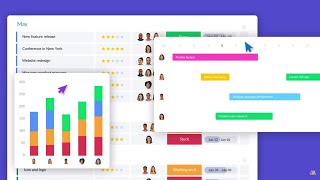 monday.com bietet eine Gratisversion und eine kostenlose Testversion. Die kostenpflichtige Version von monday.com ist ab EUR 10.00/Monat verfügbar.
Alternativen für monday.com
Branche: Computer-Software
Unternehmensgröße: 1'001-5'000 Mitarbeiter

Täglich

für

Mehr als 2 Jahre

genutzt
Quelle der Bewertung
Preis-Leistungs-Verhältnis
5
---
A huge assistance in keeping us on track with our job
As a group, we're making use of Monday.com. I had no idea what to anticipate, but I was pleasantly surprised right away. You should use this program if you want your team to be able to communicate and keep tabs on their progress. You may set up a "dashboard" for each project, assign individuals to each job, set a due date, and so forth.
Vorteile
Our company made use of Monday.com. I've had a wonderful time with monday.com. Personal and business endeavors alike benefit from my usage of this tool. Using it, I'm able to get things done. Depending on the team's progress, each assignment might be given to one or more persons. It's the go-to tool for getting things done in general since we can do so much more with it.
Nachteile
When more than two persons (3+) are involved in a project, a payment plan is required. A larger crew means a higher price tag. If you know how to utilize the tool effectively, taking a plan is in your best interest monday.com.
Branche: Internet
Unternehmensgröße: 1'001-5'000 Mitarbeiter

Täglich

für

Mehr als 2 Jahre

genutzt
Quelle der Bewertung
Preis-Leistungs-Verhältnis
5
---
Multiple boards can be created by various groups
Work orders that have been completed and those that are still in progress can be saved in the system. Council members are able to read updates without having to get regular email updates. Keeping tabs on my immediate team's daily workload and expected workload. Anyone who is suffering and needs more support or time, or who is short on work, may be easily identified.
Vorteile
It's the most user-friendly tracking tool available. Especially when teams are spread out across the globe, updates are almost always instantaneous. works on both Chrome and iOS. The views are simple to grasp and adjust to your own method of working. It's a breeze to get up and running, and it only takes a few minutes to learn and collaborate with your team.
Nachteile
The timeline feature, one of the nicest features, is not available in the free edition. Some of the integrations are a tad constrained. If you don't handle your email notifications, you'll be flooded.
Branche: Computer-Software
Unternehmensgröße: 501-1'000 Mitarbeiter

Täglich

für

1-5 Monate

genutzt
Quelle der Bewertung
Preis-Leistungs-Verhältnis
3
---
Might be better if it was called "Friday"
Monday.com was pretty good at what they advertise on their basic features, but as you continued to use the software more and more it became obvious that the advanced workflows and requirements are bit underdeveloped.
I'll continue to use Monday and continue to push for new features - I know they are trying and growing and constantly evolving, but I'd like to see Monday.com start to enrich the existing value-add tiers that Im already bought into.
Vorteile
I love the ease of use for most of their features. They are pretty fantastic with their Ui and Ux (Cx) and they make "Mondays" somewhat enjoyable because the Monday.com experience gives you something to look forward to (if you like organizing your work/life into neat categories, buckets, and reports).
Nachteile
Everyone has the case of the Mondays on Monday while using Monday.
Joking aside, this software is pretty great on the surface. It makes a lot of sense for what they are trying to accomplish and they do a great job. They have Ux down.
However, I've really struggled with Monday.com in trying to 'grow' beyond their molds and default workflows. They have a lot of enhanced features (plugins, webhooks, triggers, etc) that certainly make integration easier, but as I got further into the weeds with Monday.com their Ux and understanding of advanced needs became more shallow IMO.
To link tasks into higher order buckets (think sub tasks -> tasks/stories -> Epics -> Projects) the entire thing kinda works... kinda doesn't.
Understand what they are up against tho - they are struggling to build a tool that meets everyone's needs - I get that - and for me, it didn't always measure up in the ways that make it work for my needs.
The base/entry paywall package was already kinda more expensive then other free software (or software being offered by my org) but as I kept wanting to do more and more advanced features I found myself having to pay more and more. It became cost prohibitive for me to continue to try to make Monday.com work.
Branche: Computer-Software
Unternehmensgröße: 11-50 Mitarbeiter

Wöchentlich

für

6-12 Monate

genutzt
Quelle der Bewertung
Preis-Leistungs-Verhältnis
2
---
Not a great PM or CRM platform
My overall experience has been negative, as monday.com just isn't easy to use.
Vorteile
My favorite feature of monday.com is the automation. This makes it easy to stay on top of tasks without logging into the platform, however the number of automations you get per month is very limited with the lower tiered plans.
Nachteile
I dislike almost everything about this software, but primarily the PM and CRM functions.
On the PM side, the platform does not make it easy to create templates for tasks and use them to structure future projects. There is also not capability (that I could find) to update the date on more than one task at a time. It's very tedious to add a project into monday.com and even more tedious to change dates later on. There are some pretty views and pre-made project templates, but for someone with experience in the PM field monday.com feels more like a hinderance than a help.
On the CRM side, I was honestly shocked to hear monday.com branded themselves as such. As someone with experience in multiple CRMs, I can see almost nothing on this platform that functions as a CRM. It could be helpful for VERY simple contact management, but that's about it.
All of this to say I can tell the monday.com team is trying very hard to make a good product, it just seems like it's trying to do too much and doing none of it well.
Antwort von

monday.com

Hey there. Thanks so much for taking the time to leave a review and for your feedback. We would love to talk further about how monday.com can accomplish those things, so please send us an email to [email protected]!

Beantwortet am 28.6.2022
Branche: Informationstechnologie & -dienste
Unternehmensgröße: 51-200 Mitarbeiter

Täglich

für

Mehr als 2 Jahre

genutzt
Quelle der Bewertung
Preis-Leistungs-Verhältnis
4
---
Easy Project Management
Monday.com keeps my team organized. It took minimal time to set up and keeps us on track. Two thumbs up!
Vorteile
My team loves Monday.com as it keeps us on the same page with projects and tasks, and helps us present our overall marketing calendar. We use it on a daily basis and it helps me keep my team of 8 organized and efficient.
Nachteile
I wish the different boards were integrated a little easier so I could have one board for sales, one for marketing, and then one for my overall calendar I could share with my management team. I'd like to be able to see things from a high level and then be able to drill down but unfortunately, that is not offered.
In Betracht gezogene Alternativen
Basecamp
Warum monday.com gewählt wurde
Jira is more of a technical project management tool. I needed something that my creators could use with ease.
Zuvor genutzte Software
Jira
Gründe für den Wechsel zu monday.com
Ease of use and price.