Über AWeber
AWeber bietet E-Mail-Marketing-Services für kleine Unternehmen an. Diese Lösung hilft bei der Automatisierung von E-Mail-Follow-ups und der Zustellung von Newslettern. AWeber umfasst einen Auto-Responder, mit denen Unternehmen gezielte, personalisierte und zeitnahe Nachrichten an Kunden senden können. Nutzer können ihre E-Mail-Marketing-Konten in verschiedene Online-Dienste integrieren und so den Informationsaustausch zwischen verschiedenen Unternehmensabteilungen verbessern. Mit AWeber können Nutzer E-Mail-Abonnementformulare in ihre Blogs, Websites und Facebook-Seiten einbetten. Die AWeber-Konten von Nutzern können auch in die meisten Warenkorb-Tools integriert werden, sodass neue Kunden zu E-Mail-Listen hinzugefügt werden können, sobald sie einen Kauf auf der Nutzer-Website abgeschlossen haben. Nutzer können auch AWeber API, eine Programmierschnittstelle, verwenden, um ihre eigenen maßgeschneiderten Anwendungen und Tools zu erstellen, die ihre spezifischen Anforderungen erfüllen.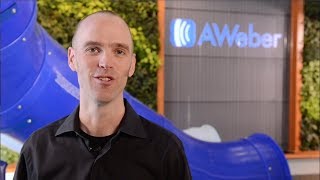 AWeber bietet eine Gratisversion und eine kostenlose Testversion. Die kostenpflichtige Version von AWeber ist ab $ 0.00/Monat verfügbar.
Kostenlose Testversion:
Ja
Branche: Professionelles Training & Coaching
Unternehmensgröße: Selbstständig

Wöchentlich

für

1-5 Monate

genutzt
Quelle der Bewertung
Preis-Leistungs-Verhältnis
5
---
Poor Deliverability For Me Best Tagging Experience
My experience with Aweber's customer support even when I start as a free trial was something to take home about.
It's easy to create both HTML templates for your emails and also, their easy drag and drop email builder makes it possible to design your email templates or pick from the library of already made templates and edit your campaigns.
Email campaigns can also be shared with someone else to import all the flows to their autoresponder with Aweber and save a lot of stress.
Vorteile
I love Aweber's ease of signing up plus, it's a powerful autoresponder with a nice user interface, great email list management, custom segmentation, and the fact that it even delivers analytics to your email after sending an email campaign makes it my favorite. As compared to ConvertKit, Aweber is still cheap and an affordable autoresponder to rely on.
Aweber has outstanding customer service which you can reach at any point in time from email, live support, and phone call.
Nachteile
Aweber's Campaign flows feature is currently my third best but then it lacks some features as compared to sender. An example of that feature I was looking for is setting a condition of either a subscriber is qualified to receive the next flow or change a path. That which I can't find in an expensive autoresponder like Aweber.
Warum AWeber gewählt wurde
I was promoting Affiliate products and MailChimp had to shut me down and that was why I sourced for another autoresponder which can give me control over my list, what I send and when I send to them.
Gründe für den Wechsel zu AWeber
I read a lot of reviews about successful affiliate marketers using Aweber to make money and I thought I should go for it. Plus, I liked their Free trial which offers almost everything the paid plan offers with 500 subscribers.
Branche: Marketing & Werbung
Unternehmensgröße: 2–10 Mitarbeiter

Weitere

für

Mehr als 2 Jahre

genutzt
Quelle der Bewertung
Preis-Leistungs-Verhältnis
4
---
AWeber: A Good Start With Email Marketing
I enjoyed using AWeber. It was easy to set up lists and broadcast emails. And it made it possible for me to get started building my business online without much tech skill. However, as I became a more advanced marketer and wanted more control in my business, the way AWeber was set up did not seem to make certain advanced automation features possible. Or the interface was set up in such a way to dissuade you from using it for more complex features.
Vorteile
The best part about AWeber is how easy it is to use. There aren't a whole lot of bells and whistles which means that it's super fast to get up and running. And honestly, though it's not my favorite tool, most businesses would do better to use AWeber than their current email marketing system. Also, it's got good deliverability which means your emails actually show up in the inbox instead of spam.
Nachteile
I call AWeber a "beginner" email marketing tool because that's what it feels like. Yes, it'll get you up and running. But it doesn't "feel" powerful and the lack of features leave some things to be desired. But "something" is better than "nothing", so if using something easy gets you and your business to do email marketing, than by all means use AWeber.
In Betracht gezogene Alternativen
Keap
Warum AWeber gewählt wurde
I don't have anything good to say about MailChimp. Not only is the interface clunky, but oftentimes deliverability suffers. And as if that isn't enough, a lot of businesses that are totally ethical, GOOD businesses are forbidden from using the platform. I have many friends who have woken up to their accounts banned, locked out of all their email contacts without so much as a reason. And these weren't people running aggressive offers. They were just regular businesses (like flower shops) that apparently tried to sell their products a little too "hard" and therefore caught the ban hammer.
Gründe für den Wechsel zu AWeber
At the time I was just getting started in internet marketing, I wanted to use what the "big names" used. So I looked into the platforms they "recommended." This was before I understood affiliate marketing and didn't know they were getting paid to say how awesome these platforms were. When in reality, yes they are super powerful. But they're also really clunky and take a SUPER long time to learn. Plus, I quickly realized I wouldn't use MOST of what these other platforms offered, so I quickly decided on AWeber so I could get started with my business.
Branche: Informationsdienst
Unternehmensgröße: 2–10 Mitarbeiter

Täglich

für

Mehr als 2 Jahre

genutzt
Quelle der Bewertung
Preis-Leistungs-Verhältnis
2
---
From Hero to Zero
It's a shame Aweber fell from our grace so monumentally. I'd been a loyal customer for several years, but when things went wrong they did so so disastrously and caused real damage to our business. When you're emailing thousands of people, technical glitches are not OK, especially if they can't be explained.
Ironically, it's only been moving to another provider that has really served to highlight how dated Aweber is.
Vorteile
AWeber was my first email marketing system and I was happy with it for several years. It's fairly easy to use despite having a rather clunky and old-fashioned interface. Email deliverability is reasonably good and the support team responds quickly. It's also staffed with people and not bots.
Nachteile
Sadly, Aweber completely destroyed an email campaign and lost me money. I had set up a sequence of emails and twice been on to support so they could confirm it was done correctly. When the time came, the emails went out in the wrong order, annoying customers I'd spent years building up and making our company look very unprofessional. Despite personal phone calls and apologies, Aweber seemed to lose interest and have yet to explain what happened.
Branche: Zeitung
Unternehmensgröße: 2–10 Mitarbeiter

Täglich

für

Mehr als 2 Jahre

genutzt
Quelle der Bewertung
Preis-Leistungs-Verhältnis
5
---
Aweber customer service is the best
Highly satisfactory
Vorteile
Fantastic customer service. Reps are bright, knowledgeable, and very interested in solving my problems.
Nachteile
There is nothing I can think of at present
Gründe für den Wechsel zu AWeber
Customer help videos, and fantastic customer service. [sensitive content hidden] was excellent today in quickly solving an issue that I was having with my lists.
Branche: Marketing & Werbung
Unternehmensgröße: 2–10 Mitarbeiter

Täglich

für

6-12 Monate

genutzt
Quelle der Bewertung
Preis-Leistungs-Verhältnis
4
---
The Aweber Review
Great autoresponder for digital marketing/ affiliate marketing professionals. Your potential to grow and maintain active lists is entirely up to your competencies.
Vorteile
Aweber provides great email templates with superb integration with other top tier programs. It even offers email marketing training and split testing functionality.
Nachteile
The only con I can think of is that the price increases dramatically as your list size increases. However it still remains very competitive with other autorepsonders.
Warum AWeber gewählt wurde
Mailingboss is a part of the Builderall system that I used before. Aweber also provides better looking and better integrated templates.
Gründe für den Wechsel zu AWeber
I found it was a lot more user friendly and offered a great 30 day trial with which to test the product with.