Über EZOfficeInventory
EZOfficeInventory ist eine dynamische Softwarelösung für das Asset- und Instandhaltungsmanagement, die auf Unternehmen aller Größen zugeschnitten ist. Die cloudbasierte Software ist nutzerfreundlich und ist von überall und zu jeder Zeit zugänglich.
Verfolge Artikel über Standorte und Abteilungen hinweg, scanne Barcodes direkt von deinem Handy aus, optimiere die Artikelpflege, um die Funktionalität zu erhöhen, pflege jederzeit optimierte Lagerbestände und verwalte alle deine Nutzer und Lieferanten mit einer Lösung. Das Inventarmanagementmodul ermöglicht es Nutzern, den Lagerbestand mit QR-Codes und Barcode-Tags zu verfolgen.
EZOfficeInventory verfügt über eine mobile App mit Barcode- und QR-Code-Scan-Funktionalität, sodass du dein Inventar verfolgen kannst, wo immer du auch bist. Die GPS-Ortung ermöglicht es Nutzern, die Position von Artikeln zu verfolgen, sodass Nutzer ihre Assets auf einer interaktiven Karte überwachen und verlorene oder verlegte Assets identifizieren können. Die Lösung bietet eine REST-basierte API, die sich in andere REST-basierte Systeme integriert. Individuelle Berichterstattung und Dashboards helfen den Nutzern bei der Verfolgung und Überwachung von Assets. Nutzer sind in der Lage, historische Inventardaten zu analysieren und Entscheidungen bezüglich ihrer Inventarmanagementvorgänge zu treffen. Die Lösung lässt sich auch in Anwendungen von Dritten wie Zendesk, Jira, Dropbox, Active Directory und OneLogin integrieren.
EZOfficeInventory bietet sowohl monatliche als auch jährliche Abonnements mit Support per Telefon, E-Mail und anhand einer Online-Wissensdatenbank.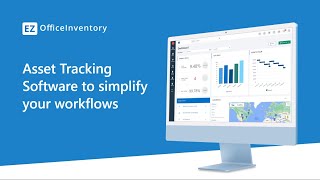 EZOfficeInventory bietet keine Gratisversion, aber eine kostenlose Testversion. Die kostenpflichtige Version von EZOfficeInventory ist ab $ 35.00/Monat verfügbar.
Alternativen für EZOfficeInventory
EZOfficeInventory Erfahrungen
Unternehmensgröße: 51-200 Mitarbeiter

Täglich

für

1-5 Monate

genutzt
Quelle der Bewertung
Preis-Leistungs-Verhältnis
4
---
Very easy to use and understand. Great user interface. Editing is a breeze!
This software is taking me from several huge spreadsheets and no photos to a streamlined, searchable, history tracking, photo attached inventory system. No longer do I have to track multiple files and spreadsheets. It is all in one place.
Vorteile
It is FAST and very simple to use. I can change records so easily if I need to correct or edit anything. Adding custom fields is great for unique data. Searching is with the ability to search multiple terms at once. Filtering allows me to further 'drill down'. The three different types of items make it simple to separate company owned, client owned and disposable inventory. Adding photos and other documents is also very easy. Managing photos is fairly simple, but see 'cons' below. User permission has a very deep control mechanism allowing viewability to be finely tuned and managed as needed. The cart feature is awesome for checking out multiple items at once. You can then check in the same cart for fast returns. Searching with the mobile app via text, or scanning QR codes is blazing fast. Zero time is wasted waiting on EZO. Any lag is all on me. I use this software to track items in a photo studio, the things that belong to our clients that we are photographing. As such, we must isolate those items so that there is no client crossover. This works great!
Nachteile
As of this writing (5/2018) the view is not 'responsive' to your screen size. It is also not possible to manually resize column widths. Some views allow you to hide the right sidebar while others do not. This is promised to be an updated feature coming in 7/2018. When interacting with individual records after a search, it is not possible to return to the search results. The search must be repeated. There is no feature to create shelf barcode or QR code labels. Must use external software, but you can easily link those, one by one.
Branche: Eventservice
Unternehmensgröße: 11-50 Mitarbeiter

Täglich

für

Mehr als 2 Jahre

genutzt
Quelle der Bewertung
Preis-Leistungs-Verhältnis
5
---
The Ease of EZOFFICEInventory
My personal experience has been great. When speaking with potential clients, if they have certain preferences on equipment needs, I can easy access our inventory to see off we have that particular equipment instantly. It is just very easy to use. It's not clunky in any way.
Vorteile
It's very user friendly software. Before selecting it, we looked at one other software. What we loved about it was the ability to customize it without having to call support for help. We are able to track all of our inventory via barcode no matter what project they are assigned to with ease, via online or mobile app.
Nachteile
As soon as I have an answer I will update. We are very pleased with the software.
Antwort von

EZOfficeInventory

Hi Duane, hope you are having a good day! Thank you for giving us the positive energy. If you ever feel like discussing anything related to the system and your workflow feel free to reach out to us. We will be happy to help.

Beantwortet am 2.9.2020
Branche: Bau
Unternehmensgröße: 11-50 Mitarbeiter

Täglich

für

6-12 Monate

genutzt
Quelle der Bewertung
Preis-Leistungs-Verhältnis
4
---
It's good to know what we have and where it is !!
Although not very cheap we decided to have the full version after using the trial, the cost could be offset by one item not getting lost or several not being abused as they could be
Vorteile
We really like knowing where items are, where they have been, and who has used them, it not only reduces losses but we also believe it reduces abuse of items as staff know they have to return an item and need to return it in good condition
Nachteile
Sometimes the capture of the barcode is difficult but that could be user error, overcome by manual searching
Antwort von

EZOfficeInventory

Hi Dean, thank you for your kind review. We are glad to know EZOfficeInventory is working well for you. Regarding the barcode scanning issue, a Solutions Consultant will reach out to you to figure out what is causing that.

Beantwortet am 15.7.2021
Branche: Bürgerliche & soziale Einrichtungen
Unternehmensgröße: 501-1'000 Mitarbeiter

Täglich

für

6-12 Monate

genutzt
Quelle der Bewertung
Preis-Leistungs-Verhältnis
0
---
As a new user who has never used similar software, I have many criticisms
Vorteile
It is very helpful to be able to look up an asset by serial number, asset id, comments, etc.
Nachteile
I find it difficult to process multiple assets at once. For example, when printing tags if the batch is not easily filtered it is difficult to get everything on one download. If I want to print various tags that have nothing in common to filter by then I will have to print each one individually. It has created a situation where a missed asset number will just be abandoned and left in the retired state indefinitely. The function of check in and out has also been abandoned by my company due to the limits on members that can be added as well as the difficulty of keeping up with who should be added or deleted. It has made more sense to note in the comments who has checked out an asset because its far easier to implement and manage. Another note, we have assets that are IT related and non-IT related. It would be very helpful to be able to separate these into groups that may be associated with the admin account related to each department.
Antwort von

EZOfficeInventory

Hello Ashlee. Thank you for taking out the time to provide us detailed feedback. You can easily divide your IT and non IT assets on the basis of different groups and locations - the custom roles feature allows you to limit users to only their assigned groups which will in turn restrict non IT members from viewing your IT assets. There are multiple ways to pick assets from different pages but we would like to know more details as to how you are currently using it. We are currently evaluating checkouts against multiple people and we'd love to get your insights on it. We would like you to drop us an email at [email protected] and your assigned solutions consultant will set up a call with you to configure your account in a way that you don't have to face these troubles again.

Beantwortet am 4.8.2020
Branche: Religiöse Einrichtungen
Unternehmensgröße: 51-200 Mitarbeiter

Monatlich

für

6-12 Monate

genutzt
Quelle der Bewertung
Preis-Leistungs-Verhältnis
5
---
Easy to set up and use--PERFECT for us
We now have a great system for checking out our AV and computer equipment. There's no longer a mystery as to where equipment is at so we know how to contact when we are looking for an item(s).
Vorteile
Easy to set up and use.
Great app.
straight forward
great customer service help
Nachteile
I haven't really found anything
I haven't found anything.
Antwort von

EZOfficeInventory

Hey Laura, great to know that its working well for you. Thank you so much for providing us with this amazing review. If you ever have any queries or feedback, please feel free to let us know about it at [email protected]

Beantwortet am 11.6.2021