Über LiveAgent
LiveAgent ist eine Online-Live-Chat-Plattform für E-Commerce-Unternehmen auf kleiner und mittlerer Ebene. Die Plattform bietet eine Live-Chat-Anwendung, Ticketverwaltung, Online-Self-Service-Portale sowie Änderungs- und Lizenzverwaltung, alles entweder als In-Suite- oder eigenständige Anwendung.
LiveAgent bietet eine Auswahl an breiteren Anwendungen für das CRM, wie z. B. Marketing- und Sales-Force-Automation in Kooperation mit einer Vielzahl von Drittanbieter-Softwareunternehmen. Die Lösung ist anpassbar und kann skaliert werden, wenn kleine Unternehmen ihre Kundenbasis und Online-Dienstleistungen ausbauen. Die Software bietet ein Ticket-Verwaltungssystem, bei dem das Ticket den kompletten Datenstrom der Chat-Nachrichten, E-Mails, Telefonanrufe oder Nachrichten aus anderen Kommunikationskanälen zwischen Kunden und Support-Mitarbeitenden des Unternehmens enthält.
LiveAgent wird sowohl als webbasierte (Cloud-)Software als auch als On-Premise-Installation angeboten. Der Preis für die Cloud-Option wird auf einer Pay-per-User-Basis berechnet basierend auf der Anzahl der Agenten, und die On-Premise-Optionen ist ein Vorab-Preismodell und richtet sich nach der Anzahl der Agenten.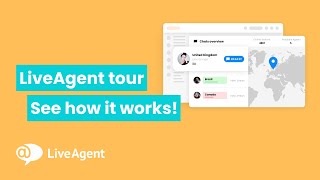 LiveAgent bietet eine Gratisversion und eine kostenlose Testversion. Die kostenpflichtige Version von LiveAgent ist ab 15,00 €/Monat verfügbar.
Startpreis:
15,00 €/Monat
Preisinformationen:
14-tägige Probephase, Keine Kreditkarte erforderlich Kostenlos: €0/Agent/Monat Ticket: €15/Agent/Monat Ticket + Chat: €29/Agent/Monat All-inclusive: €39/Agent/Monat
LiveAgent Alternativen & Ähnliche Produkte
Branche: Baumaterial
Untern. Größe: 51-200 Mitarbeiter
Verwendet:

Täglich

für

1-5 Monate

Quelle der Bewertung
Preis-Leistungs-Verhältnis
0
---
Great Features & Great Speed
LiveAgent is helping us convert initial chat enquiries visiting our website into qualified sales leads. We provide a niche product to the very top of our market so being able to qualify enquiries at this initial stage is important to us. The other key outcome is LiveAgent has no impact on our site loading speed. We identified ZenDesk, our previous chat solution, was impacting out site loading speed - and therefore potentially impacting our SEO strategy. From a free trial, we found LiveAgent has zero impact on our site loading speed - we now have a better chat solution AND a faster loading webiste.
Vorteile
We use LiveAgent to manage chat conversations on our website with the aim of converting initial enquiries into qualified sales leads. There is afar great functionality than our previous chat software solution and is far more customisable, with options to brand and personalise it to our business. The other key feature for us is that it is the number one ranked chat widget for website loading speed, an important part of our SEO strategy.
Nachteile
There is so much more functionality and ability to personalise LiveAgent than our previous chat software (ZenDesk) so set up took a little longer - but the ultimate outcome has been far superior.
Antwort von

QualityUnit

Hello Barney, many thanks for your great review! It means a lot to us and we are super thrilled to hear that you are happy with the platform and the chat solution LiveAgent is offering. We understand that it is necessary to manage all the tickets from the very beginning as each customer is important and should be taken the best care of and that is why LiveAgent makes sure that no ticket is skipped or left out! Just remember that our support team is always ready to help so feel free to start a chat on our website should you have any questions! :)

Beantwortet am 25.3.2020
Branche: Computer-Software
Untern. Größe: 11-50 Mitarbeiter
Verwendet:

Täglich

für

Mehr als 2 Jahre

Quelle der Bewertung
Preis-Leistungs-Verhältnis
5
---
Excellent Experience Overall - I Recommend LiveAgent
The customer support team for LiveAgent has been excellent, helping work through our needs and how LiveAgent can meet those. The application has helped us improve our management support items.
Vorteile
For day-to-day use, it is very intuitive for our client services team; the interface is visually intuitive, with colour coding that makes easy to see which tickets need attention and when. The automatic rules also offer a large amount of flexibility in managing support tickets and providing the right information to our team.
Nachteile
Some basic features are not yet included; e.g. instead of responding to an individual message, you have to forward that message, and choose all the recipients again. However, I've noticed that new features are available often, and I am confident inconveniences such as this will be resolved with time.
Antwort von

QualityUnit

Hi Jacob,
Thank you for such a nice review. We pride ourselves in making our software feel natural and simple to use and are glad to see the work is paying off. That said, there are always areas where we can improve and will continue to do so to provide the best helpdesk software on the market.

Beantwortet am 12.2.2020
Branche: Informationstechnologie & -dienste
Untern. Größe: 11-50 Mitarbeiter
Verwendet:

Täglich

für

1-5 Monate

Quelle der Bewertung
Preis-Leistungs-Verhältnis
5
---
Great product for managing client tickets
It has been a great experience so far in managing client tickets and the best part is that the platform is highly customisable to suit our companies needs and taste.
Vorteile
The product is extremely easy to use and the navigation is user friendly. And has all the features required for managing a ticketing system.
Nachteile
It would be great to have time to record features against each ticket. Currently, we have to use another platform (TimeNEye) to do that for us.
Branche: Einzelhandel
Untern. Größe: 11-50 Mitarbeiter
Verwendet:

Täglich

für

Mehr als 1 Jahr

Quelle der Bewertung
Preis-Leistungs-Verhältnis
5
---
Significant Value for the price
Vorteile
Price, Excellent customer support, large amount of features and functionality
Nachteile
While I love the complete control of all the automated systems being programmable, it could use some additional default built in options. Comparing LiveAgent to competitors like ZenDesk is like comparing Linux to Apple. LiveAgent gives you complete control - but you have to set up everything. The other software out there doesn't let you customize, but everything works for you. An in between 'windows' option that allows control for those who want it but is smoother to set up for those who don't want the extra work would be optimal. That said, programs that do it for you tend to cost a lot more, which would defeat LA's primary value, the low cost.
Antwort von

QualityUnit

Dear Ben, thank you for your honest feedback! We really appreciate it! :) The reason why LiveAgent was developed in a way that you have to set the majority of things up is so that it would work for each client exactly how they need. Usually, businesses differ from one to another and that is why we wanted to give everybody a chance to adjust it to their business and needs. You know where to find us should you need anything! :)

Beantwortet am 4.3.2020
Branche: Einzelhandel
Untern. Größe: 2-10 Mitarbeiter
Verwendet:

Täglich

für

1-5 Monate

Quelle der Bewertung
Preis-Leistungs-Verhältnis
5
---
LiveAgent is great!
An amazing experiance!
Vorteile
That it gave us the possbilility to use 1 software instead of 5 diffrent ones.
Easy to use, great workflow with then tickets and live chat!
Nachteile
It's a bit messy to install(5 diffrent brands) but with some help from their amazing customer service it all worked out.