Über Campaigner
Campaigner ist eine cloudbasierte E-Mail-Marketing-Lösung, die sich an kleine und mittelständische Unternehmen in verschiedenen Branchenvertikalen richtet. Fachleute können mithilfe einer Drag-and-Drop-Oberfläche Automatisierungsworkflows erstellen und das Kundenengagement durch bedingte, verhaltens- und ereignisbasierte Auslöser verbessern. Zu den Funktionen gehören A/B-Tests, anpassbare Vorlagen, Geolokalisierung, eine Medienbibliothek, ein Bildeditor, Berichterstattung, Compliance, Anmeldeformulare und mehr. Mit Campaigner können Unternehmen Daten in die Plattform importieren und Abonnentenprofile automatisch ausfüllen, indem sie nutzerdefinierte Datenfelder hinzufügen. Führungskräfte können wiederkehrende E-Mail-Kampagnen planen und Zielgruppensegmente basierend auf den Kontoaktivitäten, demografischen Daten und dem Kaufverhalten von Kunden erstellen. Campaigner erleichtert die Integration in verschiedene Drittanbieteranwendungen wie Google Analytics, Magento, Shopify, PieSync und mehr. Das Produkt ist im Rahmen monatlicher und jährlicher Abonnements verfügbar und der Support erfolgt per Telefon, über Dokumentationen und ein Anfrageformular.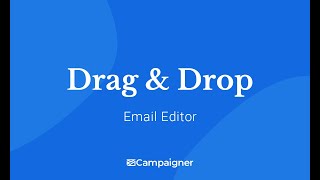 Campaigner bietet keine Gratisversion, aber eine kostenlose Testversion. Die kostenpflichtige Version von Campaigner ist ab $ 59.00/Monat verfügbar.
Startpreis:
$ 59.00/Monat
Kostenlose Testversion:
Ja
Alternativen für Campaigner
Branche: Industrieautomation
Unternehmensgröße: 51-200 Mitarbeiter

Täglich

für

Mehr als 2 Jahre

genutzt
Quelle der Bewertung
Preis-Leistungs-Verhältnis
5
---
Campaigner is a big asset to what I do every day - try to get my business name out.
Getting my name out
Vorteile
Ease of use, price, and value for money! The setup, input, and reports are easy to use and very helpful.
Nachteile
The one thing that is bothersome is the "touchiness" of being locked out - but I totally get the reasoning
Antwort von

j2 Global

Hi Kelly!
Thank you so much for the glowing review! We are happy to hear that Campaigner is a big asset for you and your business.

If you have any suggestions or comments in the future please do not hesitate to contact us.

-The Campaigner Team

Beantwortet am 4.5.2018
Branche: Immobilien
Unternehmensgröße: 51-200 Mitarbeiter

Täglich

für

Mehr als 2 Jahre

genutzt
Quelle der Bewertung
Preis-Leistungs-Verhältnis
5
---
Automation and ease of use
Overall, we are extremely satisfied on what this software allows us to do from a campaign standpoint. Our emails are clean and easy to read on mobile devices and on the desktop.
Vorteile
The interface is very user friendly allowing for drag and drop editiong or html editor features make Campaigner a breeze to work with. In addition, being able to automate an email to go out weekly, or every two weeks, three weeks or four weeks is a great feature.
Nachteile
Sometimes Campaigner is caps sensitive with linked documents, which will sever links if you're not careful and unless you pull it into html editor you may not be able to see the severed link in the drag and drop editor to apply changes.
Warum Campaigner gewählt wurde
Constant Contact did not have the ability to automate ina way to send our emails out every four weeks or other custom send scheduling of the same email
Gründe für den Wechsel zu Campaigner
Ease of use and automation features were the critical components that helped us move to Campaigner to achieve our needs.
Antwort von

j2 Global

Hello Jason, thank you very much for leaving this great feedback for us. It most definitely helps us to ensure that we keep Campaigner as optimized to your needs as possible. Best regards - Carlos, Customer Marketing Manager.

Beantwortet am 25.3.2021
Branche: Non-Profit-Organisation Management
Unternehmensgröße: 2-10 Mitarbeiter

Wöchentlich

für

Mehr als 2 Jahre

genutzt
Quelle der Bewertung
Preis-Leistungs-Verhältnis
2
---
Much to be desired
We understand Campainer is not just an email program, but they don't seem very interested in our suggestions along the way. It's disappointing that in all these years, there hasn't been any kind of redesign for ease of use. At what we are being charged monthly; we are likely going to shop around and see if there is something better matched for our needs, and priced more competitively.
Vorteile
We use it for simple email blasts to our neighborhood association. We don't use it for marketing campaigns, so therefore do not have the need for some of the functionality available with Campaigner. For our needs it works.
Nachteile
Ease of use. It is not intuitive, and they haven't done any kind of software or GUI redesign since we started using it (6+ years ago).
Making a template should be a lot easier than it is: Creating and editing templates has a lot of old graphic (frames?) technology that makes for a frustrating experience when trying to line up text blocks with headers, footers and images.
Writing an email with attachments should be easier. Having to upload a file/image to the media library, and then importing it into your email is a lot of steps. Instead, allow a person to add a file/image to an email note in the same simple fashion as any other email client works: add a paper clip button and allow us to select the file to add to the note. That seems like it should have been done a long time ago.
Also, if you accidentally remove a person from an email list, you have to call up Campaigner support to get it fixed; you can't manually fix it yourself. Very annoying.
Antwort von

j2 Global

Hi Scott,

Thank you for taking the time to review the platform.

We appreciate the feedback you provided in regard to the platform and have passed the feedback on to our product team. If you have any additional issues or questions please feel free to let us know.

-The Campaigner Team

Beantwortet am 15.10.2018
Branche: Medizinische Praxis
Unternehmensgröße: 51-200 Mitarbeiter

Wöchentlich

für

Mehr als 1 Jahr

genutzt
Quelle der Bewertung
Preis-Leistungs-Verhältnis
5
---
Love the Drag & Drop Editor!
Overall, I give Campaigner 5-stars for cusotmer service and email marketing. We appreciate that they continue to develop and improve the software overtime too.
Vorteile
When Campaigner updated the software to utilize the drag and drop editor it was a game-changer! So easy to design templates for simple or more detailed email campaigns. Campaigner has been the best email marketing software that we've used so far and helps us to automate communications to our patients quickly and effectively. We also have to shout-out Campaigner's responsive customer service and support teams. Whenever we have had any issues with our account, the team is quick to respond and resolve any issue that we are experiencing. Speedy support is hard to come by in the software industry.
Nachteile
We do experience a lot of issues with the SMTP email relay function, which isn't Campaigner's email software directly but within its portfolio that we pay Campaigner for.
Warum Campaigner gewählt wurde
We've used DemandForce, SolutionReach, and DoctorConnect and they all pale in comparison to Campaigner. The other platforms were clunky to use, not intuitive or user-friendly, outdated, and constrictive when it came to designing email templates.
Gründe für den Wechsel zu Campaigner
Mailchimp's support team is virtually non-existant. We tried reaching out to start an account and they never returned our messages. If problems arise with a software, customer service is a priority for us.
Antwort von

j2 Global

Hello Laura,

Thank you very much for your feedback and so happy to hear that you are enjoying the drag and drop email editor! It is also really great to know that our support team has been there to help you when you are in need.

We look forward to continuing to serve your email marketing needs for years to come.

All the best,

Carlos Petersen, Customer Marketing Manager

Beantwortet am 19.10.2020
Branche: Unterhaltung
Unternehmensgröße: 11-50 Mitarbeiter

Täglich

für

Mehr als 2 Jahre

genutzt
Quelle der Bewertung
Preis-Leistungs-Verhältnis
3
---
A little learning curve, but powerful software
We use Campaigner for numerous purposes, including marketing directly to customers, distributing information to vendors and other interested parties, and media outreach. We have found it effective for all of these purposes, especially since it can handle all of these without interfering with the others.
Vorteile
Ease of managing lists, importing from other sources, handling unsubscribes and reporting. Terrific customer support via chat and telephone.
Nachteile
Creation WYSIWYG tool can be a little frustrating, as the interface sometimes makes editing difficult (size of the working box inhibits cut-and-paste, moving elements up and down, etc.)
Warum Campaigner gewählt wurde
Contactology was purchased/absorbed/eaten by Campaigner/J2
Gründe für den Wechsel zu Campaigner
Mostly legacy; we had accumulated years of contacts and lists in Contactology. When we did a revisit of the service, we decided to stay with Campaigner at that point also. In addition, I have used some of the other services and Campaigner is the best fit for Wizard World's needs.
Antwort von

j2 Global

Jerry,

Thank you very much for your detailed feedback about our product. I am happy to hear that our list management system is working to your satisfaction and that our customer support has been there to help you.

Your feedback about our WYSIWYG editor is also appreciated, I hope that you have had the chance to try our new drag and drop editor.

Please let us know if you need anything anytime.

Best,

Carlos

Beantwortet am 25.8.2020