Über Basecamp
Basecamp ist ein Echtzeit-Kommunikationstool, mit dem Teams auf dem Laufenden bleiben können und das weniger für traditionelle Projektmanagementaufgaben (z. B. Ressourcenplanung und langfristige Terminfestlegung) geeignet ist. Mit Aufgabenlisten, Kalendern, Fälligkeitsterminen und Dateifreigabe bietet Basecamp Teams die Möglichkeit, Prioritäten und umsetzbare Elemente nachzuverfolgen. Seit 2004 konzentriert sich Basecamp auf die Entwicklung einer einfachen Nutzeroberfläche, auf der Nutzer Projekte erstellen, Fortschritte dokumentieren und Aufgaben verwalten können. Mit dieser webbasierten Software können Nutzer sich jederzeit und überall anmelden, entweder über einen Webbrowser oder über Apps, die mit einer Vielfalt von mobilen Geräten kompatibel sind. Basecamp ist nicht für eine spezifische Branche bestimmt und kann von jedem Unternehmen eingesetzt werden, das eine Gruppe verwalten muss, einschließlich gemeinnütziger Organisationen, Start-ups und Kundenservicefirmen. Die Lösung lässt sich sogar von Freiberuflern verwenden. Abonnements sind skalierbar, mit Stufen für unterschiedliche Speichermengen und Anzahlen von Nutzern.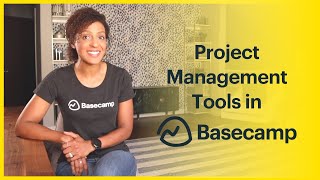 Basecamp bietet eine Gratisversion und eine kostenlose Testversion. Die kostenpflichtige Version von Basecamp ist ab $ 15.00/Monat verfügbar.
Startpreis:
$ 15.00/Monat
Kostenlose Testversion:
Ja
Alternativen für Basecamp
Branche: Staatsverwaltung
Unternehmensgröße: 1'001–5'000 Mitarbeiter

Wöchentlich

für

Mehr als 2 Jahre

genutzt
Quelle der Bewertung
Preis-Leistungs-Verhältnis
0
---
Einfach gehalten aber sinnvoll und praktisch
Basecamp ist schlicht und einfach gehalten. Der Austausch und die Zusammenarbeit zwischen Kollegen kann durch das Tool aber verbessert werden.
Vorteile
Basecamp ist einfach zu handhaben. Die Abstimmung innerhalb von Teams kann dadurch verbessert werden, beispielsweise durch tägliche Status-Emails.
Nachteile
Die Oberfläche ist sehr einfach gehalten (optisch) und nicht ganz übersichtlich.
Branche: Gastgewerbe
Unternehmensgröße: 51–200 Mitarbeiter

Täglich

für

6-12 Monate

genutzt
Quelle der Bewertung
Preis-Leistungs-Verhältnis
5
---
Mega zufrieden um gutes Geld zu machen
Wir sind mega zufrieden und bleiben Kunde
Vorteile
Dass man im Internet alles nachlesen kann und sich so schnell rein findet
Nachteile
Bis ist mir nichts negatives aufgefallen
Branche: Computer-Software
Unternehmensgröße: 2–10 Mitarbeiter

Täglich

für

6-12 Monate

genutzt
Quelle der Bewertung
Preis-Leistungs-Verhältnis
5
---
Basecamp made managing my team members easier than ever!
You can call it the Jack of All Trades. Before using Basecamp I had to use a lot of apps for different purposes. For example, one to-do app, another file-sharing app, another messaging app, and so on. It hampered my productivity. But luckily I found Basecamp and this thing got me covered. Now I can have fewer meetings with my team members and save time to do something productive. The integration with other app made it the real hero. I can automate my tasks on Basecamp by using popular integration services and those work seamlessly with Basecamp.
Vorteile
I have been using Basecamp for a while now. I am genuinely in love with the overall user interface of this platform. It is very easy to use and intuitive. The free plan of the Basecamp is quite generous and it is enough for most of the users. This is why I love this tool so much. But there are some other features that are really helping me to manage my remote team. I can easily assign tasks with deadlines. The email notification system and the mobile app added to the overall value of this tool. I observed that it loads faster on any device with a slower internet connection. This is why my team members even from countries with slow internet can easily access this tool. Overall, the experience is top-notch and I recommend everyone to use this tool.
Nachteile
There is nothing that I hate about this product. But I think the amazing developer team behind this tool can bring some improvements to the existing features. The price for the Business Plan is quite affordable for large teams. But if they can bring some affordable paid plan for the individual users it would be so much helpful.
Branche: Marketing & Werbung
Unternehmensgröße: 11–50 Mitarbeiter

Täglich

für

Mehr als 2 Jahre

genutzt
Quelle der Bewertung
Preis-Leistungs-Verhältnis
5
---
Basecamp helps us streamline project/account management and increase our efficiency
Overall, we're very happy here at my startup marketing agency, HypeLife Brands, with Basecamp...we've been using it for a VERY long time and haven't looked back or considered anything else really. I think the 37Signals team has done a great job with the product from the beginning.
Vorteile
The ability to manage a team, often in multiple locales, especially in the days of COVID now, much easier than any other alternative out there.
Nachteile
Sometimes a conversation for tasks becomes non-linear though Basecamp is setup in a linear fashion, so it can be a bit tricky to manage that without the ability to thread comments, but this is more of an advanced user need I think :-)
In Betracht gezogene Alternativen
Asana
Warum Basecamp gewählt wurde
We need a more robust, and hosted option instead of having to maintain and customize a tool to our needs on a local version. Basecamp fit the bill at the time and we haven't had to make a single customization once adopting its workflow.
Gründe für den Wechsel zu Basecamp
I felt Basecamp was easier and cleaner for me as a project and account manager for our select clients, working on accounts with a sort of "agile within waterfall" hybrid approach to how we work...so Basecamp just fit much better, and I'm a big fan of 37signals' core philosophy too in building businesses, so there was really no competition in the end.
Branche: Computer-Software
Unternehmensgröße: 11–50 Mitarbeiter

Täglich

für

6-12 Monate

genutzt
Quelle der Bewertung
Preis-Leistungs-Verhältnis
4
---
Review for Basecamp
I have had a positive experience with Basecamp. The software has been useful in organizing projects, tasks, and communication within our team. The user-friendly interface makes it easy for everyone in the team to use and understand, allowing for seamless collaboration. Basecamp's task management feature has helped us to stay on track and meet project deadlines. Additionally, the integration with other apps like Google Drive and Trello has streamlined our workflow. Overall, Basecamp has been a valuable tool in improving our project management and team communication, and we plan to continue using it in the future.
Vorteile
User-friendly interface: Basecamp's interface is clean, intuitive, and easy to use, making it accessible for both technical and non-technical users.Centralized communication: Basecamp provides a single platform for team members to communicate and share project-related information, reducing the need for multiple tools.Task management: Basecamp allows you to create tasks, assign them to team members, and track their progress, ensuring that projects stay on track.Collaboration: Basecamp enables team members to collaborate on projects in real-time, which helps to boost productivity and ensures that everyone is working together towards a common goal.Third-party integrations: Basecamp integrates with other apps like Google Drive, Trello, and Slack, which allows for a seamless workflow.
Nachteile
Limited customization: While Basecamp's interface is user-friendly, it also lacks customization options, limiting your ability to tailor the tool to your specific needs.Limited functionality: Compared to other project management tools, Basecamp's features are relatively limited, which may not be sufficient for larger, more complex projects.Limited reporting: Basecamp's reporting capabilities are not as robust as other project management tools, making it difficult to get an accurate overview of the project's progress.Lack of time tracking: Basecamp does not have a built-in time tracking feature, which may make it difficult to accurately track billable hours for clients.Price: Basecamp is relatively expensive compared to other project management tools, which may not be feasible for small businesses or individuals on a tight budget.