Über Zoho Projects
Zoho Projects ist eine cloudbasierte Projektmanagementlösung für kleine und mittlere Unternehmen. Die Lösung bietet Projektplanung und -budgetierung, mit der Projektmanager Aufgaben definieren, sie ihren Teams zuweisen, Projektkosten schätzen und laufende Aufgaben nachverfolgen können. Zoho Projects automatisiert Dokumentenprozesse wie Revisionsverfolgung, Zugriffskontrolle und Suche und Abruf. Weitere Produktfunktionen umfassen das Dokumentenmanagement, das ein Portal zum Teilen von Dokumenten innerhalb der Teammitglieder bietet. Zoho Projects bietet auch Funktionen für die Problemverwaltung, mit denen Manager Fehler in den Projektaufgaben beheben können. Dashboards und ein Berichterstattungsmodul helfen Nutzern bei der Erstellung von Unternehmensberichten und Managementzusammenfassungen. Die Nutzer können Gantt-Diagramme verwenden, um den Fortschritt der Aufgaben im Vergleich zur Planung visuell darzustellen. Die Tabelle der Allokation von Ressourcen hilft Nutzern zu wissen, wie viele Teammitglieder frei sind und wie viele mit Aufgaben überlastet sind. Meilensteine und Aufgabenlisten helfen Nutzern, komplexe Projekte zu organisieren, indem sie sie in Unteraufgaben unterteilen. Die Preise verstehen sich pro Monat.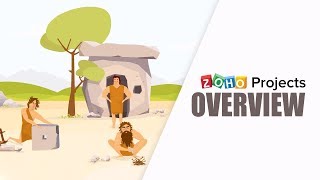 Zoho Projects bietet eine Gratisversion und eine kostenlose Testversion. Die kostenpflichtige Version von Zoho Projects ist ab $ 5.00/Monat verfügbar.
Alternativen für Zoho Projects
Zoho Projects Erfahrungen
Branche: Bekleidung & Mode
Unternehmensgröße: 1'001–5'000 Mitarbeiter

Täglich

für

Mehr als 2 Jahre

genutzt
Quelle der Bewertung
Preis-Leistungs-Verhältnis
5
---
Excellent tool for task management
My overall experience is great with Zoho projects, it works fine if given the right technology support. In past three years we have done multiple updates and customization on Zoho projects and they have worked well for us. I personally would recommend Zoho projects to others to built a very good project management tracking system.
Vorteile
Zoho projects has been part of our organization from past 3 years. It is a very useful tool for project management. It has high importance in task management especially in tracking down deliverable in kanban projects. The user interface is very friendly and the dashboard is highly interactive. Milestones can be easily set and can be tracked throughout its completing period. Project lags, time delays, and bottlenecks can be identified easily in the system. This tool also helps to manage teams and individual tasks assigned to each person. Notifications can be enabled to track individual performances. Overall, this tool is multi-purpose tool that can perform wide range of tasks.
Nachteile
Zoho projects are hard to customize. Its scalability is very limited to certain tasks. It is good in project management, but it fails to provide a communication channel between people. Chat windows lag a lot between communication and real time forums take lot of time to update. Zoho requires high internet bandwidth, slow internet creates problem with updates and Zoho starts lagging. Multi user portal has also lot of issues. Even multi user portal is a common feature. The feature creates issues with file sharing. It takes lot of time for file transfers.
Branche: Finanzdienstleistungen
Unternehmensgröße: 2–10 Mitarbeiter

Wöchentlich

für

6-12 Monate

genutzt
Quelle der Bewertung
Preis-Leistungs-Verhältnis
4
---
Great online collaborative project management tools with feature you have always wanted
While I have not used the customer support for Zoho Projects extensively, all of the other Zoho tools that I use have an extensive Knowledge Base, very active public forum where people respond quickly, in-built live-chat to chat with a customer service representative, and plenty of videos on YouTube to learn different aspects of the software.
Vorteile
Zoho Projects has the following features - no restrictions on number of projects you can create. Easy to switch between projects in the same online interface vs managing multiple files. Ability to create workflow automations that trigger on event based activities, which enables standardization of processes. Ability to share projects with outside vendors/project participants and improve the collaborative nature of Project management.
Nachteile
More flexibility on making the user interface more compact (like Excel or MSP). Current interface is well spaced, but some users may like a more compact view. More simplified Gantt Charts that help us understand progress and dependencies. Ability to export projects to Excel for sharing with others we can't/don't want to bring on to Zoho projects
Gründe für den Wechsel zu Zoho Projects
Zoho Projects is well suited for corporates who want to make project management a more collaborative tool rather than a PM managed tool. It's well suited for startups where founders/co-founders come from large corporate settings and prefer to use comprehensive project management tools over new age tools like Asana and Trello. Its well suited for those who appreciate the importance of dependencies between tasks and want to build and track comprehensive plans for their projects.
Branche: Unterhaltung
Unternehmensgröße: 11–50 Mitarbeiter

Täglich

für

6-12 Monate

genutzt
Quelle der Bewertung
Preis-Leistungs-Verhältnis
5
---
Zoho projects is affordable
We've gotten the benefit of more organized projects that are finished by the expected date, all for a great price. Recommend trying it.
Vorteile
This is the most affordable option and it's still pretty good despite the low price. Time tracking is really easy and pretty much runs itself without a lot of supervision. Projects are the core of this app though and it's safe to say they'll be better with Zoho Projects. Easier to assign and track tasks, talk through planning or problems, and set a budget. Also set a time line, task dependencies, and use Gantt charts.
Nachteile
Customer service makes me frustrated because it's so hard to get them to begin with and then it's still a circus getting whatever problem it is sorted out. Would make more sense for them to put more time and effort into it so that it doesn't bring the product down.
Branche: Finanzdienstleistungen
Unternehmensgröße: 11–50 Mitarbeiter

Wöchentlich

für

Kostenlose Testversion

genutzt
Quelle der Bewertung
Preis-Leistungs-Verhältnis
4
---
Good product so far
Vorteile
Task and project management is the most useful feature
Nachteile
No cons noticed so far. Would recommend this.
Branche: Computer- & Netzwerksicherheit
Unternehmensgröße: 11–50 Mitarbeiter

Täglich

für

6-12 Monate

genutzt
Quelle der Bewertung
Preis-Leistungs-Verhältnis
3
---
Great Product , great Value.
Overall we have a great experience, finally choose to other two Free Tools
Vorteile
Easy to start to use.Many features.Good value for the money
Nachteile
Hard to track time on the project (too many clicks ).Not so easy for the team to do de onboarding.Doesn't have a public and documented APIs for automation.
Warum Zoho Projects gewählt wurde
Free products with more features when you integrate them
Gründe für den Wechsel zu Zoho Projects
Better value for the money