Über Dameware
DameWare ist eine cloudbasierte Fernzugriffssoftware, mit der Nutzer Remote-Support auf Desktops, Laptops und Servern bereitstellen können. Das Produkt richtet sich an Unternehmen jeder Größe. DameWare hilft Nutzern, Teammitglieder und Kunden zentral zu verwalten, ihre Lizenzen zu aktivieren und zu kontrollieren sowie die Hostliste zu teilen. Die Lösung unterstützt auch Endnutzer über eine mobile App für Android und iOS, sodass sich Nutzer über Smartphones und Tablets verbinden können. Die Fensterverwaltungsfunktion hilft Nutzern, Probleme zu beheben, ohne dass komplette ferngesteuerte Sitzungen durchgeführt werden müssen. Die Lösung hilft auch bei der Verwaltung mehrerer Active Directory-Domänen über eine einzige Schnittstelle. Mit dem Produkt können Nutzerkonten verwaltet, Passwörter zurückgesetzt und Gruppenrichtlinien bearbeitet werden. DameWare bietet eine Zwei-Faktor-Authentifizierung, sodass sich Nutzer über das Verifizierungsprotokoll bei Remote-Sitzungen anmelden können. Die Lösung unterstützt auch Remote-Zugriffssitzungen, indem sie sich von Support-Tickets aus anmeldet und einen Audit-Trail erstellt. Das Produkt lässt sich in den SolarWinds-Helpdesk integrieren.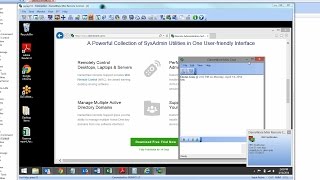 Dameware bietet keine Gratisversion, aber eine kostenlose Testversion. Die kostenpflichtige Version von Dameware ist ab $ 540.00 verfügbar.
Kostenlose Testversion:
Ja
Alternativen für Dameware
Branche: Finanzdienstleistungen
Unternehmensgröße: 10'000+ Mitarbeiter

Weitere

für

Mehr als 2 Jahre

genutzt
Quelle der Bewertung
Preis-Leistungs-Verhältnis
0
---
Dameware -Silent install
Dameware remote installation can truly be a life saver when users encounter video issue. However, license and client stability is an issue and the program itself is not as polished as its competitors
Vorteile
Dameware is a true diamond for any IT Support staff, software can be installed on the client machine remotely without any user intervention. This is especially useful for us when user has a video issue (usually due to video card/drivers) and the remote client wasn't already pre-installed. In such situation, user would not be able to help installing or access any site to start the connection. As long as the machine is reachable, IT staff can remotely install dameware client, install and configure the video driver for the user and issue resolved within minutes.
Nachteile
Dameware license is not cheap, at least I find LogMeIn Pro is cheaper.
Sometimes Dameware client on the remote machine needs to be reinstalled. I don't think I ever encounter situation like this with LogMeIn or Teamviewer
Branche: Marketing & Werbung
Unternehmensgröße: Selbstständig

Täglich

für

1-5 Monate

genutzt
Quelle der Bewertung
Preis-Leistungs-Verhältnis
5
---
Dameware Software Review: A Comprehensive Remote Support and Systems Management Solution
Overall, Dameware software is a comprehensive remote support and systems management solution that provides a range of tools to help IT professionals and MSPs manage and support their IT infrastructure. While it may not be suitable for everyone due to its cost and learning curve, its range of features and customization options make it a valuable asset for businesses and organizations that require robust remote support and systems management capabilities.
Vorteile
Offers a suite of tools for remote support and systems management, including remote desktop connection, remote control, system troubleshooting and diagnostics, and file transfer capabilities.Provides integration with Active Directory and other network management tools, making it easier for IT professionals to manage and monitor their IT infrastructure.Available in both on-premise and cloud-based versions, offering flexibility for businesses and organizations of all sizes.Supports multiple operating systems, including Windows, Mac, and Linux.User-friendly and customizable interface, making it easy for users to navigate and personalize the software.
Nachteile
May not be cost-effective for small businesses or individual users.Steep learning curve for users who are new to remote support and systems management.Some features may require additional setup and configuration, which can be time-consuming.Limited customer support options, with no phone or chat support available.
Branche: Informationstechnologie & -dienste
Unternehmensgröße: 501–1'000 Mitarbeiter

Täglich

für

Mehr als 1 Jahr

genutzt
Quelle der Bewertung
Preis-Leistungs-Verhältnis
3
---
Dameware - A good Remote Desktop Control Software
Since we became distributed, Dameware has provided a generally positive experience and service. It's been really beneficial for remote assistance when we can't physically go, and we're now able to help individuals across countries. It's a must-have tool for any IT professional offering remote control.
Vorteile
1. The most significant advantage is that Dameware provides high-level protection that meets all security standards.
2. The desktop app at is extremely light and simple to set up.
3. It enables the supported end-user to authorize the request for remote access. first
4. As long as other team members are logged in, you can invite or transfer the remote control to a session.
5. It supports chat, audio, and video calls within the session, allowing for more seamless assistance.
6. It's reasonably priced since the price drops as you buy additional licenses.
Nachteile
1. The Dameware program frequently becomes stuck on the connection screen, necessitating a restart.
2. The procedure of seeking administrative rights on the client's PC is inefficient.
3. The most significant disadvantage has to be the User Interface. It's a little busy and could require a lot more work to make it simpler to navigate.
4. Their support team isn't available 24/7 to support their customers
Branche: Maschinenbau oder Wirtschaftsingenieurwesen
Unternehmensgröße: 51–200 Mitarbeiter

Täglich

für

Mehr als 1 Jahr

genutzt
Quelle der Bewertung
Preis-Leistungs-Verhältnis
0
---
Great product for remote control
Vorteile
Dameware is really easy to use and to understand.
Nachteile
It is not really intuitive to save pc hosts to which I usually connect.
Branche: Personalbeschaffung & -besetzung
Unternehmensgröße: 51–200 Mitarbeiter

Täglich

für

6-12 Monate

genutzt
Quelle der Bewertung
Preis-Leistungs-Verhältnis
3
---
Wonderful and effective bridge connecting systems, but not the finest
It aided in providing users both on and off campus with remote support. Additionally, it enabled remote access to servers and other devices that would have required troubleshooting. Not having to travel to many offices to help with a few clicks saves so much time. Using the tool was like having an extra set of hands because I saved so much time.
Vorteile
A simple method of linking systems to examine problems with end-user equipment even when the user is not there. I like how simple it is for me to remote into my users' computers and assist them when they run into problems. This product also comes with excellent support and documentation. By setting a password, you can establish a secure connection. The password might be fixed or random.
Nachteile
Improved multiscreen remote sessions should use one screen for each slide. There is no option to add notes to entries for improved support, and adding machines is a bit laborious. For us, recording is not currently enabled. needs a strong connection to function correctly. When services on distant workstations break down and the remote connection breaks down, you must uninstall and reinstall the services, which is occasionally challenging.