Über Zoho Desk
Zoho Desk ist eine cloudbasierte Helpdesk-Lösung von Zoho Corporation, die Unternehmen jeder Größe bedient. Zu den wichtigsten Funktionen gehören die Verwaltung von Kundenbetreuungstickets, ein Kundenbetreuungsportal, die Vertragsverwaltung und Erstellung von Berichten. Zoho Desk sammelt Interaktionen aus verschiedenen Medien (E-Mail, Telefon, Chat, sozialen Medien, ein Self-Service-Portal, Foren und Formulare) und präsentiert sie an einem Ort. Aufgaben wie Ticketzuweisung, Service-Eskalationen, Benachrichtigungsregeln und zeitbasierte Aktionen können durch Festlegen von Workflowregeln automatisiert werden. Die Lösung bietet anpassbare und geplante Berichte, Zufriedenheitsbewertungen und ein grafisches Dashboard zur Analyse der Kundenzufriedenheit. Die Integration mit Zoho CRM erleichtert die Einspeisung von Kundeninformationen in Tickets, die in Zoho Desk protokolliert werden, sodass Serviceagenten mehr über die Kunden erfahren können. Mit der Lösung können Nutzer auch nutzerdefinierte Änderungen vornehmen, z. B. Registerkarten umbenennen, neue Abteilungen hinzufügen, E-Mail-Vorlagen anpassen, Geschäftszeiten definieren und Hilfeordner hinzufügen. Zoho Desk kann auch in die internen Systeme der Kunden integriert werden.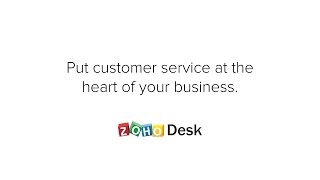 Zoho Desk bietet eine Gratisversion und eine kostenlose Testversion. Die kostenpflichtige Version von Zoho Desk ist ab EUR 14.00/Monat verfügbar.
Startpreis:
EUR 14.00/Monat
Kostenlose Testversion:
Ja
Alternativen für Zoho Desk
Branche: Gastgewerbe
Unternehmensgröße: 51–200 Mitarbeiter

Täglich

für

1-5 Monate

genutzt
Quelle der Bewertung
Preis-Leistungs-Verhältnis
5
---
Wir sind soweit zufrieden testen gerade
Wir sind soweit sehr zufrieden und für unsere Zwecke ist das eine sehr gute Software
Vorteile
Dass man viele Möglichkeiten hat und sich relativ schnell in die Software einfindet
Nachteile
Die Stimme der anrufaufzeichnung klingt meist etwas Roboter mäßig aber nicht schlimm
Branche: Krankenhausversorgung & Gesundheitswesen
Unternehmensgröße: 10'000+ Mitarbeiter

Täglich

für

Mehr als 1 Jahr

genutzt
Quelle der Bewertung
Preis-Leistungs-Verhältnis
5
---
Using Zoho Desk as a ticketing based solution is great
A single glance at this program was all it took to fix the ticketing problems we were facing. When we were looking for a new software, I was simply able to get the things I required and could display them to my team with no trouble at all.
Vorteile
As a ticketing system, Zoho Desk allows us to keep tabs on and respond to customers' questions about our bespoke goods, whether they reach out to us via email, phone, or in person. Although we have just begun to understand how the system works, we already have a good idea of how beneficial it will be after we have fully implemented it.
Nachteile
When it comes to cost, Zoho should be more transparent when incorporating additional tools like Zoho Assist. Although Zoho's huge amount of modules is a great asset, it would be even more helpful if there were a means to track the potential financial impact of implementing various configuration options.
Branche: Bankwesen
Unternehmensgröße: 10'000+ Mitarbeiter

Täglich

für

Mehr als 1 Jahr

genutzt
Quelle der Bewertung
Preis-Leistungs-Verhältnis
4
---
Zoho Desk: easy to use, customizable, and evolving service desk suite
We looked at a few others (Salesforce, FreshDesk, and others) and were surprised by many of the features. There were many Zoho branded products and services available that seemed to work well during testing. The interface and mobile apps were fairly intuitive and we were able to get a fully functional demo up and running in a matter of hours without much trouble. We evaluated it with other software at the same time, so let's compare how long it took us to get it up and running and use it functionally with other systems.
Vorteile
The initial setup wizard worked smoothly. Navigation through the configuration menus is simple and intuitive. The customer access portal home page is in place and ready for further customization of content. A clean design that displays the functions that are needed at this time.
Nachteile
The initial 14-day trial period is fine for "getting started", but trying to juggle a new set of desktop services and day-to-day work seems to work against the clock. A 30 to 45-day trial period would be excellent, as it allows you to become so familiar with the software that you are more willing to use it.
Warum Zoho Desk gewählt wurde
We are creating the first in-house service solution for the company. Having a managed solution to handle requests that other team members can monitor and resolve is much better than trying to handle email support requests that sit in an inbox with many other unrelated emails.
Gründe für den Wechsel zu Zoho Desk
We are a growing company and we need to track our issues not only by the customer but also by specific serial number. We had a very rudimentary system to do this, but our size is pushing us to modernize to stay on top of everything. This system should help us.
Branche: Finanzdienstleistungen
Unternehmensgröße: 201–500 Mitarbeiter

Täglich

für

Mehr als 1 Jahr

genutzt
Quelle der Bewertung
Preis-Leistungs-Verhältnis
4
---
Efficient customer support management
Zoho Desk has allowed us to effectively manage our security incidents and requests, providing quality support to our customers.
Vorteile
I like its customer-centric approach and the ability to create and customize specific incident handling workflows. Zoho Desk allows us to efficiently assign and track security issues, which helps us resolve them in a timely manner. It provides a complete view of our customers and allows us to provide more effective support. I also appreciate the reporting and analytics capabilities.
Nachteile
At times, it can be a bit limited in terms of fully accommodating our specific security needs.
Branche: Computer-Software
Unternehmensgröße: Selbstständig

Wöchentlich

für

Mehr als 1 Jahr

genutzt
Quelle der Bewertung
Preis-Leistungs-Verhältnis
3
---
Zoho Desk isn't a favourite option of mine, but it works.
Zoho Desk is a great tool with many features, it seems some features may need ironing out or better documenting but otherwise it is a very useful tool that could be extremely valuable to many businesses in all different industries and niches. It is perfect for anyone who just wants a simple email ticketing solution but for those wanting to use the help desk knowledgebase solutions you may want to set aside some time to fully understand how it works and how to best use it.
Vorteile
Zoho Desk offers a range of tools to make sure that customer success rates are high. Their self service options are empowering and wouldn't be possible without their awesome ticketing tools which allow for agents to identify regular questions and support individual customers in a per-user tailored way. Being able to receive tickets in many different ways is also a great feature enabling customers to contact us in many different ways and always get the same level of support from the same great knowledgeable team. The ability to send branded emails directly from Zoho Desk with correct SPF records to keep the email safe is also a great feature that I couldn't be without.
Nachteile
Unfortunately the creation and customisation of the help desk and the posts within it come across as difficult to create and maintain even from the perspective of someone working in computer software. It is unclear what features are available for this and how they should be used to create a perfect self-service help desk to enable customers to get help immediately and free up time for agents to answer more complex and user specific problems.
Gründe für den Wechsel zu Zoho Desk
I was already a Zoho Mail user and it made sense to me to try to use all tools by the same company to keep everything more simple and make connecting two tools easier. This also meant less account creations and such.