Über Cerner Ambulatory
PowerChart Ambulatory EHR von Cerner ist eine hybride eGA-Lösung (elektronische Gesundheitsakte), die sich an Klinikärzte in Krankenhäusern und ambulanten Einrichtungen richtet. PowerChart wurde entwickelt, um bei der Erstellung von elektronischen Patientenakten mit mehreren Entitäten zu helfen. Die Lösung kann in der Cloud oder vor Ort bereitgestellt werden. Die Software bietet verschiedene integrierte Vorlagen, die verschiedene Fachgebiete abdecken und so viele verschiedene medizinische Anbieter unterstützen können. PowerChart koordiniert die Pflege zwischen mehreren Standorten und Ärzten, hilft Büromitarbeitenden bei der Verwaltung von Patientenaktenprozessen und bietet dennoch flexible Dokumentationsoptionen. Diese Optionen spiegeln sich in der lösungseigenen Datenbank mit klinischen Datenvorlagen, anpassbaren Verfahrensworkflows und Patientenaktenoptionen wider. PowerChart ist gemäß ONC-ATCB und Meaningful Use Stage 1 und 2 zertifiziert. Das Patientenportal hilft dem Büropersonal bei der Verwaltung der Patientenkommunikation, indem es Terminerinnerungen sendet und Patienten den Onlinezugriff auf ihre Krankenakten ermöglicht. PowerChart Touch ist auch für Gesundheitsdienstleister verfügbar, die über Tablets und Smartphones auf mobile Workflows zugreifen müssen. Cerner bietet Support per Telefon, FAQs und über das Onlinekundenportal von Cerner.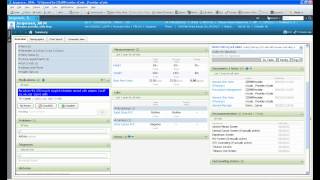 Cerner Ambulatory bietet keine Gratisversion. Die kostenpflichtige Version von Cerner Ambulatory ist ab $ 25.00/Jahr verfügbar.
Kostenlose Testversion:
Nein
Alternativen für Cerner Ambulatory
Cerner Ambulatory Erfahrungen
Branche: Krankenhausversorgung & Gesundheitswesen
Unternehmensgröße: 10'000+ Mitarbeiter

Weitere

für

Mehr als 2 Jahre

genutzt
Quelle der Bewertung
Preis-Leistungs-Verhältnis
0
---
Powerchart review
Once you learn Cerner Powerchart, it is a great software, very user friendly, organized, easy to navigate.
Vorteile
I use this software at work to access patients charts, send messages to other healthcare team members, and to document. Charting is very easy, software flows well. There are lots of shortcuts that make work faster. Pages can be customized to make everyone's work more efficient and personalized. Search buttons within patients charts are also very useful when learning more about their medical and medication history. This software makes patients' chart very well organized, easy to find all the necessary information, easy to look up and updated patients' information such as pharmacy, medications, allergies.
Nachteile
Frequent software updates are often times less useful and more confusing than previous version, takes some time to learn and get used to it. In some cases support team needs to be contacted to reverse or modify new updates for software to be more user friendly. Occasionally there are problems with the serve, errors when logging in, which are addressed by support team in a timely matter.
Branche: Krankenhausversorgung & Gesundheitswesen
Unternehmensgröße: 5'001–10'000 Mitarbeiter

Täglich

für

Mehr als 1 Jahr

genutzt
Quelle der Bewertung
Preis-Leistungs-Verhältnis
4
---
Cerner PowerChart Review
Overal Cerner PowerChart satisfies electronic medical record needs well with a few areas of improvement. I am not involved with EMR purchasing decisions but from what I understand, Cerner PowerChart is a good product for the money.
Vorteile
Cerner PowerChart provides a comprehensive location for all medical information. Information display can be customized to fit user needs and provides quick access to pertinent info with continued use. Home screens are customized for each particular practitioners credentials and needs making many commonly used tasks always right at hand. Accessing information from other visits is also easily performed regardless of which encounter the patient was initially pulled up. One of my favorites is the results callback functionality that allows easy review of discharged patients culture results.
Nachteile
While Cerner is not difficulty to use, not all features are entirely intuitive. Many functions require repeated use and lots of clicking to access and perform relatively simple tasks. While there is a quick link for Meds Manager access for pharmacists, the link does not pull up the current patient profile opened, necessitating re-entering of the patient encounter number which is a bit tedious. Additionally, the disjunction between FirstNet and PowerChart is inconvenient and would be nice if charts opened through FirstNet opened PowerChart rather than a separate entity of FirstNet given the difference in functionality between the two programs.
Branche: Psychische Gesundheitsfürsorge
Unternehmensgröße: 501–1'000 Mitarbeiter

Täglich

für

6-12 Monate

genutzt
Quelle der Bewertung
Preis-Leistungs-Verhältnis
1
---
Extremely poor value for the money
The user experience is completely not user-friendly, often needing ongoing clarification for what are basic searching or to complete basic routine activities. Amazingly poor UX/UI layout, and often confusing. The customer services has been all along a nightmare. For more than two months initially in March 2016 when we wanted to start this system we were forced to keep calling in prescriptions to pharmacies & writing controlled medicines for 5 days because the system wasn't working -and Cerner telling us they didn't know what was the problem. Later on when we were eventually able to e-prescribe non-controlled substances still we were forced to get a NY State waiver for controlled substances because the company couldn't get it resolved in more than a month longer. Worse, they blamed our IT team here when was clear it wasn't the case. This was more frustrating as this was happening while we're busy seen patients. Support was spotty at best, often the IT people been forced to resolve the problems themselves, or improvise, while the agency I'm working was paying Cerner money. Even now (10/18/2016), the e-prescribe system, that claims it has a renewal option for old medications, it doesn't work for controlled substances (some do, some don't) , so many of us have always to re-write as a new prescription all controlled medicines. I'm a psychiatrist but I've also some formal training in UX/UI design, and to write code, so I'm probably better understanding computers than the usual MD, and even for me the system was an impossible crazy task. I also work with other e-prescribe systems in other agencies, and comparing apples to apples, the other systems are much cheaper and much, much better, and very much easier to use. It's amazing how poor service you can get paying big bucks! And here, this is one glaring example. Buyer beware!
Vorteile
Easier to write progress notes.
Nachteile
What I wrote about e-prescribe.
Branche: Krankenhausversorgung & Gesundheitswesen
Unternehmensgröße: 11–50 Mitarbeiter

Täglich

für

6-12 Monate

genutzt
Quelle der Bewertung
Preis-Leistungs-Verhältnis
0
---
harder to get used to after using EPIC for EHRs
I learned to use it and I think with more time I will get better as always, but the learning curve was a bit different from EPIC charting which seemed to be more color coded, and easier to navigate, but also full of facility wide things that had to be filled out but didn't apply to the patient, so that was cumbersome.
Vorteile
It is easy to use once you get to know where things are located, but it has more of a windows software feel than a mac software. It is more utilitarian in that it is not colored and the font is small, which is good for efficiency in documenting once you know where things go and are located. Does not have hangups that EPIC has when company wide documenting is required for certain areas that sometimes do not apply to particular patient such as was the case on a pediatric floor where I was using this system and I appreciated not having EPIC.
Nachteile
Hard to get used to. I was coming from using EPIC mostly, which seems easier and more intuitive to learn. I found the smaller black boxes and hidden tabs harder to get used to when trying to document daily things. As a nurse the med administration tab wasn't as easy to use as it is in EPIC and wasn't as intuitive and I sometimes messed up at first in documenting med administration especially when trying to add something that wasn't scanning from the pharmacy and I had to do an override.
Branche: Krankenhausversorgung & Gesundheitswesen
Unternehmensgröße: 10'000+ Mitarbeiter

Wöchentlich

für

Mehr als 2 Jahre

genutzt
Quelle der Bewertung
Preis-Leistungs-Verhältnis
0
---
Organized, but repetitive.
Overall it wasn't a hassle and made each day better with it's ease of use. Some days you feel like there's just so much to be done through it and you wish it didn't exist but that's part of what you sign up for in nursing!
Vorteile
I liked the ease of use and how it allowed for enough tabs for all my patient's charts during any shift. IT allows for most of the required charting to be done just with clicks via the mouse and not too much typing which saves time. It would help generate scores for certain diagnostics which also aids time management.
Nachteile
A lot of it was repetitive and sometimes the options for a certain part of an assessment didn't quite exactly meet what was assessed. It also times out after a while, which was unfortunate for those days when charting seems to take forever and you leave your desk by a patient or coworker and if not promptly resumed you lose what you were working on, had it not been saved. Makes you really want to get friendly with the save button.