Über Xactly Incent
Xactly ist eine cloudbasierte Lösung, mit der Unternehmen Prozesse im Zusammenhang mit der Provisionskostenabrechnung verwalten können. Zu den wichtigsten Funktionen gehören Statusverfolgung, Workflow-Konfiguration, Prozessautomatisierung, Compliance-Management und anpassbare Berichterstattung.  Die Xactly-Plattform ermöglicht es Administratoren, Provisionstilgungspläne in Übereinstimmung mit ASC 606 zu erstellen und Änderungen basierend auf Mitarbeiterstatusänderung, Vertragsanpassung und Kundenabwanderung vorzunehmen. Die Plattform beinhaltet ein Reporting-Dashboard, mit dem Teams Profitabilitäts-Statements, einen Überblick über gruppenweise Einführungen und Vergleiche von Abrechnungsmodellen anzeigen können. Darüber hinaus können Manager das System in bereits bestehende CRIM-, HRIS-, CLM- und CPQ-Systeme integrieren.  Xactly hilft Unternehmen dabei, Provisionsdaten mit Einblicken auf der Kunden-, Produkt- oder Vertragsebene zu pflegen, wodurch die Audit-Bewertung optimiert wird. Die Lösung ist über ein monatliches Abonnement verfügbar und Support wird per Telefon und einen Online-Helpdesk bereitgestellt.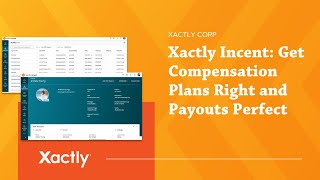 Xactly Incent bietet keine Gratisversion.
Startpreis:
Nicht vom Anbieter bereitgestellt
Kostenlose Testversion:
Nein
Alternativen für Xactly Incent
Xactly Incent Erfahrungen
Branche: Pharmazeutika
Unternehmensgröße: 5'001–10'000 Mitarbeiter

Täglich

für

Mehr als 1 Jahr

genutzt
Quelle der Bewertung
Preis-Leistungs-Verhältnis
4
---
Xactly - The tool which can be handy for day-to-day SPM handling and reporting.
Xactly is among the leading players in the world market for their ease in Incentive Compensation Implementation and reporting. It reduces the time and effort for both the comp administrator and the users with a very minimal but elaborative reporting features. While working with Xactly for the past few years, it has significantly improved its user experience along with the effort required to implement the plans into the system. If you are currently managing your sales incentives via the primitive methods (i.e. excel and other software), you should definitely switch too Xactly to save time and money.
Vorteile
1.) Intuitive Software to deal with the complex of situations
2.) Easy to maintain interface
3.) Value for money if you have a large sales force
4.) Clear insights to sales reps for their sales and payouts
5.) Ver handy mobile application saving lots of time
Nachteile
1.) Use of flash for some of the internal functions which are being updated in 2020
2.) Server response a bit slow
Branche: Biotechnologie
Unternehmensgröße: 1'001–5'000 Mitarbeiter

Täglich

für

Mehr als 2 Jahre

genutzt
Quelle der Bewertung
Preis-Leistungs-Verhältnis
4
---
Xactly - a Worthwhile investment
We are able to process quarterly incentives accurately and quickly. This is saving us from having to make multiple adjusting payments after the fact. More importantly, it plays a role in reducing employee turnover as our sales force trusts their commission calculations and does not think they are being cheated by poor execution on the quarterly calculations.
Vorteile
Xactly is able to handle extremely complicated incentive calculations, utilizing data from multiple sources. It is flexible enough to accommodate rapidly changing organizations. From my perspective the best aspect of Xactly is the excellent customer support that comes with a license. The Xactly team is very responsive to address issues quickly, which is essential when trying to calculate incentive payouts in time for payroll deadlines.
Nachteile
Xactly does require significant investment to learn how to operate. It is a sophisticated program that has its own rules and processes. However, as a compensation professional, I have found it worthwhile to invest time to learn how to use Xactly. I used spreadsheets for years, but our profession is moving more and more towards full automation.
Branche: Internet

Täglich

für

Mehr als 2 Jahre

genutzt
Quelle der Bewertung
Preis-Leistungs-Verhältnis
3
---
When it works, it works well. Bugs and non-intuitive nature can make it difficult to use.
Vorteile
Analytics: Can be very helpful to expand upon Incentive statement short comings. However with the introduction of Balance Carry forward to accommodate prior period processing, reporting is becoming more difficult. Recommended for every customer.
Edocs: is recommended if you wish to route quota via Incent
Incentive Statement: Overall great. Wish drill-down details loaded faster and were more flexible on what is shown on drill down
Versioning Objects: I don't know what we would do without this
System of Record: Great for historical comp. Earns more value year over year for growing changing sales teams.
Nachteile
Old UI: Sections that have old UI/non-HTML text
Estimator: Atrocious UI, limits, functionality, but I bet its on every Xactly sales demo. Honestly, how many can customers using this?
Illustrator rules- See estimator, but worse.
Sales Rep Landing Dashboard: Most of the pods are useless. My feedback from our sales team we have is they don't even look at it. We direct them towards our analytics dashboards. 99% virtually all pods are turned off or hidden to avoid Incent from confusing the sales rep.
Audit Logs are broken: This is a great troubleshooting tool and it has been broken and not fixed by Xactly. This was huge as we have many business group admins at our company.
Pay curves don't work for us
Rate Tables end with .99999 after every number: Sad this continues as long as it has. Makes beautiful Plan Statements suddenly ugly and confusing.
Admin Experience: Feels like a hassle
Branche: Computer-Software
Unternehmensgröße: 1'001–5'000 Mitarbeiter

Wöchentlich

für

Mehr als 2 Jahre

genutzt
Quelle der Bewertung
Preis-Leistungs-Verhältnis
3
---
Xactly has been a great tool for our company to automate our sales commission process.
The automation of the calculation process and the ability for the sales team to review their calculations.
Vorteile
The ability to load in our sales data and have the calculations completed in minutes each month has cut down on the manual time it takes to calculate commissions. The reporting feature that each sales rep has to be able to review their sales for that month and provide questions for corrections allow for the final payments to be accurate and on time.
Nachteile
The setup of a calculation within Xactly does take quite a bit amount of time. There are a number of different plans, rules, tables, etc that you have to setup for the calculation to work and then if you need to make adjustments you have to track back through all of these in order to understand what to change.
Branche: Sicherheit & Untersuchungen
Unternehmensgröße: 201–500 Mitarbeiter

Täglich

für

Mehr als 2 Jahre

genutzt
Quelle der Bewertung
Preis-Leistungs-Verhältnis
5
---
Great commissions engine!
I've been an Xactly administrator for the last 5 years and I love the tool! It was easy to learn the navigation and has been a great fit for our commission needs.
Vorteile
I like the flexibility of setting up commission rules and plans for multiple people with ease.
Nachteile
I would like to see the pre-built pods on the home page contain more flexibility instead of being as "canned".