Über TalentLMS
TalentLMS ist ein herausragendes, cloudbasiertes LMS für alle, die Online-Kurse für beliebige Zweck mit wenigen Klicks erstellen möchten – auch ohne Erfahrung. TalentLMS bietet Funktionen für die Erstellung von Kursen, Nutzertests, erweiterte Unternehmens-, Lehr- und Schulungsverwaltung sowie E-Commerce für kleine und mittlere Unternehmen und Schulen.
Der Kursersteller der Plattform bietet eingebettete Content-Tools für Video-, Audio-, SCORM-, xAPI- und Flash-Inhalte sowie Suchfunktionen zum Finden und Einbetten von YouTube-Videos, SlideShare-Präsentationen, Wikipedia-Artikeln und mehr in Kurse. Alle Lektionen sind für die Präsentation auf Desktops, Tablets oder Smartphones optimiert. Festgelegte und randomisierte Tests stehen zur Verfügung, um die Informationsbeibehaltung zu bewerten, und eine Vielzahl von Fragen kann erstellt und kursübergreifend wiederverwendet werden.
Die UI des Lernportals ist anpassbar und kann jeder URL zugewiesen werden, während Verzweigungen und nutzerdefinierte Nutzertypen sicherstellen, dass Nutzer nur Zugriff auf das haben, was sie benötigen. Videokonferenzen für virtuelle Klassenzimmer sind ebenfalls verfügbar, um das kombinierte Lernen zu erleichtern. Nutzer können sich für eine monatliche oder jährliche Rechnungsstellung entscheiden. Alle Pläne beinhalten unbegrenzte E-Mail-Unterstützung und ein Live-Support ist im Premium-Plan verfügbar.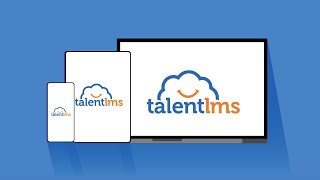 TalentLMS bietet eine Gratisversion und eine kostenlose Testversion. Die kostenpflichtige Version von TalentLMS ist ab $ 89.00/Monat verfügbar.
Alternativen für TalentLMS
Branche: Computer-Software
Unternehmensgröße: 2–10 Mitarbeiter

Wöchentlich

für

1-5 Monate

genutzt
Quelle der Bewertung
Preis-Leistungs-Verhältnis
4
---
Sehr gute Lösung
Besonders gut finde ich das integrierte Nachrichtensystem an neue Kursteilnehmer mit Erinnerungen zum Login oder Kursablauf und die Option den Aufruf der Kurse zeitlich zu limitieren.
Vorteile
Ich habe recht lange nach einem für meine Kunden einfach zu bedienenden LMS gesucht und es mit talent.lms gefunden. Es bietet für meine Video-Kurse alle notwendigen Funktionen, und für die Kunden eine übersichtliche Oberfläche.
Nachteile
Eigentlich nichts. Ich habe das System vorher ausführlich in der kostenlosen Version ausprobiert.
Antwort von

Epignosis

Thank you for your great review Ulrike. We're very appy to see that you're having an amazing TalentLMS experience!

Beantwortet am 6.10.2021
Täglich

für

6-12 Monate

genutzt
Quelle der Bewertung
Preis-Leistungs-Verhältnis
5
---
My experience using TalentLMS has been wonderful. It's simple to use, yet also very sophisticat...
We host video learning content on TalentLMS and it works great for this purpose.
Vorteile
The design of this software is well thought out. Although TalentLMS has many sophisticated features (everything one could possibly need and more), it's designed in such a way to minimize user complexity. As an admin and instructor, I'm able to get things done quickly without much time and effort (with limited technical knowledge). The visual look and feel of an LMS is important to me. Many LMS systems look "techy" and are NOT a pleasure to use. TalentLMS is clean and elegant and provides a great experience for admins, instructors and users. I think of TalentLMS as the Apple computer of LMS systems. Another big differentiator is that TalentLMS enables instructors to create courses quickly without a painful learning curve that kills productivity. Learning content is placed into buckets called learning objects. Any kind of content hosted anywhere can be used. Making changes to courses is a snap. Also, I found the white labeling and customization of TalentLMS to be surprisingly easy. Support documentation is thorough and well written. I was able to quickly customize our learning portal without doing any HTML coding whatsoever in about 30 minutes! No help from technical experts needed. Before deciding on TalentLMS, I reviewed dozens of LMS providers (a hair-pulling experience) and found most to be very expensive, complex, lack-luster on feature and visual appeal. I just don't have the patience or the time to deal with those handicaps! We are very glad to have discovered TalentLMS.
Nachteile
After about a year, I haven't encountered any problems using TalentLMS. Of course, there's always room for improvement on the way to perfection. There appears to be a little overlap in the learning objects - Content, Web content and videos are really just "content". However, this could be by design. Maybe there should be a universal content object that accommodates all content types. The only videos accepted for the "Video" object are YouTube. However, we use another video hosting platform to protect our content from download, among other reasons. However, this is not a real problem because we just embed our videos using the content learning object, which looks sort of like a WordPress content box. Just copy the embed code from the video provider and paste into the content box. That's it; works great. The only other thing I can think of is that the default HTML video player could use a few more control bar options such as view quality selection and a way to set download video or disallow download video. However, this is not a problem for us because we use embed video codes from our video hosting provider and therefore the provider's video player is used instead of the default HTML player. We control the features of this video player on the video hosting side.
Antwort von

Epignosis

Michael, cheers! Thank you very much for the positive review and the comprehensive feedback. We're thrilled that you've found TalentLMS to be the most affordable, easy-to-use, feature-rich, and 'well thought out' solution out of every other you've tried. Your suggestions are equally appreciated, so please feel free to visit our knowledge base and add them to the ideas section. Thanks for the 5 stars!

Beantwortet am 25.10.2018
Branche: Marketing & Werbung
Unternehmensgröße: 2–10 Mitarbeiter

Täglich

für

Mehr als 1 Jahr

genutzt
Quelle der Bewertung
Preis-Leistungs-Verhältnis
5
---
Great platform to get your teams trained!
So far it's been great. We're already getting feedback from our users (sales people mostly from our customers) and regardless of the quality of the content, their experience compared to our previous platform is already better
Vorteile
How easy and simple creating courses and enrolling people really is. I honestly believe that any platform that benefits the user experience is good enough to give it a try but I was blown away by how simple getting things out there was.
Nachteile
Customization is a bit hard for beginners like me. This is the first time I'm the admin of a LMS, and they do have a great help / knowledge base system and sometimes I need to do some digging to get to the right answer. Luckily there's a very active community that usually points me in the right direction when I miss some of that help.
Warum TalentLMS gewählt wurde
We needed a better customer/end user experience for our learners and TalentLMS is delivering.
Zuvor genutzte Software
Moodle
Gründe für den Wechsel zu TalentLMS
It's ease of setup and use, it's price point and the overall feedback we got from different people we consulted with just made it obvious that was the right platform for our customers and our business size.
Antwort von

Epignosis

Thank you for a very insightful review Alejandro. We love hearing that you find TalentLMS easy and simple. If you ever need extra help, don't doubt in reaching out to our top-notch support team!

Beantwortet am 6.10.2021
Branche: Hausmeisterservice
Unternehmensgröße: 1'001–5'000 Mitarbeiter

Täglich

für

Mehr als 1 Jahr

genutzt
Quelle der Bewertung
Preis-Leistungs-Verhältnis
5
---
Don't buy into the hype. At best...it is only OK.
Frustrating...mostly because they are slow and unhelpful when dealing with technical issues.
Vorteile
It is inexpensive and intuitive to use. It is good for adding videos, articles, and quizzes within the LMS.
Nachteile
I have had nothing but problems trying to get Articulate 360 courses to communicate course completion with this LMS. It works most of the time, but it still misses 15% or so of my users. Having over 2000 users, I cannot be hunting down everyone that did not show as completed, especially when they tell me they did it! Honestly, there have been a myriad of other technical issues that they cannot fix, or do not know how to fix. At this point I have to figure out if I just live with the limitations of their program, or go through the hassle of switching to a new LMS.
In Betracht gezogene Alternativen
Docebo
Gründe für den Wechsel zu TalentLMS
It was cheaper.
Antwort von

Epignosis

Timothy, we are sorry to hear that you've encountered frustration with the responsiveness of support. Our Customer Support team strives to answer all queries in a timely manner (they currently have a 95% satisfaction score given by customers) and we find that the email ticket system allows us to ensure all queries are tracked and addressed in the most thorough way possible which is offered on all paid plans. We suggest you advise your support contact of your specific timing restrictions (including your timezone) and they'll do their very best to accommodate your needs. Thanks for your review!

Beantwortet am 3.1.2022
Branche: Personalwesen
Unternehmensgröße: 11–50 Mitarbeiter

Täglich

für

Mehr als 2 Jahre

genutzt
Quelle der Bewertung
Preis-Leistungs-Verhältnis
5
---
Excelent LMS very easy to use
My customers from HR loves it, learners never complain about it and anyone can administrate. Since beginning was easy to set up, the look and feel is simple but practical and very reliable. Perform very good and is flexible for us.
Vorteile
-Very easy to use, reuse, fast and no complications on set up-Users have a smoothly experience -Works perfect for all my customers (Pharma, Finance, Oil&Gas, etc) they prefer to choose TalentLMS over their own LMS.
Nachteile
I don't remember to have problems with TalentLMS.Simple design but works perfect.
Antwort von

Epignosis

What a fantastic review, Federico! We love hearing that all your customers are enjoying their experience on TalentLMS and prefer it to their own LMS. It is also very important to us that you found it easy to set up and reliable from the very start!

Beantwortet am 31.1.2023