Über Onfleet
Onfleet ist eine cloudbasierte Lösung für das Flottenmanagement, die Routenoptimierung, automatische Entsendung, Lieferanalyse und Kundenkommunikation bietet. iOS- und Android-Apps bieten Echtzeit-Fahrerverfolgung, Zustellnachweis, Chat und mehr. Onfleet unterstützt Lieferungen in verschiedenen Ländern rund um die Welt in Branchen, die von Lebensmitteln und vorbereiteten Mahlzeiten bis hin zu Paketen, Möbeln, Kurierdiensten, Apotheken und mehr reichen. Onfleet bietet Nutzern verschiedene Filter und Suchfunktionen wie Text-, Zeit- oder Statusabfragen zum Finden von Fahrern, Kunden und Abhol-/Lieferaufgaben. Die Lösung bietet auch eine interne Kommunikationsplattform, über die Nutzer mit Mitarbeitern kommunizieren und Echtzeit-Updates zu bestimmten Aufträgen erhalten können. Eine nutzerdefinierte Berichterstattungs- und Analyse-Engine wird ebenfalls bereitgestellt, mit der Nutzer verschiedene Metriken analysieren können. Preise werden auf monatlicher Abonnementbasis angeboten. Support ist über E-Mail, FAQs und eine Online-Wissensdatenbank verfügbar.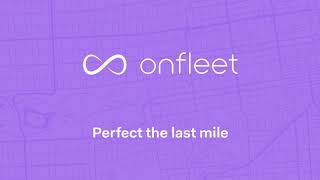 Onfleet bietet keine Gratisversion, aber eine kostenlose Testversion. Die kostenpflichtige Version von Onfleet ist ab 149,00 $/Monat verfügbar.
Startpreis:
149,00 $/Monat
Branche: Lebensmittelproduktion
Unternehmensgröße: 11-50 Mitarbeiter
Verwendet:

Täglich

für

6-12 Monate

Quelle der Bewertung
Preis-Leistungs-Verhältnis
5
---
Onfleet User Review
Onfleet is essential to our company because it makes sure that our customers get what they ordered, we are able to track where our drivers are in real time, give the customer an estimated time of arrival and have a spot for all their contact information. It is beyond helpful!
Vorteile
I really like how easy it is to add a new stop onto a route, or switch drivers, or adding a whole route onto another driver's route is also a breeze. Its super simple!
Nachteile
I wish it had the technology to map out locations based on traffic so we could make sure deliveries went to the right route depending on how many stops are on that route.
Antwort von

Onfleet

Thanks for your feedback, Sonja! We love working with Kitchfix :) We'd love to hear more about your needs regarding mapping out locations based on traffic, as our routing engine does consider historical traffic data so perhaps we can run you through that sometime (if that's what you're looking for)!

Beantwortet am 25.11.2019
Branche: Transport/Güterfrachtverkehr/Schienenverkehr
Unternehmensgröße: 11-50 Mitarbeiter
Verwendet:

Täglich

für

Mehr als 1 Jahr

Quelle der Bewertung
Preis-Leistungs-Verhältnis
4
---
What a great piece of software
Vorteile
Onfleet is a fantastic program that has not only improved the routing of our drivers, but it allows us to be more accurate when making deliveries so our on-time rates have improved. There are a lot of great features with Onfleet, some of which are:
- The ability to build routes that tell us exactly when we should arrive at a location allowing us to hit a target delivery time over 95% of the time.
- The route building feature has allowed us to get creative with how we route our vehicles which is also allowing us to make more deliveries along certain routes and has greatly streamlined the route building process.
- We can see where our delivery crews are at all times and predicted ETA's which allows us to reach out to customers if we expect a delay in their delivery time frame which has lead to happier customers.
- The ability to notify our customers when we are arriving at their house with a live tracking link has improved the customer experience.
- The ability of our customers to leave reviews allows us to highlight issues with delivery personnel as well as take all of our 5-star reviews and compile them and showcase them on our website with actual testimonials and also allowed us to build a rating system.
Nachteile
The biggest issue with Onfleet is a feature that sounds like it could be nice, but it has been nothing but a headache for us. This feature auto-fills a very small form, but it is just such an annoying problem because we have multiple orders with the same customer so all orders will get auto-updated to the newest entry erasing the data in the entry before it. That is really the only complaint that we have and it is a big one for us.
Antwort von

Onfleet

Thank you so much for your feedback, Sean. We're glad to hear you're enjoying use of Onfleet and have noted your feedback regarding the auto-fill functionality. We really appreciate it and someone from our product team may follow up with you to learn more.

Beantwortet am 15.12.2020
Branche: Einzelhandel
Unternehmensgröße: 11-50 Mitarbeiter
Verwendet:

Täglich

für

Mehr als 2 Jahre

Quelle der Bewertung
Preis-Leistungs-Verhältnis
5
---
Fantastic software
Vorteile
Easy to integrate with technology partners and has helped some great merchants!
Nachteile
Can't wait to see how Onfleet scales up in the future.
Branche: Baumaterial
Unternehmensgröße: 11-50 Mitarbeiter
Verwendet:

Täglich

für

Mehr als 1 Jahr

Quelle der Bewertung
Preis-Leistungs-Verhältnis
3
---
Great tool for managing my fleet.
Helps me manage my fleet and monitor where my trucks are at at any given moment.
Vorteile
Easy to use. Helps manage where my fleet is at. Gives me up to the minute updates. I also like the way our customer/s can track the progress of our truck to their job site. Easy to add or delete tasks. Or add or remove users.
Nachteile
It would be great to be able to drill in farther and be able to get a street view (like google maps) of where my truck/s are located. Also, would be great to be able to go back and view history of previous days activity. Also, another idea is to be able to track miles driven per state. For reporting purposes for apportioned plates.
Antwort von

Onfleet

Thanks for the feedback, Kenny! It's been great having you as a customer for so long. We discussed your feedback as a team today, and I'm happy to report that we're already working on task history improvements and have some ideas around the street view idea :) We'll be in touch as soon as we have more to share!

Beantwortet am 19.1.2018
Branche: Kunst & Handwerk
Unternehmensgröße: 11-50 Mitarbeiter
Verwendet:

Täglich

für

Mehr als 1 Jahr

Quelle der Bewertung
Preis-Leistungs-Verhältnis
5
---
Onfleet has been great for my company in allowing ease of creating routes and managing our...
It is much easier for us now to make routes and manage our drivers, and to see where drivers are when customers call in asking how long it might take for them to receive their delivery.
Vorteile
The ease of using the map overlay in creating routes, and the optimizing feature for assigning tasks
Nachteile
That you have to drag assigned deliveries to another driver if they aren't in the same team, also when optimizing when multiple tasks are going to the same location it won't put those tasks together but will make the driver go away from that address and then return.
Antwort von

Onfleet

Thanks for the feedback, Dylan! We love working with Flowers for Dreams. Our customer success team will be in touch soon for clarification around your route optimization issue.

Beantwortet am 19.1.2018