Über Katana Manufacturing ERP
Katana ist eine moderne Produktions- und Inventarsoftware für die Skalierung von Unternehmen. Mit der visuellen Schnittstelle und der intelligenten Auto-Booking-Engine von Katana, mit denen Unternehmen Bestellungen priorisieren und die Verfügbarkeit von Rohstoffen und Fertigwaren in Echtzeit anzeigen können, lassen sich Workflows automatisieren. Nutzer können problemlos Stücklisten für Produkte und ihre Varianten erstellen sowie Transparenz des Multichannel-Inventars und die Kontrolle auf Bodenebene erhalten. Katana bietet eine nahtlose Integration mit Shopify, WooCommerce, QuickBooks, Xero und mehr.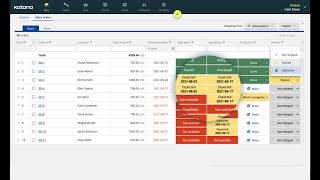 Katana Manufacturing ERP Preis
Katana Manufacturing ERP bietet keine Gratisversion, aber eine kostenlose Testversion. Die kostenpflichtige Version von Katana Manufacturing ERP ist ab $ 99.00/Monat verfügbar.
Startpreis:
$ 99.00/Monat
Kostenlose Testversion:
Ja
Alternativen für Katana Manufacturing ERP
Katana Manufacturing ERP Erfahrungen
Täglich

für

1-5 Monate

genutzt
Quelle der Bewertung
Preis-Leistungs-Verhältnis
5
---
I learned this product by using it; few hints from the online help. I decided on day one to...
I can now run my business without spreadsheet hell. I can actually make more product. This is not an exaggeration. I was stressed before using this software. I actually could not work out what I needed to order to satisfy our production demands.
Vorteile
It answers my questions easily, what purchase orders do I need to make to satisfy the orders I have coming in. What should I work on next and when will it be ready for the customer! I can see delays in deliveries and the effect on production. It manages very complex bill of materials for our vast number of products. and it does so with a user experience that is simple and easy.
Nachteile
Where there has been anything I didn't like about the software, I chat instantly to the development team and they listen, they come back to me with an instant work around; then in the longer term they have provided updates that fix the problem. They are an adorable bunch of people and really want to make this work for our busy little workshop.
Antwort von

Katana Technologies

Thank you Gaz for all the support!

Beantwortet am 9.9.2019
Branche: Unterhaltungselektronik
Unternehmensgröße: 2–10 Mitarbeiter

Täglich

für

6-12 Monate

genutzt
Quelle der Bewertung
Preis-Leistungs-Verhältnis
5
---
Perfect for where we're at right now
We chose Katana after trying out a couple different MRP's which were either overly complex, over-priced, or didn't fit our needs. We've stuck with Katana based on it's ease-of-use, intuitive design, and delivery of everything we need it to do.
Vorteile
It's great to be able to log in on any computer without having to install software, and it's done an amazing job of keeping our inventory tidy and up-to-date. The Purchase Order generator has also made us look very professional to our suppliers. The integration with Shopify is also a huge plus to us as it prevents us from having to manually transfer Shopify orders and automatically removes all parts from the BOM from our inventory. Highly recommended!
Nachteile
There aren't many, if any things we've come up against yet that Katana didn't support.
Antwort von

Katana Technologies

Thank you for the feedback!

Beantwortet am 13.2.2020
Branche: Transport/Güterfrachtverkehr/Schienenverkehr
Unternehmensgröße: 2–10 Mitarbeiter

Wöchentlich

für

1-5 Monate

genutzt
Quelle der Bewertung
Preis-Leistungs-Verhältnis
1
---
Promised so much delivered far short of what we hoped
Disappointed. They are pretending this software is the best thing since sliced bread and its more like a stale baguette.
Vorteile
It works on a basic level for stock management and also bills of materials.
Nachteile
It fails to have any sort of calender or gantt chart. It also fails terribly with time planning/recording of how long a task can take. For example you can't even put into the system that you start your working day at half past the hour only full hours are allowed. Further to the time planning side you can not block out time for holidays or meetings. Making this software useless to plan your time and give acreate lead times to customers.
In Betracht gezogene Alternativen
MRPeasy
Warum Katana Manufacturing ERP gewählt wurde
In the middle of the switch but it seams to offer far more options and cross capability.
Zuvor genutzte Software
Odoo
Antwort von

Katana Technologies

Hi Daniel! Thank you for your honest feedback. We are continuously working on improving on the points of time planning and will be ready with better capabilities in the coming months already.

Beantwortet am 9.3.2022
Branche: Buchhaltung
Unternehmensgröße: 11–50 Mitarbeiter

Täglich

für

1-5 Monate

genutzt
Quelle der Bewertung
Preis-Leistungs-Verhältnis
5
---
Katana is Great for small business
Its easy to use, our warehouse knows exactly what to do and when which is great. Ordering is relatively easy so from an inventory standpoint I think its great. I think there is a lot of room for improvement in basically every other facet this software says it can deliver.
Vorteile
Its easy to use as both a user and an admin. Low learning curve with a high return of success.
Nachteile
Its really unintuitive for me at least to communicate with my users with the shop floor app. Im better off getting up and takinf the time to talk to them directly rather than leaving them notes and vice versa. Also the reports NEVER work, ive never been able to pull a report or print a packing slip for whatever reason (the link always dies) thankfully I also keep up to date on our accounting software so I can pull the report from there otherwise Id probably rate this lower.
Branche: Einzelhandel
Unternehmensgröße: Selbstständig

Täglich

für

1-5 Monate

genutzt
Quelle der Bewertung
Preis-Leistungs-Verhältnis
5
---
Cannot recommend this app enough
Honestly has changed my life for the better. I'm no longer running out of supplies and having to do emergency orders (hello, extra shipping fees!). This keeps me organized and helps me to better my time management. I can see every open order that I need to fulfill and planning out supply orders is a breeze. I've recommended this app to every other maker I know because I am that in love with it. I'll use this app for the rest of my life because it is the best thing that's happened to my business in a long time.
Vorteile
This software legitimately changed the way my business runs. It keeps me accountable for the hundreds of supplies I use on a daily basis and keeps me organized in a way that no lists, or other apps, ever have.
Nachteile
I can honestly say nothing, this app works so seamlessly and wonderfully. Maybe the load speeds can be a little laggy, but that's mostly because I have a lot of materials I've input. Definitely not an app downfall or issue at all.
Antwort von

Katana Technologies

Thank you for the support!

Beantwortet am 2.6.2020