Über Agile CRM
Agile CRM ist eine cloudbasierte CRM-Lösung für kleine und mittlere Unternehmen. Sie bietet Kontaktverwaltung, Telefonie-Tools, Terminplanung, Marketingautomatisierung, Projektmanagement, einen Zielseiten-Ersteller und Wissensbasis-Funktionalitäten.
Mit dem Kontaktverwaltungsmodul können Nutzer Kundendaten wie Kontaktinformationen, Interaktionsaufzeichnungen, Social-Media-Konten und Lead-Scores aufzeichnen und auf sie zugreifen. Die Software bietet auch eine E-Mail-Integration, mit der Nutzer Daten mit E-Mail-Diensten wie Gmail, Microsoft Exchange und Office 365 sowie mit IMAP-Diensten synchronisieren können.
Nutzer können Website-Besucher verfolgen, um das Kundenverhalten zu analysieren, und Tools zur Marketingautomatisierung helfen Nutzern, Marketing-Workflows mit einer Drag-and-drop-Schnittstelle zu erstellen. Nutzer können auch automatische Erinnerungen basierend auf Zeit- und Kontaktoptionen senden.
Agile CRM umfasst auch Aufgabenmanagementfunktionen. Nutzer können Aufgaben in Listen ziehen, Aufgaben sortieren, Notizen hinzufügen und den Aufgabenstatus aktualisieren.
Social-Media-Integrationen ermöglichen es Nutzern, Posts auf sozialen Kanälen wie Facebook, LinkedIn und Twitter zu veröffentlichen und auf sie zu reagieren. Preise sind pro Nutzer und Monat festgelegt. Telefon- und E-Mail-Support ist verfügbar.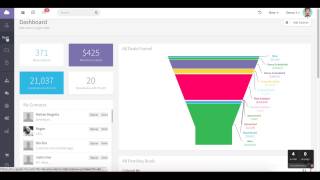 Agile CRM bietet eine Gratisversion und eine kostenlose Testversion. Die kostenpflichtige Version von Agile CRM ist ab $ 8.99 verfügbar.
Kostenlose Testversion:
Ja
Alternativen für Agile CRM
Branche: Medienproduktion

Täglich

für

6-12 Monate

genutzt
Quelle der Bewertung
Preis-Leistungs-Verhältnis
5
---
The CRM that packs a punch and delivers the lead every time deserves some of the spotlight.
Vorteile
Agile is a diamond in the rough so to speak. It feels like the tech world is a giant popularity contest and the few formed a club and left some of the better players out. Agile may not be listed alongside the trendy inner circle but good for them they stand in a place of their own and the customer is made better for it. When I found Agile I was enticed by their Free plan- not trial but free plan with a good amount of flexibility for a startup to fully integrate the CRM for zero out of pocket. The product will scale with your growth and they have several paid levels so as you step up your monthly plan will step up with you and not kill your cash flow. I really appreciate the email automation and landing page builder inside the CRM. The landing page function is easy to use and makes quick customized landing pages. The other CRM systems are priced much higher and offer similar functionality to Agile and Agile is a fraction of the cost. Now, as with any CRM the learning curve may be high and indeed this was the case for my use of Agile.
Nachteile
Agile is not an easy product to just pick up and go. It will require some basic knowledge and a willingness to learn the program. The great news is that Agile offers webinar trainings and onboarding at no extra cost as well as they host a huge assortment of training modules and videos.
Branche: Einzelhandel
Unternehmensgröße: 51–200 Mitarbeiter

Täglich

für

Mehr als 1 Jahr

genutzt
Quelle der Bewertung
Preis-Leistungs-Verhältnis
3
---
Good overall system with a few glitches
We've got LOTS of information in here now, so at this point it would be more work to move than to just deal with the downfalls. Overall, my team has enjoyed the experience. I am a bit more technical so I am not as happy as they are. It has kept a great log of our consultants past and present, so in that respect - it has done it's job. I just feel like the cost (for 3 operators) does not justify the tool.
Vorteile
Tags make it easy to compartmentalize different customers and the path to completion.
Nachteile
Organization is a bit tough, and the separation of different features between Sales, Marketing, and Service areas is a bit disconnected. Creating a "path" for different actions can be quite confusing, and the fact that LOTS of actions (such as send an email when a certain tag is entered) do not happen. I think these run on cron jobs (say, every 15 minutes) and I feel like LOTS of the actions get missed. This is my biggest beef. The price structure is a bit nickle and dimey as well, and it seems like a big jump between I can do 3 actions and I can do 5 actions.
Antwort von

Agile CRM

Hi Derek,

Thanks for your feedback. Our goal is to meet the needs of a growing business irrespective of its size. Our pricing model is the most affordable one in the market today and has been designed according to business requirements and its size. The tags feature helps you to segment your contacts and trigger necessary actions which take place instantly. For any further doubts on how to better use our tool for your needs, please contact our support team at [email protected].

Beantwortet am 22.8.2018
Branche: Informationstechnologie & -dienste
Unternehmensgröße: 201–500 Mitarbeiter

Täglich

für

1-5 Monate

genutzt
Quelle der Bewertung
Preis-Leistungs-Verhältnis
5
---
Agile CRM: A Complete and Customizable Solution for Effective Customer Relationship Management
Vorteile
Agile CRM caught my attention because it is a complete CRM platform that offers a wide range of features and tools. From contact management to sales automation, marketing automation, and customer service, Agile CRM covers all the bases. The user interface is straightforward and easy to use, making it a breeze to navigate through the platform. But what really impressed me was the level of customization it provides. I can easily customize the CRM to suit my specific needs and workflows, ensuring that I have the most effective tools at my disposal. Whether I need to manage my contacts, automate my sales processes, or engage with customers through marketing campaigns, Agile CRM has got me covered. It has truly transformed the way I manage my customer relationships and has become an indispensable tool for my business.
Nachteile
AgileCRM stands out as the top choice for user-friendly software. Without any hesitation, I can assert that it is exceptional, and I have no grievances whatsoever.
Branche: Marketing & Werbung
Unternehmensgröße: 2–10 Mitarbeiter

Täglich

für

6-12 Monate

genutzt
Quelle der Bewertung
Preis-Leistungs-Verhältnis
2
---
Calendar in Military Time
Experience is actually very horrible overall, but you get what you pay for.
My next solution will be Keap or GoHighLevel.
Vorteile
The price of the software is nice, the features from a glance look really good but once you start using them is when you are in for a surprise.
Nachteile
The scheduling calendar is completely worthless. I would never in my life send a prospective customer to schedule an appointment as the time is in military time.
As a programmer myself, this is rather a simple fix. I brought it to their attention and even supplied code examples to apply that could remedy this.
The fact that they fail to provide a solution to the calendar shows that they disregard their customers and are completely lazy to provide a simple fix.
Why even a launch calendar like this? It is very sad actually, if you google it, requests has been made years ago by several customers! This is like installing a door but not putting a door knob on it. This is like taking a shower but failing to use soap or clean water.
The company is lazy and could care less about their customers. I have bad service by other companies but these guys take lazy to another level.
All the other features are half-usable (exit popups, push notification, etc).... if they put a little extra effort into things, this could be a nice piece of software.
If I was to wrap what I think about this software into one word... I would LAZY.
Antwort von

Agile CRM

Hi Alex,
Thank you for sharing your review with us. Our product features are driven by the inputs given by our customers. Agile CRM is just designed to solve all the three purposes on a single platform. This could a small feature and may not be considered on first priority. But, we will take this into consideration. We at Agile CRM are open to the user's feedback and suggestions and have been working on the same which really helped us scale to where we are now. Also, we are coming up with 500apps.com which is an ALL-IN-ONE Suite of apps and Schedule.ly is the one that can be used for calendar and scheduling. If you would like to try this new app, please share your acceptance with our support team at [email protected] so that we can share the same with you.

Beantwortet am 19.9.2019
Branche: Marketing & Werbung
Unternehmensgröße: 201–500 Mitarbeiter

Wöchentlich

für

6-12 Monate

genutzt
Quelle der Bewertung
Preis-Leistungs-Verhältnis
4
---
Transforming Your Business with Agile CRM: A Personal Experience
We now have the ability to store and manage customer data in a single centralized database with Agile CRM, making it simple to access customer data, keep track of interactions, and take notes. We have been able to provide superior and more individualized customer service as a result of this, which has enabled us to strengthen our relationships with our clients.We have also seen a paradigm shift thanks to Agile CRM's marketing automation tools. We are now able to create and implement targeted email campaigns, track leads, and assign scores to them based on their behavior. This has helped us better comprehend the requirements and interests of our customers and produce marketing campaigns that are more efficient.In general, I would highly recommend Agile CRM to any company that wants to enhance their sales and marketing processes, as well as interactions with customers.
Vorteile
The contact management tool, which enables us to store all customer information in a single centralized database, is one of the most important features of Agile CRM that I particularly enjoy. This makes it much simpler to track our customer relationships because it makes it simple to access customer information, keep track of interactions, and take notes.The marketing automation tools are another thing I like about Agile CRM. We can target email campaigns with Agile CRM, track leads, and score them based on how they behave. We have been able to develop marketing strategies that are more tailored to each individual customer and have gained a deeper comprehension of their wants and needs.Also, the appointment scheduling feature of Agile CRM is a useful tool for managing our meetings and time. We can set reminders and notifications to make sure we never miss a meeting, and the built-in calendar makes it simple to schedule appointments with customers and potential customers.Lastly, Agile CRM's analytics and reporting tools are extremely helpful in monitoring our marketing and sales performance. Overall, I've found that Agile CRM is a powerful and easy-to-use tool for managing our sales and marketing processes and interactions with customers.
Nachteile
Even though the software is generally simple to use, I find that the user interface can sometimes be cluttered, making it hard to use some of the more complicated features.The email campaign builder seems like another area that could use some improvement. While the email automation and tracking tools are excellent, the email campaign builder's design and customization options can be somewhat limited. Without using time-consuming and cumbersome external tools, creating visually appealing emails can be challenging.Last but not least, despite the software's wide range of tools and features, I sometimes have trouble finding the specific features I require. For instance, finding the right report or setting up a particular automation can sometimes be a little hard, and I frequently have to spend more time than I want looking through menus and options.In spite of these areas for development, I actually observe Spry CRM to be a significant and easy to use answer for dealing with our client cooperations and deals and promoting processes.