Über CANVAS
Canvas LMS von Instructure ist ein cloudbasiertes LMS (Learning Management System) das speziell für Bildungseinrichtungen ab der fünften Klasse bis hin zu Hochschulen entwickelt wurde. Canvas LMS ist eine skalierbare Plattform, die von Bildungseinrichtungen aller Größen und Typen verwendet werden kann, von einzelnen Klassenräumen über große Universitäten bis hin zu Unternehmen mit einer gemischten oder vollständig virtuellen Lernumgebung. Die Canvas-Plattform bietet umfassende LMS-Funktionen für das Online-Lernen, einschließlich standardbasierter Notenbücher, anpassbarer Schüler- und Studierendenbewertungen, der Erstellung von Kursinhalten, mobiler Kommunikation und vielem mehr. Canvas LMS kann in das bestehende SIS (Student Information System) einer Bildungseinrichtung und in andere Lehrmittel integriert werden. Außerdem bietet das Canvas App Center mobile Lehrmittel, mit denen der Plattform neue Funktionen hinzugefügt werden können. Mehr als 200 unterschiedliche LTI-Tools (Learning Tools Interoperability) ermöglichen es Lehrkräften, Kurse anzupassen und das Engagement von Klassen oder einzelnen Schülern und Studierenden zu überwachen. Canvas bietet auch native mobile Apps für iOS- und Android-Geräte an, mit denen Lehrkräfte, Schüler, Studierende und Eltern von überall und zu jeder Zeit wichtige Informationen einsehen, Aktualisierungen teilen und erhalten oder Ergebnisse einreichen können. Mit diesen Tools bietet das Canvas LMS umfassende, hochwertige mobile Lernerfahrungen.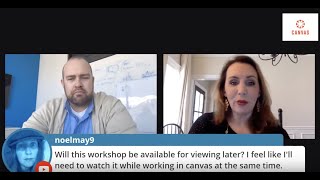 CANVAS bietet eine Gratisversion und eine kostenlose Testversion.
Startpreis:
Nicht vom Anbieter bereitgestellt
Kostenlose Testversion:
Ja
Branche: Informationstechnologie & -dienste
Unternehmensgröße: 10'000+ Mitarbeiter

Täglich

für

Mehr als 2 Jahre

genutzt
Quelle der Bewertung
Preis-Leistungs-Verhältnis
5
---
CANVAS offers us the opportunity to acquire its services through trials.
CANVAS is one of the main programs that we put on to increase education and knowledge of the area with the staff of the company, thanks to the ease and good interface that this program has, it allows us to provide you with an adequate master's degree and impart the most relevant information of the company. which will be of great help for future activities, CANVAS offers us the opportunity to acquire its services through trials and free versions, thanks to this platform we can use them at all times and expose our content through methods and activities on the web that It will be very helpful, in order to speed up with these tests the learning of the work methodology and how to achieve profit for the company.
Vorteile
This platform provides the best tools to expose information and constantly train our support staff, it is these students who benefit from the easy integration of CANVAS that allows them to understand much of the information guide that we want to teach them, there are many benefits when you have a program that would train you with the new co-workers who request an opportunity to operate within the company, imparting the knowledge that could be reinforced thanks to the support of this program, I really like how practical and dynamic each one of the projects that are taught by this means, this with the aim of approving the student body to reinforce their skills in this area, CANVAS is undoubtedly one of the best spaces where it allows us to teach order and administrative efficiency when working and performing in our company.
Nachteile
This program may be a bit basic, this is because the tutorials and guides for its users may be very limited, having the opportunity to further expand its functions in other areas, that is, it may be a bit more versatile for the training of other types of more complex programs that require more practice and theory before implementing them in the company, the potential that this program has is very great, although it also does not have the integration of more common programs in the use of administrative offices, this can be a great point that play against them.
Branche: E-Learning
Unternehmensgröße: 5'001-10'000 Mitarbeiter

Täglich

für

Mehr als 2 Jahre

genutzt
Quelle der Bewertung
Preis-Leistungs-Verhältnis
5
---
Canvas
My overall experience with Canvas has been very positive. The LMS is easy to use for instructors and learners and offers the options for multi-media, classroom management, and student record keep as many of the other costly LMS.
Vorteile
Canvas is an affordable, ease to use LMS that offers the opportunity to level the educational playfield bu=y providing a cost-effective systems for offering online learning. It offers the same features as costly LMS such as D2L.
Nachteile
The Canvas Studio is glitchy at times with reported problems uploading videos by learners.
Gründe für den Wechsel zu CANVAS
Cost---Much less expensive than other systems.
Branche: Hochschulbildung
Unternehmensgröße: 10'000+ Mitarbeiter

Wöchentlich

für

Mehr als 2 Jahre

genutzt
Quelle der Bewertung
Preis-Leistungs-Verhältnis
0
---
Useful and powerful, if you can figure it out
Vorteile
Canvas has numerous features that do make it very powerful. The ability to create entire courses, modules within each course that connect the assignments/tests/etc. into one place, pages that can be used to provide information, including embedding videos & lessons are all phenomenal. The ability for the system to automatically score and calculate grades real-time for students is also fantastic.
Nachteile
The software is not intuitive. I used Canvas as an undergraduate and graduate student and have used it to teach college courses in the past, over the past several years, and I am still unfamiliar with numerous features (e.g., integration). If I haven't used a specific feature in a while, it is often really hard to try to figure out how to do it. I often end up having to search a video tutorial to figure it out. I do appreciate Canvas posting tutorial videos on social media sites to teach how to use the software.
Branche: Bildungsmanagement
Unternehmensgröße: 501-1'000 Mitarbeiter

Täglich

für

Mehr als 1 Jahr

genutzt
Quelle der Bewertung
Preis-Leistungs-Verhältnis
5
---
Review on Canvas
As a user of 2 years and counting, I am very satisfied with my overall experience with Canvas and am very likely to share it with others. It is software that will continue to be used in the future; it's a major improvement to online learning.
Vorteile
This software is very well organised with minor issues. I think as a user of 2+ years, I am extremely satisfied with the software. Although there are some minor improvements to be made, I believe that this software is the future of remote higher education.
Nachteile
I think my major complaint about this software would be the fact that hiding and/or deleting certain courses' cards/lists isn't an option. When one year is over and another begins, half of the courses still on my dashboard can be considered clutter and are no longer needed. I think another feature that would make organising easier is editing the name of the course on my dashboard. Organisations usually title their courses in the same format with minimal changes which does make it harder to differentiate from one another. Adding subtle features that allow for personalising your dashboard without compromising the content of the courses would be helpful, I believe.
Branche: Biotechnologie
Unternehmensgröße: 1'001-5'000 Mitarbeiter

Täglich

für

Mehr als 2 Jahre

genutzt
Quelle der Bewertung
Preis-Leistungs-Verhältnis
0
---
Canvas
Vorteile
It is very easy to navigate around Canvas and know where things are. You have access to a calendar which shows all of the due dates for your assignments. You can join a classroom through Canvas if your course requires it. The grade book is helpful for knowing what your grades are for each course.
Nachteile
I think getting logged out frequently gets annoying.