Über Clio
Clio ist eine cloudbasierte Verwaltungslösung für Anwaltskanzleien, die sich für kleine bis große Anwaltskanzleien eignet. Die Plattform ermöglicht es Anwaltskanzleien und anderen Unternehmen in der Rechtsbranche, wichtige Fristen nachzuverfolgen, Kundenfälle und -dokumente zu verwalten, Kundenrechnungen auszustellen und Zahlungen zu akzeptieren. Das Clio-Dashboard zeigt Ziele für abrechenbare Stunden an und verfolgt die Leistung auf Grundlage dieser Maßnahmen. Mit Clio Payments können Anwälte Zahlungen direkt in das Treuhandkonto eines Kunden oder in ein Betriebskonto erhalten. Mit der Abrechnungsfunktion können Nutzer individuelle Abrechnungspläne erstellen, Gebührenstrukturen verwalten, automatische oder manuelle Zeiteingaben durchführen, per E-Mail abrechnen und Kunden den Zugriff auf Informationen per E-Mail oder über das sichere Kundenportal ermöglichen. Die Dokumentenverwaltungsfunktionen umfassen Dokumentenautomatisierung, nutzerdefinierte Felderstellung, Erfassung elektronischer Signaturen und mehr. Über die mobile Clio-App für iPhone, iPad und Android können Mitarbeitende von Anwaltskanzleien Kundeninteraktionen, Dokumentenverwaltung, Aufzeichnung abrechenbarer Stunden, Fallmanagement und mehr von überall aus durchführen. Die mobile App bietet zudem Push-Benachrichtigungen und Messagingtools, mit denen Nutzer in Verbindung bleiben können. Die Preisgestaltung von Clio hängt davon ab, ob Anwaltskanzleien die Manage-App von Clio, die Grow-App von Clio oder die gesamte Clio-Suite erwerben. Die Clio-Plattform lässt sich mit über 200 Softwareanwendungen von Dritten integrieren, einschließlich anderer Softwarelösungen für die Verwaltung von Anwaltskanzleien, Marketingtools, Zahlungsplattformen und mehr.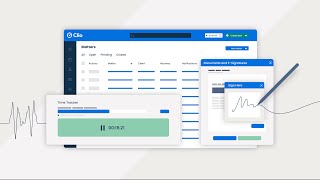 Clio bietet keine Gratisversion, aber eine kostenlose Testversion. Die kostenpflichtige Version von Clio ist ab $ 39.00/Monat verfügbar.
Startpreis:
$ 39.00/Monat
Kostenlose Testversion:
Ja
Branche: Anwaltskanzlei
Unternehmensgröße: 2–10 Mitarbeiter

Täglich

für

Mehr als 2 Jahre

genutzt
Quelle der Bewertung
Preis-Leistungs-Verhältnis
5
---
Clio is the best option for a solo or small firm law practice
After 3 years, I am still working at discarding habits and practices built up over 25 years as a practicing attorney to better incorporate Clio's feature into my daily work flow. One of Clio's driving philosophy's is to make lawyers more productive with their time, and make lawyers services more accessible to persons that need legal advice. Clio's focus on providing multiple access points, including mobile apps designed from the ground up with these two goals in mind, will pay off for both Clio and my practice in the long run.
Vorteile
The Clio platform is not intended to be a closed, proprietary system. Instead, it forms the foundation for the day to day management of leads, clients, time, documents, and billing, supplemented by almost 200 third party integrations, with new offerings coming on line each month. Clio offers unlimited cloud storage and IOS/Android apps making all of your firm information, clients, and documents available 24/7. Clio continues to innovate and as the leading provider to small/medium law firms throughout the world, I don't worry about whether they will be in business a few years from now. Finally, all, yes all, of your data saved in Clio is easily exportable should you decide to change to a different vendor.
Nachteile
Clio's growth means that feature changes must be more fully vetted as they are used by more than 150,000 legal professionals. As they broaden their perspective to encompass larger firms, the pace of change may continue to be more deliberate. The movement and management of files without a third party integration, such as FasterLaw, is cumbersome. Clio's own integrations with Office365 for emails and calendaring remain a work in progress.
Branche: Rechtsberatung
Unternehmensgröße: 2–10 Mitarbeiter

Täglich

für

1-5 Monate

genutzt
Quelle der Bewertung
Preis-Leistungs-Verhältnis
4
---
Implementation is tough
It's cheaper than our prior system. It has more functionality than our prior system. It has tons of integrations with other programs, so we're using it for marketing and robust document generation. We're hoping to get the task sets and workflows set up soon to streamline file opening and operations together with finance and trust accounting.
Vorteile
Custom sets of templates for client types and matter types is great. There are tons of integrations with so many other programs to add functionality is dizzying. We're still learning all this program can do and trying to maximize our use of it through best practices, but we're very hopeful and optimistic that it's going to make our lives much easier and more organized.
Nachteile
The implementation by Clio has been less than stellar. They've tried to integrate spreadsheets of information from our prior practice management software, plus other sources to get all of our client and matter data into the program. But getting the data migration specialists on the phone has been difficult. We noticed that one phase of the migration had not gone correctly, so we called and e-mailed like mad to make sure they wouldn't go to the next step of migration until we could get that prior data fixed. They ignored the calls and e-mails and went ahead with the next step. So that just compounded the problem by about 10,000 times. Now, we're having to go back through our spreadsheets to clean up the data again. Then they're going to have to somehow undo the migration steps they've taken already. Then we'll try it again. We've been using it almost 90 days, and we're still not at full usage yet, because the migration is so messed up.
In Betracht gezogene Alternativen
MyCase
Warum Clio gewählt wurde
Firm Central hasn't been updated or given additional functionality in well over 5 years. No one else uses it, and it has no integrations with or support from third parties to add any more functionality. West has practically abandoned the product entirely. If they don't want to keep supporting it, then why should we keep using it?
Gründe für den Wechsel zu Clio
It had a larger installed user base with more third-party integrations and third-party consultants available for use in assisting us to migrate and implement it. Also, our outside accounting company is more familiar with it than any of the other programs.
Branche: Anwaltskanzlei
Unternehmensgröße: 2–10 Mitarbeiter

Täglich

für

Mehr als 2 Jahre

genutzt
Quelle der Bewertung
Preis-Leistungs-Verhältnis
1
---
You cannot rely on anything that employees of Clio tell you to be true.
Onboarding was a nightmare, with technical glitches that caused hours and hours of additional work and clean up. Syncing our contacts resulted in the destruction of our already used and curated list. Misrepresentations were made by salespeople as to what the software was capable of doing. As a result of all of that, we were made reasonable promises, in writing, as a condition of our not quitting Clio right then, and cutting our losses and time. Now, the first time a change has come up where that promise needs to be implemented, we were told it would not be honored. This resulted in many more hours of back and forth with "customer service". We have wasted two years of integrating our firm with this company, which we now have to undo to go to another service, costing us untold more hours of work. If they had not offered these promises, we would have left Clio during the onboarding process. Although we would not have been happy with our experience with Clio, we wouldn't have felt as strongly about not doing business with this company. Now, we have no option but to leave this service, because we cannot continue to do business with a company that places such little value on their clients and on the promises that they admit were made.
Vorteile
I have nothing positive to say about Clio at this time. Integrating our firm into their software was a major learning experience, which will guide me with the next software I choose.
Nachteile
The items added in the time that we have been with Clio have caused no improvement to our use of the product, although they use these additions as an excuse for raising their prices significantly. The "client portal" that they added does not even allow you to see if clients have viewed documents, which their old version did. Their new payment system only adds to their profits, so why would they utilize that as an excuse to pass on additional costs to their clients?
Antwort von

Clio

Hi Kathy,
I'm very sorry to hear that about your experience with Clio. A member of our team is contacting you directly with you to work through these challenges
Kind Regards,
Jessica

Beantwortet am 27.1.2023
Branche: Anwaltskanzlei
Unternehmensgröße: 2–10 Mitarbeiter

Täglich

für

Mehr als 2 Jahre

genutzt
Quelle der Bewertung
Preis-Leistungs-Verhältnis
5
---
Clio - A Necessary Application for Law Firms
Vorteile
Clio makes it easy to manage a case beginning to end. All of the client information is contained in one place. We can work on documents right in Clio and share documents to the client through the Clio Portal. Clients can safely upload their documents to us via the portal. We can communicate with clients through the portal or text messaging right in Clio. The Clio Support team is very helpful and has taken our enhancement requests back, some of which have already been implemented. We are able to keep everyone at the firm on track by using the task feature of Clio. There is no more wondering what is happening in a case because everything is tracking and tasked.
Nachteile
Our clients pay a monthly payment until their flat fee is paid in full. My current enhancement request is for Clio to have payment plan details written out on the client invoice. Currently we have to type this information out in the footer notes.
Branche: Anwaltskanzlei
Unternehmensgröße: 2–10 Mitarbeiter

Täglich

für

Mehr als 2 Jahre

genutzt
Quelle der Bewertung
Preis-Leistungs-Verhältnis
4
---
First class tech with even more fist class people behind the scenes
Highly recommend it like anything it's only as good as the data the users put into it and quite pleased in its reliability.
Vorteile
Clio is always adapting to improve and take feature requests into consideration while balancing innovation with consistency of interface and only incremental changes so as to not frustrate the user experience with too many changes all the ones. Beyond the tech, right from the beginning many years ago Clio stood out in customer service in terms of being very responsive, striving to find a solution to every problem where available, and being straight up in simply admitting that they don't have certain features developed yet and it's not available rather than trying to do a sales job or sugarcoat the fact that there will always be limitations in software meeting everyone's different needs perfectly. It's a very stable platform, secure, and the developers are even aware to do any sort of systemwide updates during times of low usage.
Nachteile
Maybe not so much a specific Clio issue, but rather mostly us as a user limited capacity challenge, there are many integrations and improvements which we could be adapting into our system but have just become stalled in locking the bandwidth. Quarterly or semiannually review (soft audit) of how each business such as ours is using the software would be beneficial with a systems person from Clio providing a couple recommendations of next steps that our group could take that would have a significant impact on better utilizing the tools.