Über Notion
Notion ist ein digitaler Arbeitsbereich, mit dem kleine bis große Unternehmen Notizen, Aufgaben, Projekte, Aufzeichnungen, Kalender und mehr rationalisieren und verwalten können. Zu den wichtigsten Funktionen gehören ein Portfolio-Tracker, Designer-Vorlagen, Datenbankverwaltung, Dokumentation und Datenexport. Notion wird auf einer Weboberfläche oder On-Premise-Plattform bereitgestellt und bietet Unternehmen eine Produkt-Roadmap, Aufgabenlisten und Repository-Muster, die Projekt-Workflows von der Initiierung bis zum Abschluss rationalisieren. Die Lösung bietet mobile Apps für iOS- und Android-Geräte, mit denen Nutzer abgeschlossene, laufende und nicht gestartete Aufgaben auch von entfernten Standorten aus anzeigen und verwalten können. Darüber hinaus können Unternehmen zusammenarbeiten und Teamaufgaben ausführen, Besprechungsnotizen teilen, Projektausgabenberichte aktualisieren und Leistungen/Urlaubsrichtlinien verwalten. Notion hat eine API, die es Unternehmen ermöglicht, das System in verschiedene Tools wie Google Tabellen, Twitter, Figma und andere zu integrieren. Die Preise verstehen sich als Monatsabonnement. Support erfolgt über E-Mail, per Telefon und anhand einer Dokumentation.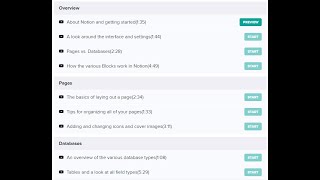 Notion bietet eine Gratisversion und eine kostenlose Testversion. Die kostenpflichtige Version von Notion ist ab $ 5.00/Monat verfügbar.
Kostenlose Testversion:
Ja
Branche: Vorstandsbüro
Unternehmensgröße: Selbstständig

Täglich

für

6-12 Monate

genutzt
Quelle der Bewertung
Preis-Leistungs-Verhältnis
5
---
Notion - das perfekte All-In-One Tool
Ich habe schon alle möglichen Projekt-Tools ausprobiert, aber keines ist so gut wie Notion! Die Möglichkeit alles auf meine Bedürfnisse anzupassen passt perfekt zu meiner Tätigkeit als Freelancer mit vielen unterschiedlichen Projekten.
Vorteile
Der größte Nutzen ist, dass man die Oberfläche und Struktur komplett selber aufbauen kann und somit an seine eigene Bedürfnisse anpassen kann. Durch die Funktion der "databases" und "relations" kann man Projekte und Aufgaben miteinander verknüpfen und perfekt visualisieren.
Nachteile
Das Dokumentenmanagement finde ich zu umständlich. Ich mag es, dass ich Dokumente an die unterschiedlichsten Projekte, Kunden, Aufgaben, etc anhängen kann. Aber bei Abruf der Datei erfolgt immer ein neuer Download aus der Cloud. Da ist eine genrelle Cloud Lösung übersichtlicher.
Branche: Informationstechnologie & -dienste
Unternehmensgröße: 2-10 Mitarbeiter

Täglich

für

6-12 Monate

genutzt
Quelle der Bewertung
Preis-Leistungs-Verhältnis
4
---
Hilfreiche Knowledge-App mit erweiterten Funktionen
Vorteile
Notion ist intuitiv zu bedienen, übersichtlich und bietet meiner Meinung nach viel bessere Optionen, als zum Beispiel ein Markdown Editor. Gerade die sortierbaren, filterbaren Datenbank-Blöcke (Tabellen, Boards, Kalender etc.) sind super hilfreich in der Organisation.
Nachteile
Am wenigsten gefällt mir, dass SSO nur in der Enterprise Version verfügbar ist. Auch kleinere Unternehmen, die sich nicht gleich das teure Enterprise Paket kaufen möchten, sollten die Möglichkeit haben SSO zu nutzen.
Branche: Marketing & Werbung
Unternehmensgröße: Selbstständig

Täglich

für

1-5 Monate

genutzt
Quelle der Bewertung
Preis-Leistungs-Verhältnis
5
---
The Ultimate Task and Project Management Tool For Individuals & Freelancers
Notion has become a part of my everyday life. It's helped me with getting stuff done by prioritizing tasks that need to be done. Im no longer struggling with all the thoughts in my head about what I need to do and what needs to be done first. This is the ultimate project management and task tracking tool on the market and the best part is how flexible it is to get it how you want. Not a lot of other tools have the customization.
Vorteile
Customization and simplicity within Notion is next level. Having been on the search for something that combines an easy to use and filter Task list in combination with Project Management tools seemed to be harder then I thought. Once landed and comfortable with Notion I won't look back. The user interface is easy and the mobile app makes it easy to add tasks and notes so time management and task tracking is easy.
Nachteile
The learning curve at the start was a little challenging but there are some great tutorials on their website that helped understand how easy it is once you get the hang of it. The only other gripe was recurring tasks need some work around with third parties but a tutorial to accomplish this is on their website and was super easy to implement.
Branche: Design
Unternehmensgröße: Selbstständig

Täglich

für

6-12 Monate

genutzt
Quelle der Bewertung
Preis-Leistungs-Verhältnis
5
---
I wish I had Notion in college
If I had a Notion in college, it's safe to say, I would've gotten better grades. Since discovering this product, I have been 100x more productive because I can customize my workspace to my exact needs in a friendly, aesthetically pleasing platform. In order to make Notion work for you, you need a creative and problem-solving mind, and a few days to learn it. That's where I have the most fun creating the templates and workflows, and my team members make me feel like a productivity wizard.Working with databases is seamless, integrations work great, and my notes look and feel amazing. I use Notion for my tracking and planning my daily life, as well as my small business. After setting up the templates and workflows, my team members rave about how easy and centralized the projects are. They even started to learn how to create templates and workflows of their own since being introduced to it.Despite the lack of advanced styling, I love having a digital workspace that caters to our exact needs.
Vorteile
Notion is super easy to use, the interface is beautiful, and the possibilities are endless. I enjoy making templates that actually help me be more productive and get things done. There is also a native marketplace full of free and paid templates that I love getting inspiration from and experimenting with. Notion also has one of the most helpful and motivating communities where templates and productivity ideas are shared. I enjoy using this to organize my projects as a digital business.The pricing plans are reasonable, and they also offer credits when you complete certain tasks. It is best paired with Google Chrome Extensions. There are many extensions that make the Notion experience even better like customizing the theme colors, adding buttons, etc.
Nachteile
My nit-picky con isn't all that important when it comes to productivity, but visually notion lacks native advanced customization. The downside of using Chrome Extensions to customize the look and feel of my notion pages is that it doesn't apply across browsers and on the desktop and mobile app. There's too much space around the margins, which can be valuable real estate for the page content. I also wish the page properties didn't take up half the page with the right side of it empty. I also wish that text could be aligned right and centered.Another downside I have is having to use Notion in Google Chrome most of the time to take advantage of the style customization extensions.
Branche: Anwaltskanzlei
Unternehmensgröße: 2-10 Mitarbeiter

Täglich

für

1-5 Monate

genutzt
Quelle der Bewertung
Preis-Leistungs-Verhältnis
1
---
Complete Lack of Customer Support with Bug Issues that Left Us with Software that Does Not...
After so much work inputting information and setting up and organizing our pages, I feel like all that time and effort was just a waste of time. Do not waste your time on Notion and find something that actually works and continues to work. Further, find a legit company with actual customer service and assistance.
Vorteile
At first, I was excited to use Notion and setting this up for our Law Office was actually fun to do. I looked forward to continuing use of this software and to add notes and information to our database as they were accumulated. It is user friendly and easy for users to learn and manipulate.
Nachteile
UNFORTUNATELY, after using the software for only a few short months, one day suddenly, we found that we no longer had the ability to create pages and organize them to input our notes and information. That is exactly what this software is supposed to do! I immediately reached out to customer service at Notion for help in resolution of our issue, which has to be done via email. I recorded a Loom video so that Notion could see exactly what our problem was and sent it to the Notion team. There is absolutely no one to speak with or to call for support. The number you do call goes straight to a voicemail that is full. I did receive several emails back from Notion pretty much stalling and finally stating there was "BUG" and that their engineering team would work on this. They asked for access to our system, which I gladly allowed. It seems from reading other reviews, that these "bugs" are common. Well, obviously Notion needs to call an exterminator! To make a long and frustrating story short, our "bug" issue was NEVER resolved by this apparently non-existent "engineering" department. After several follow up emails, Notion quit responding and has actually NEVER responded further as to our inquiries about their progress in resolving our issues. It is like they just disappeared off the face of the earth. So, for months now, we are continuing to pay for software that we cannot even use!