Über Vagaro
Vagaro is a cloud-based salon, spa and fitness business management solution that allows professionals to book appointments and manage various facility roles. It offers an integrated solution to manage bookkeeping, payroll, client databases and inventory management, as well as featuring email and text notifications to clients and automated email marketing. Users can list available appointment slots, and customers can then look for salon facilities nearby and book appointments through Vagaro's website or the Vagaro app. VagaroPro, the business app, is available for Android and iOS smartphones. Users can create customizable promotional web pages to showcase upcoming events and special offers through Vagaro's website or connect with their customers through email and social media platforms. Customers can also create personalized profiles with their contact information, booking history and feedback. Users can keep records of their customer service histories and generate customizable reports with graphs and charts to track business performance, customer retention and more.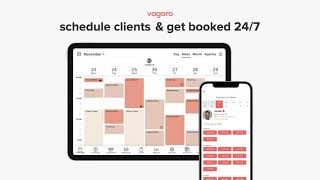 Vagaro bietet eine Gratisversion und eine kostenlose Testversion. Die kostenpflichtige Version von Vagaro ist ab $ 25.00/Monat verfügbar.
Startpreis:
$ 25.00/Monat
Kostenlose Testversion:
Ja
Branche: Medizinische Praxis
Unternehmensgröße: Selbstständig

Wöchentlich

für

Mehr als 2 Jahre

genutzt
Quelle der Bewertung
Preis-Leistungs-Verhältnis
5
---
VAGARO FOR MEDICAL AESTHETICS PRACTICE
I love that Technical Support Staff are knowledgeable, patient and available when I need them.
Vorteile
I LOVE the ease of scheduling clients from my hand held devices. Love the Colors, design; very user friendly.
Nachteile
Honestly need to play around more with the Features, which I hear a many (from a friend whom I referred for her Yoga Business. She switched from Mind Body and LOVES Vagaro).
Wish Vagaro would invest in NICE Modern looking POS devices like Square and Clover.
Branche: Gesundheit, Wellness & Fitness
Unternehmensgröße: Selbstständig

Täglich

für

Mehr als 2 Jahre

genutzt
Quelle der Bewertung
Preis-Leistungs-Verhältnis
5
---
Love Vagaro!
I'm saving a lot of space not having to keep a paper schedule. Taxes are way easier, and if I used the software how it was meant to be used, it would be even easier. Baby steps! Haha.
Vorteile
It is super easy to use, and if it isn't, customer service is there to help. The tutorials help too! TONS! There were a few things I had to give up moving to Vagaro from my old software, but I told customer service about it and not only did they figure out a way for me to still kinda offer the same thing to my clients, soon after, they came out with the option I needed!!! Like they did it just for me!
Nachteile
It's NOT the software I have an issue with...It's payment processing. WAY TOO LONG TO GET PAID when my clients pay through Vagaro. I discourage it mostly.
Unternehmensgröße: 2-10 Mitarbeiter

Täglich

für

Mehr als 2 Jahre

genutzt
Quelle der Bewertung
Preis-Leistungs-Verhältnis
3
---
Ok for single operator. Not effective for bigger salon.
Their customer-service department seems to be filled with condescending 20 somethings who enjoy attempting to make users feel inadequate. The last 3 times I've had to call-in and ask a question or have voice a concern about the product, I've been spoken down to by someone half my age.
Vorteile
The calendar is easy and self explanatory. It seems easy to use Even for people with no computer experience . If you're still using pencil and paper , this is way better than that . Probably a great product for both renters. Clients like notification system.
Nachteile
If you've used any other salon softwares that are in a high performance category as far as reporting and/or user experience this will not suit your needs . It is very rudimentary in its performance . It does not allow for any customization in reports or in applications .
Many features are archaic and need updating. The feature to logout users after a certain amount of time can't recognize the difference between idle and not idle so it will log you out and lose your work in the middle of a session . The "marketing" section is mediocre at best . IF you've already been running a computerized operation for 5 yrs or more, you will find the software completely inefficient . It does not save your work if you're in the middle of procedures when it logs out . It cannot tell the difference between tasks in progress and idleness . If you leave the program wide-open and it doesn't log anybody out automatically, then your separate users have no recognition within the system, Unless they individually and manually log themselves in-and-out every time . SO MANY SILLY TIME WASTING things that MUST be done manually every session. Yuck.
Branche: Erholungseinrichtungen & -dienstleistungen
Unternehmensgröße: Selbstständig

Täglich

für

6-12 Monate

genutzt
Quelle der Bewertung
Preis-Leistungs-Verhältnis
5
---
Fantastic for this one-woman show
Very affordable booking/confirmation system, credit card processing, inventory management and reports included, these are my baseline needs and Vagaro fulfills them 90% well. They were very helpful when signing up and helped me import most of my needed info, not perfectly, but pretty well. That is the end of actual human interaction though and sometimes an actual HUMAN customer service conversation by phone would be appreciated.
Vorteile
Very easy to use on both desktop and mobile; great price for what you get, especially for a small or individual practice--calendar, email/sms confirmations, online booking (if you choose to use that); reports (though either I haven't found some yet or they could be improved, i.e. I accept checks and it gives me a total for check deposit, but not the # of checks); integrated payment system takes clear and fair CC fees out as they occur, COVID clean checkout can send signature/gratuity page to clients mobile; a la carte pricing, i.e. I needed "forms" for sending COVID forms, but can cancel that portion anytime and save $10/mo if not needed; Inventory management--could be improved, but for around $30/mo, can't be beat from what I've found.
Nachteile
Deposit reports: how many checks are in the total that I need to deposit for a period of time? Would save me from adding all checks manually to see if amounts match; Inventory: To adjust current inventory items, it seems I need to do it item by item... they have a "mass edit", but I have never figured out how to get it to work for me and I HAVE contacted support about this issue, the back and forth chat is exhausting and sometimes you need to step away from the computer for a reason and the chat ends. Pricing on Service items: There should be a button to allow the pricing to show in the Appt and/or confirmation emails, if I want the price to show, I have to make it part of the Service title, thus when my prices change, I have to change each of those titles manually. I have clients who like to prewrite checks and they need to easily know the price ahead of time.
Warum Vagaro gewählt wurde
Booker was great for the individual or small business when they first came on the scene, now their minimum price (with fantastic features, online booking/sales whether you want them or not) is $129/month, that is ridiculous for one person to pay and they didn't want to work with me even though I'd been with them for over 10 years (when it was $25/month for an individual to have all of those things). I understand inflation, but clearly they only wanted to work with larger accounts and that is their business decision to make.
Zuvor genutzte Software
Booker
Gründe für den Wechsel zu Vagaro
Inventory management was the big reason, I don't believe either of the above had them at the time....
Branche: Gesundheit, Wellness & Fitness
Unternehmensgröße: Selbstständig

Täglich

für

Kostenlose Testversion

genutzt
Quelle der Bewertung
Preis-Leistungs-Verhältnis
4
---
Scheduling Software for Massage
So far my experience has been excellent and the representatives have been very helpful. The program is fairly easy to understand and self explanatory, for the most part
Vorteile
I really like the confirmation and reminder texts and emails, I feel that is crucial to keeping a schedule full and making sure client's are on point and paying attention to their appointments. I also the Cancelation list, I'm a busy therapist and don't have time to worry about getting client's in on a last minute makeup appointment and writing down client's names that need to get appointments. Vagaro takes care of that, by suppling that cancelation list and letting the client's know when an appointment is available and they can schedule.
Nachteile
Just the set up an import from my old scheduling software to Vagaro. I'm on the trial period, so I can't really say what's not good, yet.