Über eLogii
eLogii ist eine cloudbasierte Liefermanagementlösung, die kleine und große Unternehmen in den Bereichen Logistik, Getränke, Einzelhandel, Gesundheitswesen, Bau und Gastgewerbe dabei unterstützt, den Außendienst und die Fahrzeugdisposition zu verwalten und Routen zu planen. Zu den wichtigsten Funktionen gehören Echtzeit-Standortverfolgung, Signatur- oder Fotoerfassung, Aktivitätsprotokoll, Zeitstempel und E-Mail-/SMS-Benachrichtigungen. Die Lösung verfügt über eine Routenoptimierungsfunktion, mit der Administrationsteams die Route einzelner Fahrer auf der Karte, die voraussichtliche Ankunftszeit in Echtzeit ETA (Expected time of Arrival), die Gesamtentfernung, den Service und die Wartezeiten anzeigen können. Vorgesetzte können das Fahrzeugmanagementmodul verwenden, um Flottendetails hinzuzufügen und sie über Funktions-Tags für schwere und leichte Lasten zu kategorisieren. eLogii unterstützt Führungskräfte bei der Planung von Routen für mehrere Lieferungen oder Abholungen basierend auf dem Zeitfenster sowie auf Schichten, Produktgrößen, Fahrerfähigkeiten und mehr. eLogii bietet mobile iOS- und Android-Apps für Fahrer. Die Lösung ist sowohl als Monats- als auch als Jahresabonnement verfügbar und der Support erfolgt per E-Mail.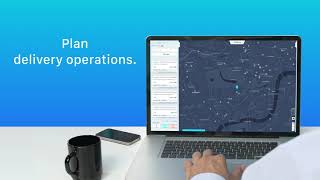 eLogii bietet keine Gratisversion, aber eine kostenlose Testversion. Die kostenpflichtige Version von eLogii ist ab $ 159.00/Monat verfügbar.
Industry: Lebensmittelproduktion
Company size: 11-50 Mitarbeiter

Täglich

für

1-5 Monate

genutzt
Quelle der Bewertung
Preis-Leistungs-Verhältnis
5
---
Angelic Organics
This was our first time creating and implementing a home delivery system for our CSA farm. We did a lot of research to find the appropriate software that included everything we thought we needed and Elogii Not only provided that but also included other features we didn't even know we needed. We have had many learning curves and growth in our business through the process of fitting this software into our operation. Every question we've had, got an immediate and comprehensive response and we could not be more grateful for the support we've had and how this software has allowed us to succeed in providing in house, home delivery this year.
Vorteile
The dashboard is really easy to navigate once you get the hang of it. Every feature is easy to understand and makes sense for the purpose of the APP which is very beginner friendly given that we hadn't had any experience with distribution before this. Elogii has very thorough training and support for the software. Anything that we came across that we needed help adapting to our needs was possible with the understanding and help of the Tech team.
Nachteile
The integration process was a bit complicated for us but it was probably more because of our lack of experience and Understanding when it came to handling the data. Other than that I would like to see the driver app be a little bit more developed to have an option to go back on a task or select a date to have an overview of the week perhaps. As we continue to grow and take note we will also love to share our thoughts and work to collaborate on a more efficient solution. But elogii and their team definitely Have thought things through and are very Mindful of foreseeing what one may need for a more satisfying and effective experience with the software
Antwort von

eLogii

Hi Alina,

Thank you very much for your review, your feedback and support is very much appreciated.

We have some exciting developments on our product roadmap, including further enhancements to the Driver App, which will streamline the solution further.

Kind Regards,
eLogii Team

Beantwortet am 10.7.2020
Industry: Lebensmittelproduktion
Company size: 201-500 Mitarbeiter

Täglich

für

1-5 Monate

genutzt
Quelle der Bewertung
Preis-Leistungs-Verhältnis
5
---
Paperless proof of delivery and Route Optimizer
We are going paperless, easy to track bill of ladings, eliminates need to have someone do the filing, saves time when it comes to making the route for the fleet.
Vorteile
For our organization two of the best features Elogii provides are traceability of bill of ladings, Elogii stores it on their website, one click away, no need to have someone filing all the paperwork, no need for filing cabinets and most importantly, in case of dispute no need for anyone to look thorough files, we are able to pull POD with one click of the mouse. Elogii has ability to take pictures, enter notes, which again is great help when talking about damage claims. Electronic copy of the bill could be Emailed to a customer, with all notes, pictures, signatures and electronic step by step time stamps. We use Elogii to check trucks when they come in and when they leave, it helps us track any waiting charges too.
Other important part of Elogii is Route Optimization, anyone that has a fleet this is very handy tool. We have 8 trucks for local deliveries and Elogii sets up the run (route) for 8 trucks under 30 seconds. Route for every driver is visible on the map and this portion we use to track daily progress. This part is very much customizable: We set up our trucks based on weight limit, hours of driving for every driver and area they are servicing.
Nachteile
Some of the filters and wording were confusing at the begging for end users, it took few weeks for people to get used to it, nothing out of ordinary.
Antwort von

eLogii

Dear Zelimir,

We'd like to thank you for taking the time to share your detailed feedback, and we are very pleased that you've managed to significantly streamline and digitise key parts of your operations.

We have a number of new features and updates now available, which definitely includes improved search, filtering and export options - so we look forward to providing you access with these soon!

Thanks again for the review and for being such a great customer.

Kind Regards,
eLogii Team

Beantwortet am 18.2.2021
Industry: Lebensmittelproduktion
Company size: 1'001-5'000 Mitarbeiter

Täglich

für

1-5 Monate

genutzt
Quelle der Bewertung
Preis-Leistungs-Verhältnis
5
---
Simple Electronic Proof of delivery
Optimizing the routes and deliveries to better leverage our fleet of trucks, and saving on back office admin functions by capturing and distributing an EPOD
Vorteile
The system is easy to use, and very effective for helping plan delivery of our goods using our fleet of trucks. An Electronic Proof Of Delivery (E-POD) helps eliminate questions and disputes.
Nachteile
The route planning engine can sometimes behave unpredictably, having the user make multiple pickup/dropoffs
Antwort von

eLogii

Dear Karan,

Thank you for your feedback! We're glad you find the solution easy to use, the user's experience is core to our product.

We've released a number of updates to the route planning engine, which has significantly improved the multi-pickup/dropoff workflow, so we look forward to sharing with you soon.

Kind Regards,
eLogii Team

Beantwortet am 18.2.2021
Industry: Logistik & Lieferkette
Company size: 2-10 Mitarbeiter

Täglich

für

1-5 Monate

genutzt
Quelle der Bewertung
Preis-Leistungs-Verhältnis
4
---
Elogii
Elogii was the best fit for my business. Since I do not own a vehicle, but needed a Proof Of Delivery Software. Most of the POD available is priced per user, but since we have so many sub contractors, we needed exactly what elogii offered.
Vorteile
We really like the ease of use for the drivers.
Nachteile
Depot addresses. Due to the style my business is, depots integration is an issue
Antwort von

eLogii

Thank you for your feedback Greg! We would love to understand a little more about your issue with the 'depots', so we can best help you resolve this. Someone from our support team will reach out to you directly.

Beantwortet am 29.10.2021
Industry: Groߟhandel
Company size: 11-50 Mitarbeiter

Täglich

für

6-12 Monate

genutzt
Quelle der Bewertung
Preis-Leistungs-Verhältnis
5
---
Completely professional and also adaptable
Vorteile
At the start of lockdown, all of the logistics companies that we normally dealt with ceased to trade almost overnight. This meant that we had to find a quick and efficient solution to getting our 100+ orders out daily.
We stumbled upon eLogii after reading many positive reviews about the platform, and in particular, how user friendly their API was to integrate with.
The team at eLogii welcomed us with open arms right at the start, and helped our in-house development team get to grips with the implementation of the platform.
Fast forward 6 months later, eLogii is now an integral part of our daily delivery routing and planning workflow, helping our drivers deliver right across the UK.
Nachteile
Honestly - none, right now. At the start there were a few teething problems as I think eLogii was still fairly new to the market, however, after a few bug resolves later, the platform is great. Compared to the competition... there is almost no competition.
Antwort von

eLogii

Dear Richard,

Thank you for your review, your support is very much appreciated!

We value your feedback, and as always, are committed to continually developing our platform further and providing our customers with the best possible solution in the market.

Kind Regards,
eLogii Team

Beantwortet am 8.10.2020