Über LearnWorlds
LearnWorlds ist eine cloudbasierte Plattform, mit der Unternehmen Online-Kurse und -Lernerfahrungen erstellen können. Die Plattform eignet sich unter anderem für Unternehmer, E-Learning-Unternehmen, Unternehmensausbilder und Bildungsorganisationen. Diese Lösung bietet integrierte Marketing- und Vertriebstools, mit denen Unternehmen ihre Zielgruppe ausbauen und ihre Umsatzchancen steigern können. Zu diesen Tools gehören Zielseiten, Lead-Magnete, Conversion-Pixel, integrierte SEO, Zahlungsgateways, nutzerdefinierte native App-Erstellung und mehr. LearnWorlds hilft Unternehmen, Kursinhalte und Websites zu erstellen, die das Engagement der Lernenden erhöhen. Kursersteller können Titel, Bilder, Zeiger, Hotspots, Links und Fragen zu Videos hinzufügen. Darüber hinaus kann ein synchronisiertes Transkript automatisch aus Videos extrahiert werden, um die Barrierefreiheit zu erhöhen. Zu den weiteren Funktionen gehören ein anpassbarer Kursplayer, Drip-Feeds, verschiedene Aufgaben- und Testformate, digitale Zertifikate mit Branding und vieles mehr. Diese Lösung lässt sich in andere Plattformen wie Zapier, Zoom, Mailchimp, HubSpot, FreshDesk und andere integrieren. Die Preise basieren auf einem monatlichen Abonnement. Support ist über ein Online-Helpcenter, Video-Tutorials und andere Ressourcen verfügbar.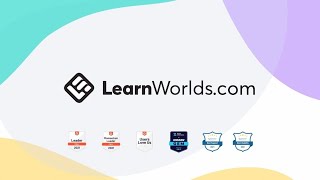 LearnWorlds bietet keine Gratisversion, aber eine kostenlose Testversion. Die kostenpflichtige Version von LearnWorlds ist ab $ 24.00/Monat verfügbar.
Startpreis:
$ 24.00/Monat
Kostenlose Testversion:
Ja
Alternativen für LearnWorlds
Branche: Verbraucherdienste
Unternehmensgröße: 2–10 Mitarbeiter

Täglich

für

Kostenlose Testversion

genutzt
Quelle der Bewertung
Preis-Leistungs-Verhältnis
5
---
Thus far, the best course platform
Vorteile
I love the product is created from an authoring view instead of a marketing one. You have all the tools you need to create a learning environment and powerful tools to enhance your videos directly.
Nachteile
There is an option to change the language, but it's not really that great. As a spanish native and implementor of learning programs for third parties it would be really useful to make a native spanish conversion for the UX:
Branche: E-Learning
Unternehmensgröße: 2–10 Mitarbeiter

Täglich

für

6-12 Monate

genutzt
Quelle der Bewertung
Preis-Leistungs-Verhältnis
4
---
Learnworlds LMS platform. Worth it or not?
AWOKO.ng is an edtech start-up giving students access to quality materials that they'll need to prepare for their exams and used to study in their academics.
Thus far, we have been able to do all these using the Learnworlds platform and are gaining serious traction in our country. It's been an experience.
Vorteile
The sitebuilder is great. It helps in creating easily navigable pages. The course creation process is simple and direct unlike other platform I've used. If anything, their support remains the best I've seen in a while.
Nachteile
The pricing for the learning center plan which most people would prefer is a bit too expensive especially for some of us in third world countries.
Warum LearnWorlds gewählt wurde
Thinkific was a good product but at the time I left had issues with some of the features I wanted. I was surfing the internet one day trying to see if any other options had the features I needed. None came close to Learnworlds so I made the switch starting afresh from learnworlds.
Gründe für den Wechsel zu LearnWorlds
I didn't like having too many moving parts. I didn't want to be responsible for the technical stuffs backend. I needed to focus on scaling my business and let other things be taking care of by the pros
Branche: Bildungsmanagement
Unternehmensgröße: 2–10 Mitarbeiter

Täglich

für

6-12 Monate

genutzt
Quelle der Bewertung
Preis-Leistungs-Verhältnis
1
---
They sepnd a lot of time getting your business then ignore the problems
They are really responsive in the first couple of months so you can invest your time and money setting up in their system. Then once you're invested they ignore you and spend their time trying to grow their business model with new clients. If you have a long term plan for online learning I'm not sure they're ready to cater to any other businesses than their own.
Vorteile
It has a nice look, and is user friendly.
Nachteile
The software has problems. Tabulation of reports and certificates are something I have been going back and forth with the development and customer service team about, they have been incorrect. They apologise for the problems, come back to me every 4 days when they can be bothered and just say we are super busy growing our business due to the surge in online application due to Covid. That doesn't solve my problems, nor does it justify my subscription. My problems are still outstanding and months, weeks later they are still looking into it. Very poor.
Branche: E-Learning
Unternehmensgröße: 2–10 Mitarbeiter

Täglich

für

1-5 Monate

genutzt
Quelle der Bewertung
Preis-Leistungs-Verhältnis
3
---
It is a good option to create your own course management platform
We were evaluating several platforms, starting with MoodleCloud but it was not very attractive for the user. We tried LearnWorlds and it convinced us, we hired it for several months because it had all the features we were looking for and it was a cheap option. Currently we do not use them because we have not achieved the desired user number, but we think it is one of the best applications to create your own e-learning platform.
Vorteile
It is very easy to use, it is very complete with all the functions that are needed, it includes integrations with other tools. The technical support is very fast and they always solve incidents or queries very quickly.
Nachteile
Might be missing a few more integrations
Branche: E-Learning
Unternehmensgröße: 2–10 Mitarbeiter

Wöchentlich

für

6-12 Monate

genutzt
Quelle der Bewertung
Preis-Leistungs-Verhältnis
4
---
review of LearnWorlds by Mahjong Party
They respond with a lot of info and links anytime I have a question or don't know how to do anything. Customer service is prompt. Its a beautiful robust platform and looks so amazing. As well, I struggled at times with other platforms to get everything the way I like for my UI/UX and LearnWorlds met or exceeded all my expectations in that regard
Vorteile
It integrates the most features into what I want while giving me a ton of freedom to create the course how I want, to make my course look awesome, to integrate tons of media types
Nachteile
The price is high compared to other software for businesses / course creators just starting out but it offers a bit more than they do. The price is good and offers a lot for those able to pay a higher price.
Warum LearnWorlds gewählt wurde
I could not load up all of my media types I wanted to, I found the LearnWorlds UI/UX just really superior, I heard stories about how some other platforms will pursue your customer base
Gründe für den Wechsel zu LearnWorlds
iSpring came the closest to LearnWorlds and they have a great course authoring product but LearnWorlds offered unlimited courses / users / instructors - that is pretty well unbeatable whereas other similar platforms will charge after a certain amount of users or you are limited to how many users you can have in a year or your user has to purchase your product for a year instead of a shorter period of time... or you have to expel them from the product if they haven't used it for a while... its a lot to consider, I want my users to have lifetime access so LearnWorlds was the best